One Man's Journey Is Every Man's Story
By Sharon Samber, HIAS.org
May 24, 2021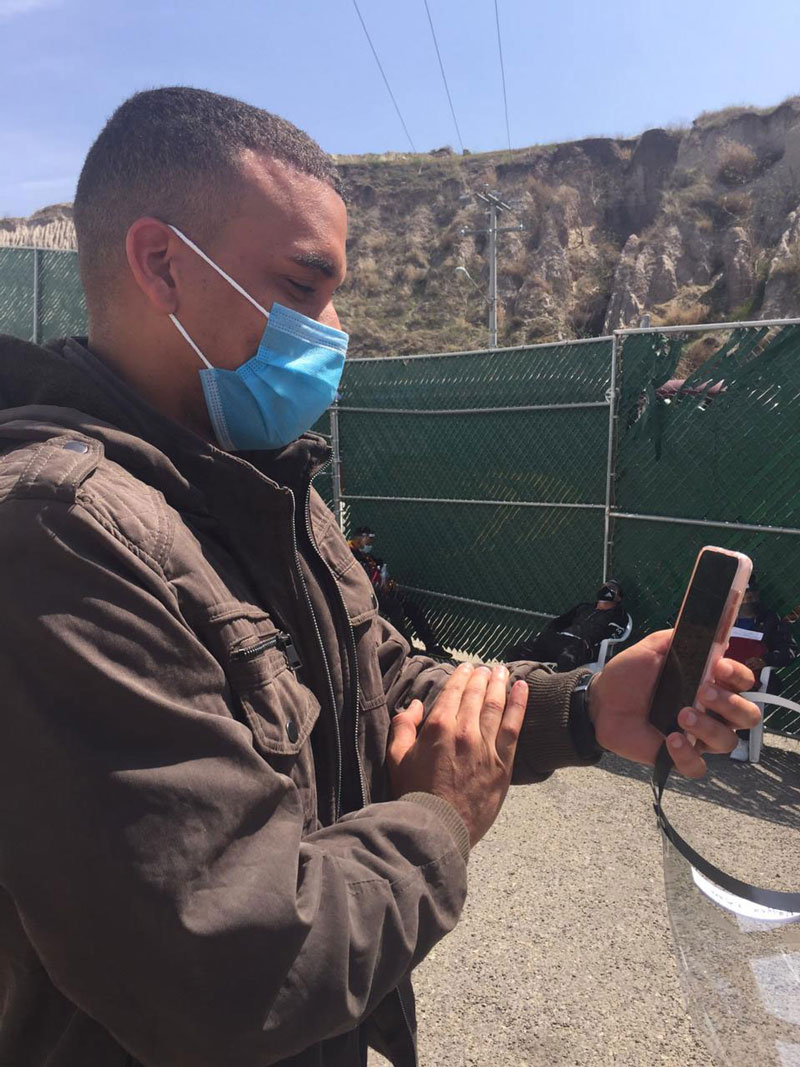 (HIAS Mexico)
One man's journey from Cuba to the United States can't tell everyone's story. But, since the obstacles and violence Yeinier faced are tragically similar to the experiences of so many others, this is not his story alone.
For this Cuban political refugee, a dangerous 22-month journey took him thousands of miles to end up in freedom barely a couple of hundred miles from where he started. With HIAS' help, Yeinier's story had a happy ending, but it came at a high price.
Yeinier, 30, is one of thousands who flee their homes to escape persecution and risk their lives in search of safety and a new beginning in the U.S. For asylum seekers who tried to cross the U.S.-Mexico border in 2019-2020, the blanket refusal to enter the country came as a bitter shock. Few understood that the United States had changed its policy and closed its doors in wilful disregard of international law.
"When I got to the border I didn't know anything about MPP," Yeinier recalled, referring to the "Remain in Mexico" program implemented by the Trump administration that forced those seeking asylum at the U.S. southern border to wait in Mexico until their court cases could proceed. MPP, or Migrant Protection Protocols, resulted in more than 68,000 people waiting in poor conditions for long periods of time. Hundreds of these people awaiting border hearings are known to have suffered violent crimes in Mexico.
It was because Yeinier got caught up in MPP that he found HIAS. As he was waiting in Mexico he was assaulted, and a friend suggested he contact HIAS for mental health counseling and legal advice.
Despite the grievous circumstances, Yeinier says his experience with HIAS, who he says is staffed with "the most beautiful and kind people," was a sweet one.
"I felt understood, I got help when I needed it the most," he said.
Every step of Yeinier's way to the HIAS office in Tijuana was hard. He had been living with his mother and grandmother in Havana, Cuba and working as a baker, but had wanted to join his father, who went to the U.S in 1994. More recently, his long-term partner Ariadne had gone to the States in 2017, and he wanted to be with her.
Yeinier found his life suddenly made difficult in Cuba after he joined a protest against the government. The situation got "very complicated" when a police officer found him and stole his money, bread, and belongings and then demanded he pay 3000 pesos — if he said anything he would be thrown in jail.
Yeinier left Cuba on June 16, 2019. He flew to Nicaragua, got on one bus to Honduras, on another to Guatemala, and then finally a third bus to Mexico.The bus rides were long and he never felt safe.
"I was scared all the time," he said.
He knew that the police were corrupt and he was extorted in both Guatemala and in Mexico. When he got to Nogales he thought he would cross into the U.S. and his journey would come to an end. But that was when things took a turn for the worse.
He was denied entry and his court-appointed lawyer told Yeinier that he was accused of illegal entry to the U.S. because he tried to enter without permission. Yeinier was frustrated and angry with the lawyer, who he thought agreed he was guilty. "I didn't feel guilty of anything," he said. "And I felt the lawyer wasn't listening to me."
Yeinier was told to go back to Mexico. He went to Juarez, and though his father sent someone $1000 to give to Yeinier, the person not only kept the money, but also threatened to kill Yeinier. The border authorities still would not consider his case.
"Someone put a gun to my head but they didn't listen to me, and they said my credible fear wasn't acceptable," he said.
Setback after setback, Yeinier never gave up and never thought about returning to Cuba.
With the last of his money, he took one last bus ride — a 19-hour ride to Tijuana.
"I felt like anything could happen on that bus," he said.
When he arrived in Tijuana he slept in a garage that a man let him stay in and he got a job in a car wash. He began to monitor what was happening at the border on social media.
In April 2021 a friend told Yeinier about HIAS, and with that bit of information his life changed.
He remembers HIAS lawyers telling him to be patient and wait, and they told him they would help him with the process. He became one of the hundreds of MPP cases that HIAS assisted, and finally his luck turned as HIAS helped Yeinier to cross the border.
Though he only arrived in the U.S. in April, Yeinier is excited to have made a fresh new start and to have put the journey behind him. Together with his partner Ariadne, he is beginning to feel like he is home.
Now, living in Miami and feeling "super great," Yeinier has an entirely different kind of story to tell. He hopes to send money to his mother and grandmother in Cuba so they can come live with him. He wants to enroll in classes to improve his life. He wants to start a bakery or become a tow truck driver. He wants a job, so he can help Ariadne pay the rent.
"I want to study, I want to work, I want to move on," he said.