New Software Does the Hard Work in Placing Refugees
By Sharon Samber, HIAS.org
Oct 18, 2018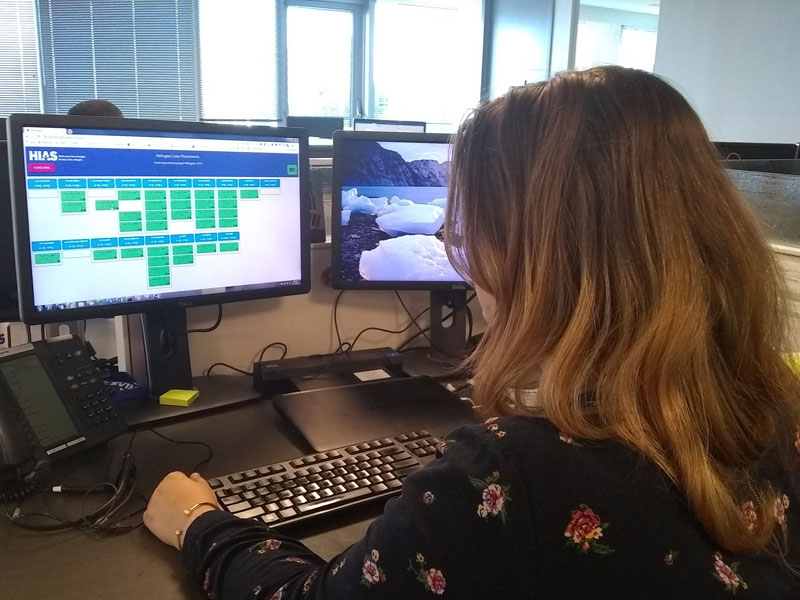 (Sharon Samber, HIAS)
Ah, if Annie Moore could see herself now.
The Annie Moore of historical significance was the first immigrant registered at New York's Ellis Island in 1892. The 17-year old woman from Ireland came by ship with her two younger brothers and received a $10 gold coin and a speech of welcome and congratulation when she reached America.
Just as Moore is in the history books, HIAS hopes "Annie MOORE" will join her there, a mere 125 years later. Today's MOORE stands for Matching and Outcome Optimization for Refugee Empowerment, a new refugee assistance software program that HIAS helped develop and which is already showing signs of success.
Last year, in order to improve the chances of resettled refugees finding employment, HIAS teamed up with researchers at the Universities of Oxford and Lund, Sweden, as well as the Worcester Polytechnic Institute (WPI), to develop complex computational tools to match refugees to given locations.
Annie utilizes past employment data, adding to the language support and nationality data currently used for matching. The researchers understood that refugees should live where they have the greatest chance of getting a job and becoming self-sufficient, as well as adapting to their new life. For example, an Arabic-speaking family of five from Syria could be served by a number of affiliates in the HIAS network, but Annie can predict at which location they are most likely to find work. In the future, the software may add criteria such as educational and vocational background and workplace, housing, school, and healthcare needs.
Of the 496 employable refugees that HIAS resettled in 2017, 159 were able to secure some form of employment in the first 90 days. However the data shows that had Annie been used to automatically match refugees to new homes, over 200 – or over 20 percent more – would have found a job in this same time frame. The program also significantly improves the chances of the refugees settling into, and therefore likely becoming a benefit to, the wider community.
"Many people think that once a family is resettled, they continue to be supported by the government," said HIAS' Mike Mitchell, Associate Vice President, U.S. Programs. "But in the United States this simply isn't true. Refugees are expected to obtain employment very quickly and start supporting themselves. This technology has been key to helping our regional offices connect relatively straightforward resettlement cases with new homes and communities where they are more likely to thrive in their jobs."
The effect of Annie on processing at HIAS was immediate. "We have been testing Annie for case placement and are extremely pleased with its benefit to our program," said Karen Monken, HIAS' Associate Director for Pre-arrival. "My staff and I can now spend less time on routine matching, and can focus time and energy on the more difficult cases, such as those with significant medical conditions."
If staff is dissatisfied with the match suggested by Annie, they still have the option of overriding the recommendation with a manual selection.
While the first version of the software was launched in May 2018, there have been dozens of design improvements since. Annie has also been presented to key stakeholders at the U.S. Department of State.
Andrew C. Trapp, Associate Professor at WPI's Foisie Business School, praised the software program for its ability to predict the likelihood of employment, based on the algorithms and data. "Technological solutions like Annie can have profound societal impact," he said.
Mitchell hopes the software will benefit other resettlement agencies and has already showcased it to a number of organizations. HIAS sees potential for Annie to match refugees in other countries and help resettlement agencies there as well.