New Report Urges Administration to Preserve U.S. Humanitarian Leadership
By Gabe Cahn, HIAS.org
Aug 18, 2017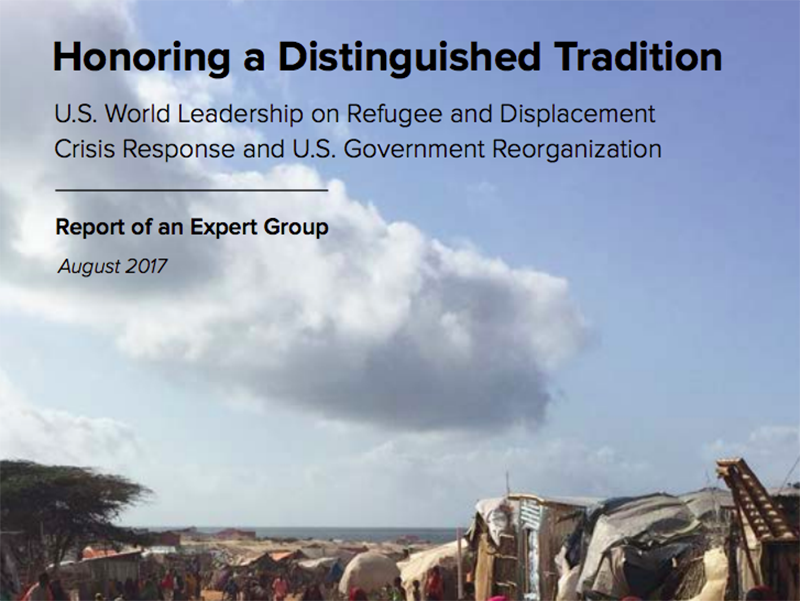 (Refugees International)
A new report released on August 17 by Refugees International, signed by two dozen foreign policy experts and humanitarian leaders, lays out important program and policy issues associated with any attempt to fundamentally reorganize the mechanisms through which the United States responds to international humanitarian crises.
Honoring a Distinguished Tradition: U.S. World Leadership on Refugee and Displacement Crisis Response and U.S. Government Reorganization outlines several critical considerations for altering the government's humanitarian functions – including the Refugee Admissions Program – as the current administration is reportedly contemplating.
Specifically, the bipartisan group of experts argues that consolidating the functions of either the State Department or the U.S. Agency for International Development (USAID) "would weaken the functions that are inherent in their respective organizational missions."
Instead, the senior humanitarian practitioners and former diplomats propose "enhanced 'jointness' and collaboration...which would not only preserve essential functions of both State and USAID, but also enhance effectiveness in U.S. humanitarian response."
Critically, the report warns that the "elimination of the State Department's Bureau of Population, Refugees and Migration – the bureau established to manifest U.S. diplomatic, legal and moral concerns about refugees – will send an obvious and powerful signal, within the United States and to the rest of the world, that the United States is diminishing its historical concerns about the displaced and disenfranchised."
"For decades, the United States has been a global leader in promoting refugee protection and resettlement," said HIAS President and CEO Mark Hetfield, who joined experts including Former Deputy Secretary of State William J. Burns, Former Undersecretary of State for Political Affairs Wendy Sherman and International Rescue Committee head David Miliband in endorsing the report.
"Dismantling PRM would seriously and permanently weaken the ability of the United States to be a world leader in protecting and finding solutions for refugees forced to flee their homes," Hetfield added.
"As the leader of the world's oldest refugee agency, HIAS, I am honored to join in the authorship of this report on the importance of keeping the refugee bureau intact within the U.S. Department of State."