Measuring Congressional Support for Refugees in 2017
By Naomi Steinberg, Guest Contributor
Dec 27, 2017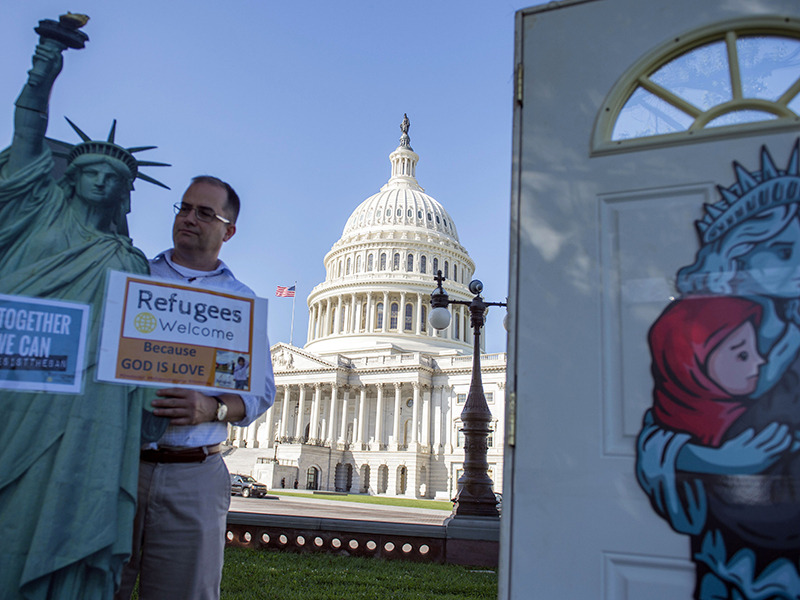 (Andrew Caballero-Reynolds/AFP/Getty Images)
By any measure, this was a hard year for refugees and the American communities that welcome them.
In 2017, the Trump Administration did everything it could to radically decrease the number of refugees admitted to the United States. Next year does not promise to be any easier. With the historically low Presidential Determination of 45,000 for fiscal year 2018, HIAS and our partners will continue to fight to ensure that the U.S. actually meets its refugee admissions goal and that the U.S. refugee resettlement program is supported at the national, state and local levels.
As the end of the year approaches and we look back at the many deeply impactful ways that the American Jewish community came together to stand against discriminatory anti-refugee policies, and as we look ahead to the challenges that 2018 will surely hold in store, it is important that we remember the victories and the support for refugees that also helped to define 2017.
We cannot forget that with an administration intent on completely shutting refugee resettlement down, the fact that we are still standing and welcoming any refugees is an important victory. We must also not forget that in spite of the toxic narrative about refugees that seems to consume the news and political debates, there is in fact Congressional support for refugees.
For example, in January, following the introduction of the first Muslim and refugee ban, Senator Chris Murphy of Connecticut introduced legislation with seven original co-sponsors that aimed to withhold funding that would help to enforce the Executive Order.
In May, 17 Senators sent a bipartisan letter to Secretaries Tillerson and Kelly highlighting the national security imperative of the U.S. refugee resettlement program and pushing the Secretaries of State and Homeland Security to answer questions about refugee arrivals and processing in light of the introduction of the second refugee ban.
As the fiscal year was winding down, a bipartisan Senate letter with 34 signatories was sent to the White House to urge the Administration to set a robust Presidential Determination.
Moreover, following the issuance of Muslim Ban 3.0 in October, 28 Senators also immediately introduced legislation that would have halted that Ban's implementation.
Congressional support for refugees was not limited to the Senate. In June, led by Representatives Lieu (D-CA), Ros -Lehtinen (R-FL), Curbelo (R-FL), Hultgren (R-IL) and cosponsored by 71 members of the House, a bipartisan World Refugee Day resolution was introduced. In October, a House letter with more than 100 signatures was sent to President Trump expressing disappointment in the refugee ceiling of 45,000 and calling for one of 110,000.
These measures are just a snapshot of some examples of Congressional support for refugees in 2017. But even with this level of backing, we cannot be complacent.
In 2018, attacks on the U.S. refugee resettlement program will continue. Political support for resettlement will therefore again be extremely important. So, in 2018, HIAS will continue our work to deepen Congressional support and increase bipartisan leadership on refugee protection. We look forward to joining forces with our partners around the country again next year as we collectively stand up and speak out in support of refugees and this country's proud history of welcome.
Naomi Steinberg is HIAS' Senior Director for Policy and Advocacy. To urge Congress to resettle more refugees in the United States, take action here.