Last Evacuated Afghans Leave U.S. Bases, But More Work Remains
By Sharon Samber, HIAS.org
Feb 22, 2022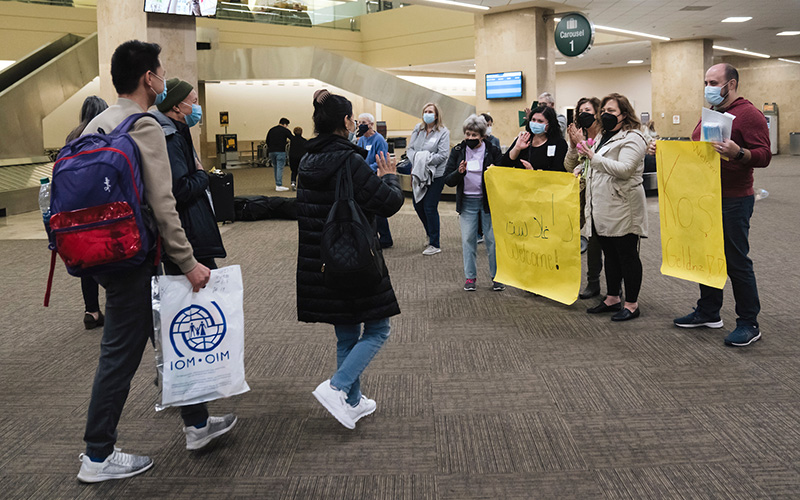 (Eric Thayer for HIAS)
Just days after the six month anniversary of the fall of Kabul, the last Afghan refugees who made it to America have finally left U.S. military bases.
This historic moment was just part of a larger — and still ongoing — historic response across the U.S., which includes HIAS and its resettlement network. More than 76,000 Afghans were airlifted from their homeland and brought to the U.S. in a matter of weeks last August as part of the largest military evacuation of refugees in history.
From the start, the extended HIAS community of supporters, partners, and congregations was engaged and continues to assist on many levels, whether it has to do with housing or helping new resettlement partners start receiving refugees during this unprecedented moment.
Evacuated Afghans were housed on eight military bases across the country and HIAS' involvement in this unprecedented resettlement effort was immediate. During the early chaotic days of the crisis, HIAS staff were quickly deployed to bases where refugees were housed to help speed the initial intake process. Over the last six months there have been multiple initiatives within HIAS and steady work toward helping these Afghans become New Americans.
While the last Afghans leaving an army base marks a momentous occasion, it is the end of one phase while other phases — those that provide arrivals with practical help to become part of American society — are ongoing. HIAS' work involves getting refugees acclimated to their new communities, helping them find jobs, and advocating for their rights to help them in their new lives.
"HIAS and our resettlement network partners have been welcoming Afghan allies since day one of their evacuation, but we still have a lot of work to do, as we need to keep advocating until Congress provides these U.S. allies with a pathway to a green card and family reunification," said HIAS CEO and President Mark Hetfield.
Just four months into the current federal fiscal year, HIAS, through its affiliate network in 24 communities across the U.S., has already resettled more than 3,700 Afghans. That's more than ten times the number resettled all of last year. To meet the need, some affiliates have hired additional staff trained in case management and who have Dari and Pashto language skills.
"This incredible mobilization by the HIAS network required enlisting legions of volunteers to create communities of welcome, securing resources to meet the varied needs, organizing drives for in-kind donations and handling the logistics, and finding housing where very little exists at affordable costs," said Alicia Wrenn, HIAS' senior director for resettlement and integration. "Afghans deserve a strong welcome. The HIAS network is here for the long haul and remains in partnership with the Afghan community until arrivals are settled into their new homes and lives."
Resettling so many people in a short period of time has strained the entire U.S. resettlement system, which is still rebuilding after the cutbacks of the previous administration. One new effort to increase resettlement capacity is the Biden administration's new "sponsorship circles" private sponsorship program. HIAS Welcome Circles, created last fall, expect to resettle up to an additional 1,000 Afghan refugees in communities across the country this year. There are currently 32 certified HIAS Welcome Circles, 25 of which have been matched with the Afghan families they will assist.
According to Isabel Burton, HIAS' senior director of community engagement programs and initiatives, the Jewish community is coming together with "open hands and hearts" to welcome Afghan newcomers with generosity and dignity.
Going forward there are still a number of challenges, such as finding Afghan evacuees safe, affordable housing, employment, and social services. HIAS attorneys plan to help many Afghans with the free preparation of humanitarian parole applications, as well as provide pro bono services such as legal clinics.
Advocacy also remains a top priority with HIAS' legislative focus on ensuring that the Afghans who arrived in the U.S. with humanitarian parole, a temporary legal status, can access a pathway to permanency, explains Naomi Steinberg, HIAS' vice president for policy and advocacy. The most effective way forward is through an Afghan Adjustment Act that would provide automatic adjustment of status to become legal permanent residents.
"Without that, we are leaving thousands of people to navigate an overburdened asylum system, and forcing them to live in limbo for years," Steinberg said. "At the barest of minimums, if passing an Afghan Adjustment Act proves to be impossible, we need to make sure that there are adequate federal funds for legal aid so that humanitarian paroles can receive assistance as they go through the complicated asylum process."
The whirlwind of the first half year of helping Afghan refugees has ended, but of course the work continues. Just days ago, three new HIAS Welcome Circles in Orange County, CA greeted some of the last families to leave Fort Dix, N.J. One of the refugees was reunited with her brother who she hadn't seen in 10 years.
"It was deeply moving," said Jackie Menter, a HIAS Liaison for Welcome Circles who was at the airport in Santa Ana for the arrival. "It was bittersweet and heartwarming at the same time. There were tears in their eyes."
Menter also heard how one of the families appreciated being taken to a Halal restaurant, especially after not having been able to leave the base for all of these months.
"It's an exciting and momentous time," Menter said. "We are so grateful to be able to welcome these Afghan families to their new homes."