Keeping the Global Response to Refugee Issues On Track
By Sharon Samber, HIAS.org
Dec 14, 2021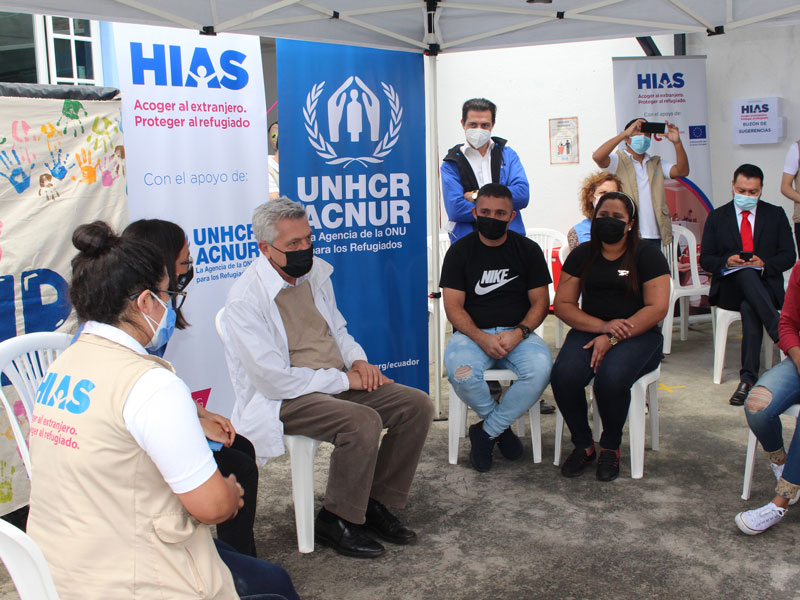 (HIAS Ecuador)
The end of the year is a good time for taking stock of things. This week HIAS will do just that as it participates in an event designed to monitor the international response to refugee issues.
The High Level Officials Meeting is part of a process aimed at achieving the objectives of the 2018 Global Compact on Refugees (GCR). The GCR acknowledges the necessity of working cooperatively to protect the rights of refugees and is a crucial tool in providing greater international support for those forced to flee their homelands, and for the host countries that take them in, which are often among the poorest in the world.
The current round of meetings, intended to be in Geneva but now all virtual, will bring together a select group of refugee assistance organizations and many government officials December 14-15 to advance implementation of the pledges made at the first Global Refugee Forum in 2019. UNHCR, the UN Refugee Agency, is co-hosting the meeting together with Switzerland.
HIAS has been realizing its pledges in real life toward the goals of the compact since the forum's inaugural meeting. Some of the highlights of HIAS' pledges include working with other faith-based groups; implementing poverty alleviation programming using the graduation model approach; and increasing access to services for survivors of gender-based violence.
Several pledges show great progress: A pledge centered on providing access to legal protection shows that, with two years to go to reach the 2023 goal of providing 600,000 with impactful legal information, HIAS is already well on the way, having already reached 400,000. A pledge to provide written guidance on mental health and psychosocial support for refugees, asylum seekers, and migrants during COVID-19 is already completed.
Although the overall progress toward the goals of the GCR by governments has been slow in many places, there is still a global investment in resources and the original commitment; the meetings are an opportunity to bring together donors and agencies and a chance to show the efforts put into the pledges.
While it is impossible to dismiss the impact of COVID-19, in a recent preliminary meeting HIAS President and CEO Mark Hetfield wanted to dispel the notion that delays can all be attributed to the pandemic.
"When it comes to the decline of resettlement, COVID provided the nails for the coffin, but was not the cause of death," Hetfield said. "If we are to address the global refugee crisis, resettlement can and must be revived."
Refugee crises cannot be left to countries of first asylum, Hetfield further noted. Refugees will continue to move until they find a country that has the capacity to receive them, so everyone must play a role in addressing forced displacement.
The virtual meetings will identify gaps and review the efforts of the nearly 1,400 pledges made to better support refugees and host communities ahead of the next Global Refugee Forum in 2023.