I Am Leaving, But My Heart Stays With HIAS
By Joyce Kanja
Nov 05, 2019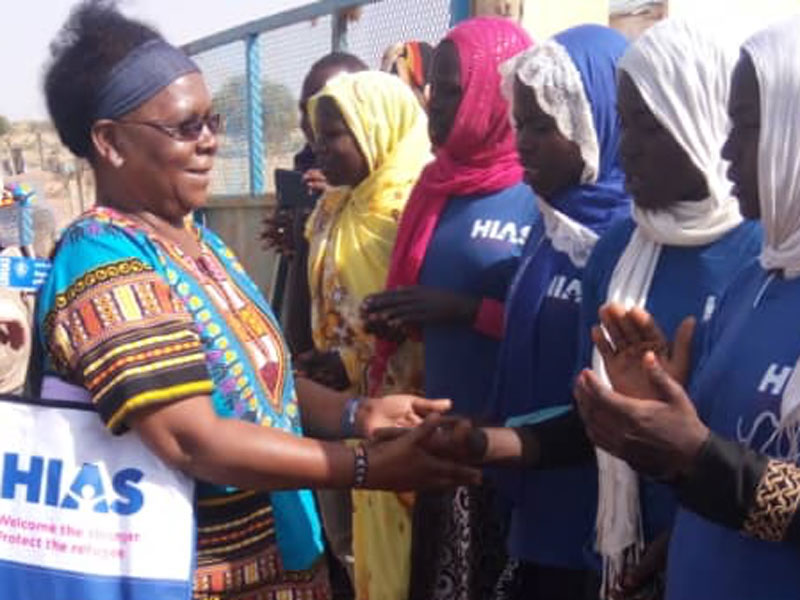 (HIAS)
Joyce Kanja left HIAS earlier this year after working as the Chad country director for 11 years. She oversaw a staff of over 100 and expanded operations to help 350,000 refugees. Here are her reflections on leaving HIAS:
I joined HIAS as a psychosocial counseling professional in Chad at the end of 2007. I took up my duties in the Gaga refugee camp where HIAS was in charge of implementing psychosocial services and prevention and response to sexual and gender-based violence (SGBV). I worked with a team of Chadian staff and refugee community mobilizers who are the backbone of HIAS work in the camps.
I immediately fell in love with the work I was doing and developed a very close bond with the refugees. I enjoyed conducting home visits and seeing a smile on a refugee's face after our conversation.
After two months of work in Gaga camp, fighting broke out in the country and it was decided that the HIAS staff was not safe and needed to be evacuated from the camps. One morning, while I was in the process of conducting a counseling session with a group of female SGBV survivors, a military officer burst into the room and ordered me to stop what I was doing and report at the assembly point with my staff in order to be escorted out of the camp. In my naivete, I tried to explain to him that I was in the middle of counseling and he shouted back, "Madam, ten minutes or we leave you here!"
I explained to my clients that I had to leave for security reasons. One young woman looked at me with sadness in her eyes and said, "If you, our mama, leave us, who will take care of us?" Those words and the hopelessness in her voice stung me. There and then I decided that I was going to stay, come war or come peace!
When I started working at HIAS, we were implementing activities in five camps, and within a period of 4 years, our services expanded to 11 camps. A year later we grew more and today we have operations in 13 locations in eastern Chad serving more than 350,000 Darfuri refugees.
During my tenure I worked on many programs, including psychosocial counseling and support; peace education and conflict resolution; and general food distribution. In order to support SGBV survivors to recover and regain their dignity, we teach them skills to help take their minds off the trauma they have experienced, as well as provide them with the means to earn a living. These skills include weaving, basket making, and bread making, to name just a few.
I will miss going to the refugee camps and seeing the people we have assisted. I will miss seeing the refugee staff /community mobilizers traversing the camps and proudly wearing HIAS gear. And I hope that one day, I will get another opportunity to serve displaced persons.
I came to HIAS as simply Joyce Kanja. But I leave with many titles. To the refugees and staff I am Mama Joyce. To the imam in charge of the mosque next to our office, I am the lady heading a Jewish organization in Chad. To the partners and authorities, I am Mama HIAS.