HIAS Report Maps Process for Ending MPP, the "Humanitarian Disaster"
By Sharon Samber, HIAS.org
Jan 27, 2021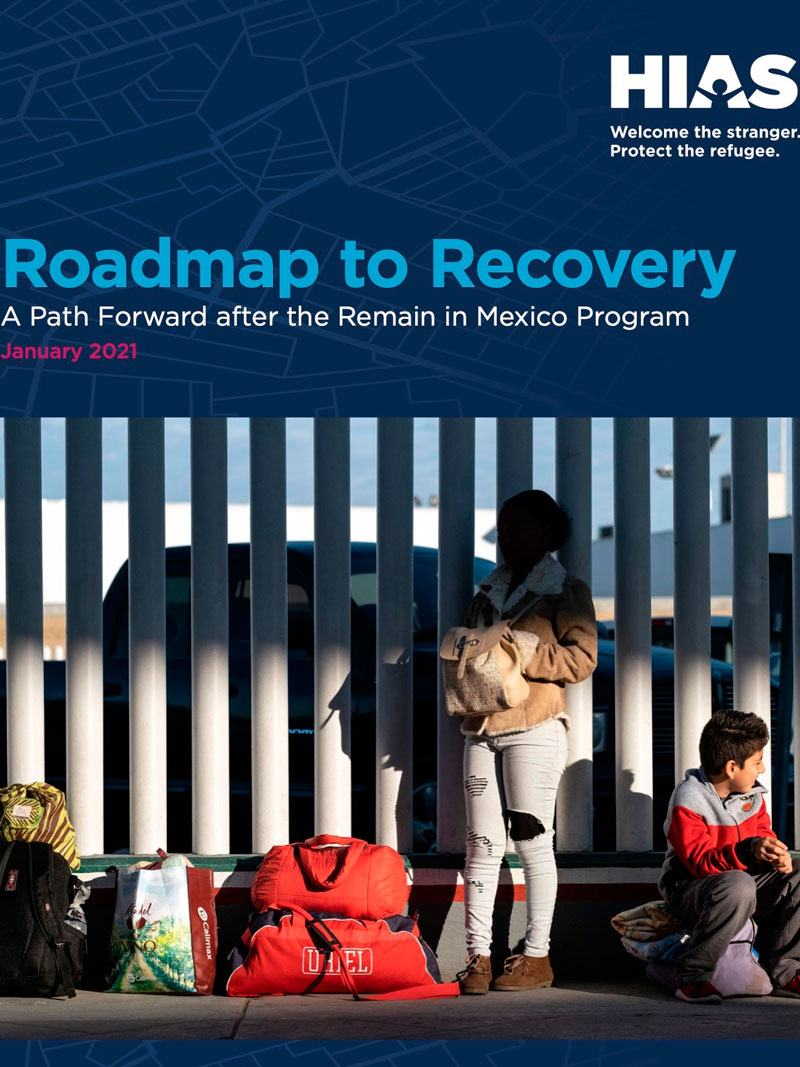 The Migrant Protection Protocols, or MPP, were created and used by the Trump Administration since January 2019 to force most asylum seekers who presented themselves at the southern border to wait for their asylum hearings in uncertain conditions in Mexico, rather than in the United States. Tens of thousands of people were affected by the policy, and hundreds are known to have suffered violent crimes in Mexico.
A new HIAS report, "Roadmap to Recovery: A Path Forward after the Remain in Mexico Program," offers comprehensive recommendations on how to end and dismantle MPP. The executive summary of the report was recently shared with the Biden transition team.
"People deserve a fair shot at seeking asylum, but instead under the Remain in Mexico program they've been forced to stay in some of the most dangerous places in the world," said Andrew Geibel, the report's author and HIAS' policy counsel. "The plan within this report will bring people out of these dangerous areas and let them present their claims in the safety and security of the United States."
HIAS and Catholic Legal Immigration Network, Inc. convened a series of meetings with other border organizations to create a comprehensive plan to end the program. "Roadmap to Recovery," which claims MPP was "an unmitigated disaster for asylum seekers," is the culmination of that work. The full report is forthcoming.
The report outlines actions the new administration should take before asylum seekers can enter the United States, how asylum seekers should enter the United States, and what procedures should occur after asylum seekers enter the United States. Creating processes for reopening cases and waiving deadlines and providing legal remedy for those asylum seekers who entered the U.S. without inspection are just some of the steps that are discussed.
"Ending a massive program like Remain in Mexico requires a detailed plan to address the needs of multiple populations affected by MPP," Geibel said. "This report is a way for us at HIAS to bring our expertise to the incoming administration to help quickly end this program."
The report's recommendations include:
Create a streamlined process for allowing entry into the U.S. to asylum seekers who are currently in MPP or were previously subjected to MPP and those who were previously subjected to other restrictive asylum policies.

Asylum seekers at the border should be able to apply for Humanitarian Parole, an alternative travel document that allows entry for urgent humanitarian reasons.

Create two simultaneous tracks for processing MPP cases at key Ports of Entry into the U.S. Vulnerable asylum seekers — defined as those with a medical condition or mental illness, pregnant women, LGBTQ individuals, and non-Spanish speakers — should be processed immediately upon presenting themselves. For those without these stated vulnerabilities, the administration should process them in phases.

Ensure that there is a presumption that no asylum seeker will be held in Customs and Border Protection custody for more than four hours, and no asylum seeker should be subjected to Immigration and Customs Enforcement detention.
The report describes the need for increased resources and increased oversight at key Ports of Entry to ensure maximum capacity, and calls for changes to how a family is defined to prevent the unnecessary and cruel separation of families. It further recommends that none of the people who were subject to MPP be held in immigration detention in the United States.
HIAS is also calling on the Biden administration to convene a truth commission to explore the harms brought by the Trump administration's immigration policies and give asylum seekers a chance to be heard after being subjected to dehumanizing processes.