HIAS Puts Chromebooks and Computer Education In The Hands of Clients
By Max J. Rosenthal, HIAS.org
Dec 16, 2020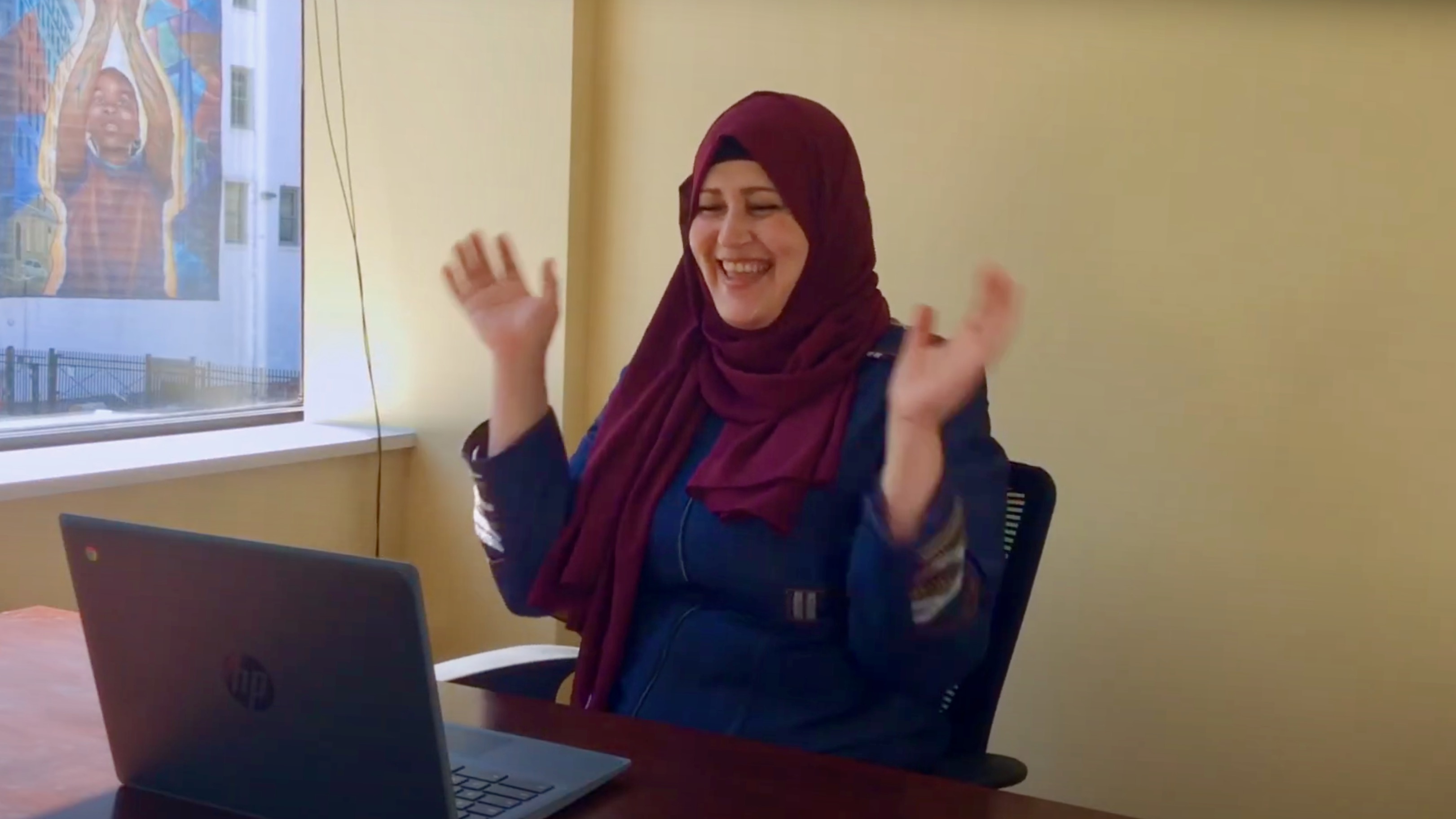 (Charlie Heil/HIAS Pennsylvania)
The COVID-19 pandemic has made HIAS clients more reliant on technology than ever before. With social distancing a must, everything from applying for benefits to meeting case managers, to learning English now requires a computer or a smartphone — and the skills to use them.
Learning those skills can be particularly hard for newcomers, some of whom have limited experience with computers and are already busy learning English, navigating the education and employment systems, and getting established in their new lives. Charlie Heil, who teaches English classes to refugees, asylum seekers, and other clients for HIAS Pennsylvania (a local affiliate of HIAS), saw this firsthand when his lessons moved to Zoom and WhatsApp.
"We did some intensive Chromebook and Zoom preparation meetings with students," Heil said. "That could take an hour, hour and a half, two hours." He recalled that he often needed to teach every small detail of the process to join an online lesson, even simple actions like how to double-click on an icon.
HIAS offered Heil an opportunity to help make things easier. In partnership with local affiliates, HIAS has distributed more than 600 Chromebooks — inexpensive laptops that run on relatively simple Google software — to clients across the country since the start of the COVID-19 pandemic. Camille Wathne, a program manager at HIAS, wanted to find a way to teach those clients Chromebook basics so they could better handle a wide range of important tasks.
"Digital access and WiFi is kind of becoming a human right and a critical component of people's ability to access things," Wathne said. "And I think the past few months have really exposed the disparities in digital access, digital literacy, even broadband and WiFi."
Wathne and Heil, who has filmmaking and curriculum development experience, teamed up to fund and create a set of instructional videos to cover all the basics of using the machines. While the program was aimed specifically at financial literacy, they knew the training would make easier for refugees to handle a wide range of necessary tasks.
Heil was particularly inspired by one of his longtime students, an older man from Eritrea. "He was with me for the better part of two years," Heil said, "but once we went online, he stopped coming. I would call him, we would talk on the phone a little bit … but when it was about joining a Zoom meeting, he was just like, 'no, nope.' … So he was in my mind when I was developing these videos."
The video lessons, 11 in all, were published in September. They are available in seven languages in addition to English.
The Chromebooks, along with the videos, are closing that gap. A HIAS survey of clients who received Chromebooks and devices found that "access to technology and interpretation had life-saving and life-enriching results. Sixty-three percent of households surveyed reported using the technology to access remote medical services, mental health services or both."
The distribution of Chromebooks also enabled case managers to connect with their clients and offer services despite being unable to meet in person. HIAS affiliate JFS Seattle, for example, has used the laptops to move its programs on financial literacy and navigating the U.S. education system online. Despite the problems of COVID-19, HIAS and its partners are adapting to meet the needs of the crisis.