HIAS Named Among Grantees of Genesis Prize Foundation
By Gabe Cahn, HIAS.org
Jan 17, 2018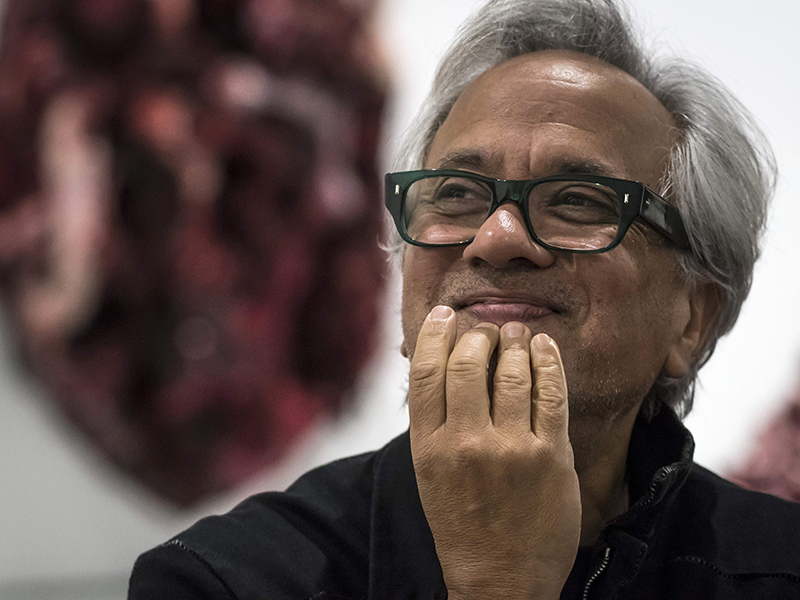 (Jean-Philippe Ksiazek/AFP/Getty Images)
Dubbed the "Jewish Nobel" by TIME Magazine, the $1 million Genesis Prize honors individuals who inspire the next generation of Jews through their outstanding professional achievement and commitment to the Jewish people and Jewish values.
In 2017, The Genesis Prize Foundation (GPF) named world-renowned artist and human rights activist Anish Kapoor a Genesis Prize Laureate. Responding to the global refugee crisis, Kapoor immediately signaled his intent to leverage the prize in order to assist refugees.
On Tuesday, January 16, GPF and Kapoor jointly announced grants to five prominent organizations engaged in alleviating the global refugee crisis, including HIAS.
"Like many Jews, I do not have to go far back in my family history to find people who were refugees," said Kapoor.
"I believe in a world of compassion, and am fortunate to be able to work with The Genesis Prize Foundation and the terrific NGOs receiving our grants to bring more compassion into the world," he added.
Commenting on the fact that Kapoor's prize will address refugee issues, Michael Fridman, co-founder of The Genesis Prize Foundation, stated: "I believe it is a moral obligation of every Jew to do whatever he or she can to help refugees, displaced people, and those seeking asylum.
"We, Jews, should not allow history to repeat itself when it comes to other persecuted peoples and religious and ethnic minorities. Otherwise, we have learned nothing from history."
HIAS will utilize the generous grant to strengthen the capacity of local leaders in communities across America to advocate in support of immigrants and refugees. And, as a result of ongoing efforts to limit refugee admissions and reduce the resettlement infrastructure in the U.S., the amount of the grant was doubled.
"We are deeply moved by Anish Kapoor's commitment to repairing the world for refugees together with the Genesis Prize Foundation," said HIAS CEO and President Mark Hetfield.
"HIAS and our supporters in the American Jewish community are people who know the heart of the stranger and of the refugee, for we were strangers too. Together, we are taking action every day to make sure that refugees can find welcome, safety and freedom in the United States. In the year ahead, we look forward to expanding our work mobilizing local leaders in support of a better future for those who are seeking safety."
Along with HIAS, the recipient organizations of Kapoor's $1 million Genesis Prize include the International Rescue Committee, the Multifaith Alliance for Syrian Refugees, Help Refugees, and Hillel International.
Beyond HIAS' project, the prize will fund the following activities:
The International Rescue Committee's work to improve community health services for refugees in northern Uganda and to provide life-saving access to safe water for the Rohingya ethnic minority group in the Rakhine state in Myanmar.

Help Refugees' life-saving winterization to five refugee camps in Greece and a refugee camp in Calais, France, including the funding of food and the most essential winter equipment

The Multifaith Alliance for Syrian Refugees' shipment of 36 containers of aid to Syrian refugees containing a combined value of more than $20 million in medicines and medical equipment

Hillel International's initiative, in collaboration with the Joint Distribution Committee, to bring together thousands of Jewish students and young adult volunteers together to assemble aid packages for 5,000 Syrian refugees
Since the creation of the prize, Michael R. Bloomberg, Michael Douglas, Itzhak Perlman, and Natalie Portman have all been named Genesis Prize Laureates, and last fall, U.S. Supreme Court Justice Ruth Bader Ginsburg was selected as the inaugural recipient of the Genesis Lifetime Achievement Award.
For all the latest news on HIAS' work welcoming refugees, follow us on Facebook, Twitter and Instagram.