HIAS Joins Christian Groups to ask for 75,000 Refugees
By Erin Beiner, HIAS.org
Sep 13, 2018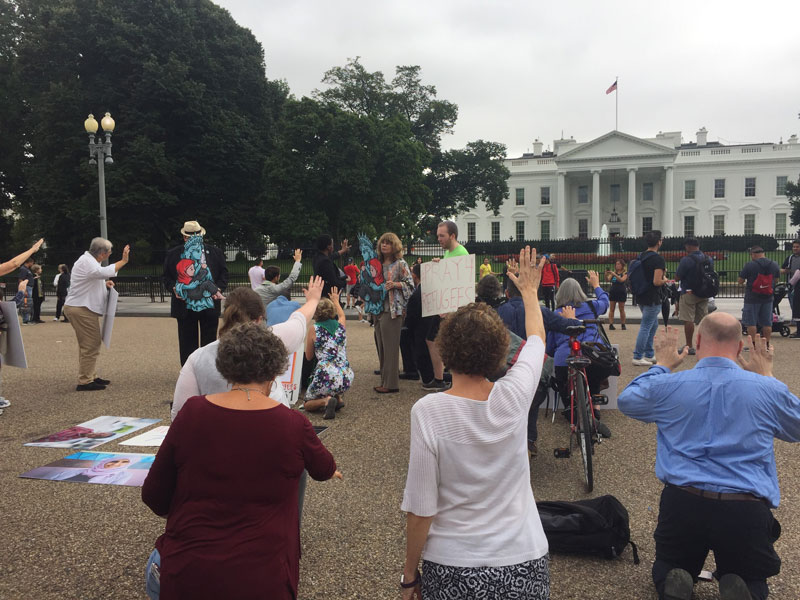 (Erin Beiner, HIAS)
On September 12th, HIAS representatives and volunteers joined with several major Christian denominations and community partners to stand outside the White House and demand the Trump Administration welcome 75,000 refugees in 2019. The rally, which was sponsored by several faith-based organizations including HIAS, sent a clear message: people of faith have a voice and they reject the Administration's attempts to slash the refugee program.
Last year the Administration set the lowest refugee admissions cap in history at 45,000 and it is projected that the U.S will admit less than half of that by the end of the fiscal year. It remains unclear what how many refugees the Administration will admit next year, but the total could be set as low as 25,000 refugees. Faith leaders, refugee leaders, business, and community partners who attended the rally said welcoming 75,000 refugees in the coming year would represent a good faith effort to restore the country's commitment to help refugees in need of resettlement.
Last month, HIAS sent a letter signed by 36 national Jewish organizations to President Trump urging him to allow at least 75,000 refugees to be admitted to the U.S. in 2019.
At the protest in Lafayette Park people kneeled in prayer and raised their hands in the direction of the White House and then to Congress. They prayed that leaders will be able to open their hearts to refugees and they pleaded for the Trump Administration to do right by those in need and show compassion toward strangers.
After the prayer demonstration, several leaders from churches and faith-based community groups spoke and offered prayers for America and refugees, saying it is the responsibility of those in the faith community to speak out for what is right.
"As people of faith we understand that when the state won't speak, when the nation won't speak, that we will raise our voices to speak louder to say we stand with refugees from wherever they might come," said the Rev. Jimmie Hawkins, Director of the Office of Public Witness for the Presbyterian Church (USA).
Rev. Dr. Susan Henry-Crowe, General Secretary, General Board of Church and Society, The United Methodist Church, said to reject the Administration's attempts to halt refugee resettlement and deny welcome to those facing forced migration. "We call upon all policymakers to work for just and compassionate migration policies that affirm the worth, dignity, and inherent value and rights of all persons regardless of nationality or legal status," she said. "Cutting the refugee admissions numbers down to a historic low does not do that."
This demonstration was a powerful reminder of the strength and importance of the faith community in both advocating for and welcoming in refugees.