HIAS Files Amicus Brief Seeking Clarification on Refugee Ban
By Gabe Cahn, HIAS.org
Jul 03, 2017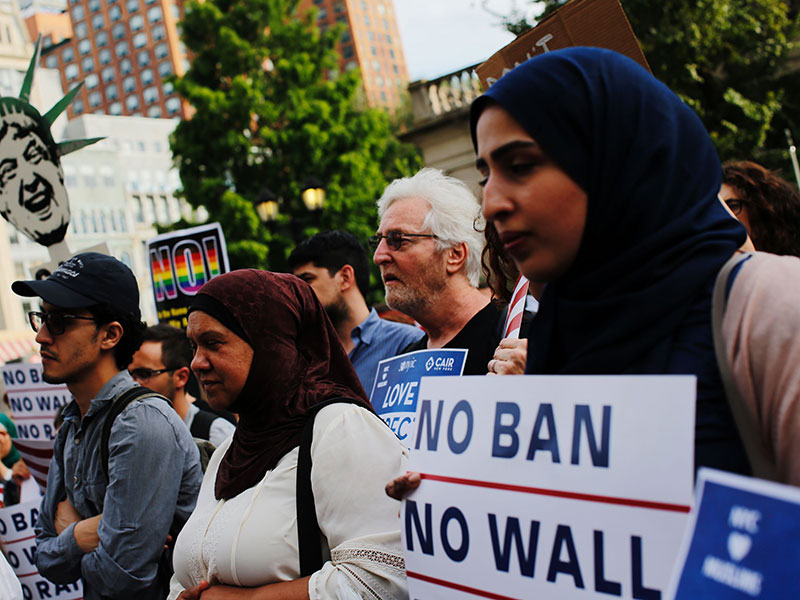 (EDUARDO MUNOZ ALVAREZ/AFP/Getty Images)
On June 26, the United States Supreme Court announced that it would hear the government's appeal of the Fourth and Ninth U.S. Circuit Court decisions with regard to President Trump's March 6 Muslim and refugee ban executive orders. The Court also issued a partial stay of the injunctions preventing the orders from going into effect.
The Supreme Court's narrow decision kept the lower courts' injunctions in place for all individuals who can prove a "bona fide relationship with a person or entity in the United States."
Three days later on June 29, the U.S. State Department and Department of Homeland Security shared how their legal interpretation of the Supreme Court's partial stay of the injunctions would impact refugee admissions and travelers from the six Muslim-majority countries identified in the executive order. For example, the State Department advised that a refugee's ties to a U.S.-based resettlement agency would not necessarily qualify as a "bona fide relationship" with an entity in the United States.
HIAS President and CEO Mark Hetfield strongly objected to that interpretation, saying in a statement, "Refugees cannot simply come to the United States, they must first be invited by our government."
That evening, lawyers working on the Hawaii v. Trump case filed an emergency motion in U.S. District Court to clarify the scope of the Supreme Court's decision in light of the Trump Administration's questionable guidance. They argued that the administration's interpretation is overly narrow and unwarranted both for refugees and nationals of the six countries named in the executive order.
Trump Admin is planning on violating the Supreme Ct orders in the Travel and refugee bans. Proud to stand w AG Chin, going into Ct rt now.

— Neal Katyal (@neal_katyal) June 29, 2017
HIAS and the International Refugee Assistance Project joined in support of the State of Hawaii's argument against the flawed interpretation of the Supreme Court's guidance.
Lawyers for the two refugee assistance organizations filed an amicus brief on Friday, June 30, warning that the "the government is threatening to violate the Supreme Court's clear instructions by excluding thousands of refugees with bona fide connections to U.S. entities."
.@RefugeeAssist, @HIASrefugees file brief in Hawaii #TravelBan case: govt ignoring SCOTUS by excluding refugees w ties to rstlmnt agencies pic.twitter.com/KW0OAQRF38

— Yeganeh Torbati (@yjtorbati) July 1, 2017
The brief argues that several categories of refugees should be considered to have bona fide relationships sufficient to satisfy the Supreme Court's standard. An eligibility requirement for several categories of refugees, such as the Central American Minors Program and the Iraqi Direct Access Program, includes a close family or other relationship in the United States, yet these categories are not mentioned as categorically exempt.
In addition, the brief takes issue with the idea that refugees' relationships with U.S.-based agencies do not qualify as "bona fide."
Long before clients reach the United States, HIAS forms relationships with them through pre-arrival legal and mental health services. Then, once a refugee is assigned to HIAS for resettlement, the organization provides a formal "assurance" to the U.S. government stating that it will be responsible for the refugee's entire resettlement process. HIAS and its affiliates fulfill these assurances by identifying and renting housing, providing transportation from the airport, arranging for basic necessities such as medical care, enrollment in school and public benefits programs and ongoing case management services. IRAP's client relationships are similarly "extensive, formal, and documented."
As HIAS and IRAP note in the brief, "it is preposterous for the government to claim that this extensive, intimate, and formally documented contact does not constitute a 'bona fide relationship.'"
"HIAS, our affiliates and our communal and congregational partners prepare extensively for each refugee in advance of their arrival," HIAS' General Counsel Liz Sweet told HIAS.org. "To say there is no formal relationship ignores a fundamental component of the refugee resettlement process."
Peter Margulies, a professor at Roger Williams University School of Law, echoed this argument in a piece published on the Lawfare Blog on Sunday, July 2.
Margulies writes that refugee agencies "are not fly-by-night organizations," and that the State Department has worked with groups like HIAS for years.
A U.S. refugee agencies assurance "clearly meets the Supreme Court's standard of a bona fide relationship that is 'formal, documented, and formed in the ordinary course," he writes.
According to Margulies, acknowledging that this type of "formal assurance is 'sufficient in and of itself' to establish a 'bona fide relationship' with the United States would merely continue the longtime course of dealing of the U.S. government."
To read more about HIAS' litigation challenging the refugee and Muslim ban, click here.