Hanukkah Lights up the White House
By Rachel Nusbaum, HIAS.org
Dec 10, 2015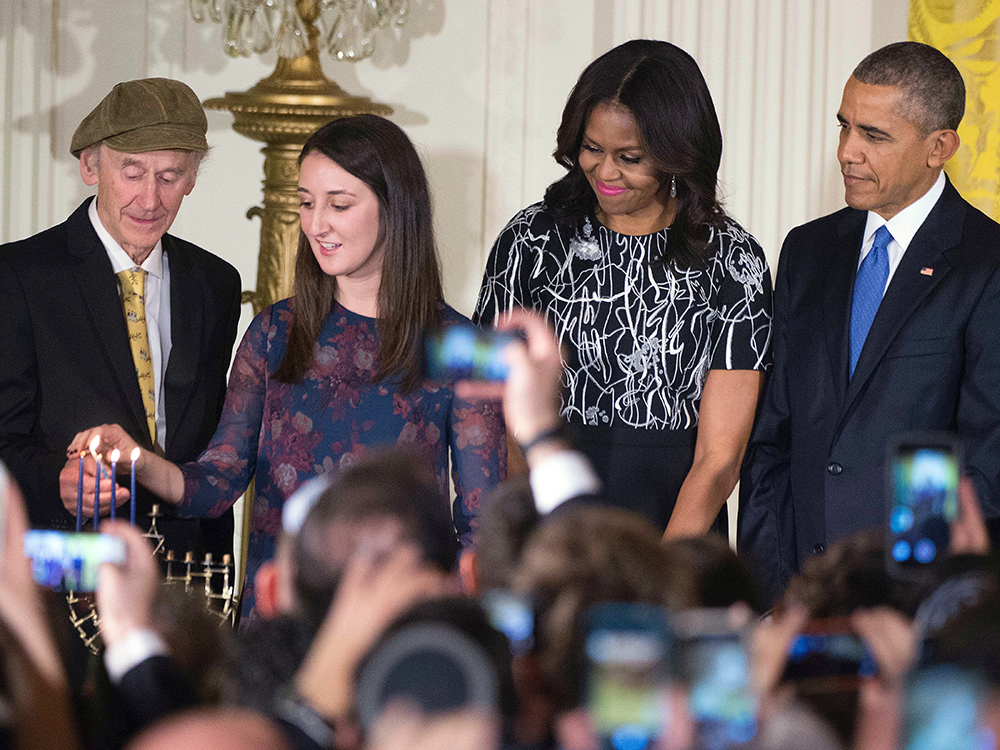 (JIM WATSON/AFP/Getty Images)
Its not often that the President of the United States recounts the story of Hanukkah, but last night, in the East Room of the White House, the president did just that.
And because, as President Obama said, "Hanukkah is a chance for us to remember not only ancient miracles, but modern-day miracles" he invited Manny Lindenbaum, who escaped Poland just days before the Nazis arrived, to light the candles at the annual White House Hanukkah celebration, along with his granddaughter Lauren.
Manny and his brother escaped to England as refugees as part of the Kindertransport. In 1946, HIAS helped reunite Manny with an aunt and an uncle in New Jersey and, as the president said, "he has been an American ever since." His story is not just a Jewish story; it is a refugee story.
"Manny never forgot that the miracle of his life was only made possible because righteous people reached out their hand to a stranger," President Obama said. "So last year, at age 81, Manny bicycled 200 miles through Europe with his kids and his grandkids, retracing his journey to freedom in reverse… he rode to honor the family members he lost in the Holocaust, [and] to raise money for HIAS' work with refugee children from Darfur."
Manny's presence at the White House was a powerful reminder at a time of year spent contemplating miracles, that each life saved from violent persecution is its own miracle.
"Every time I see photos of Syrian refugees fleeing, I can't help but think of my own family in Europe in 1939. Congress must do more to help these people," Manny told New York Congressman Eliot Engel, who was also at the event.
As the president said, "we are at our best when we believe that our light has the power to shine through the darkness…This Hanukkah, may the examples of miracles old and new inspire us all. May we reaffirm the power of faith over fear. And may our common humanity shine throughout the world."
Watch President Obama's full remarks below.