From Bollywood to the Beach: Group Programs Create Connections
By Camille Wathne, Program Manager for Social Integration, US Programs; and Marguerite Guter, Program Associate, US Programs
Oct 31, 2019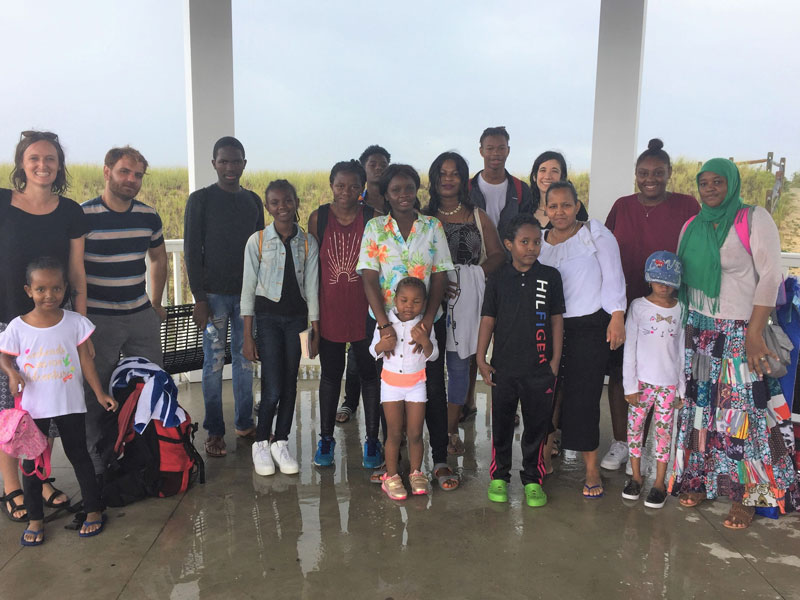 (HIAS PA)
With a workout routine, deep breathing exercises, and information about healthy eating, the gathering could easily have been mistaken for a nutrition class. But this group of Afghan women and girls in San Diego was actually meeting as part of a goal-oriented case management program for refugees and asylees at HIAS'affiliate partner Jewish Family Service (JFS) of San Diego.
About 15 women listened to advice from facilitators about how to eat more vegetables and keep sugars and oils in balance, especially in traditional Afghan food. They also practiced deep breathing, moved through some easy stretches, and learned a Bollywood dance routine. Finally, the women convened in a circle to show off their dance moves to popular Afghan music, and received bags full of groceries, wellness products, and informational material in Dari (their native language) to take home with them. This supportive dance party was not only appropriate for learning about health and self-care, but also an opportunity to have fun, relax, and engage with an encouraging community.
HIAS has supported select affiliate agencies to implement group programming this year as part of the Preferred Communities (PC) grant through the Office of Refugee Resettlement. Most clients receive intensive case management through PC, but group programming focuses on supporting clients to meet social integration goals by connecting them with others. Although PC groups have a common focus, each implementing affiliate has the freedom to independently develop groups that respond to the needs of their local communities.
In Philadelphia, HIAS PA started group programming to provide an ongoing sense of support and connections. They have various ongoing and one-time opportunities, but focus on two main groups that meet monthly: an Adult Education Group and a Community Resource Field Trip Series.
The Adult Education group has so far hosted guests from the local school district to teach parents about navigating the public school system, presented information on higher education opportunities for refugees, and are working to provide loans for clients interested in earning a Commercial Driver's License.
Community resource field trips bring interested clients to local attractions like museums, gardens, and the zoo for a very low cost, and also are an opportunity for exploration and relaxation, where people can see that they are not alone.
In San Diego, JFS found that they would have the greatest success and attendance by bringing together similar cultural or linguistic identities, and so it hosts an Afghan Women's group led by a case manager who speaks Dari. Ilena Gudiño, the program manager at JFS, says that the rest of the Afghan community has responded positively to it. JFS San Diego also hosts a Syrian Family Strengthening group, focused on addressing mental health as a state of well-being. In this group, whole families attend together and are encouraged to engage in healthy relationships and adjust to their new surroundings.
Group programs provide clients with connections to resources and community and also bring clients together in a unique space that they might not find otherwise. One recent session in San Diego focused on self-defense training, with a specific element on how to protect themselves from people grabbing their hijabs - all within a culturally-informed, female-only space. HIAS PA recently took a group on a trip to the seashore after many clients expressed that they had never been to the beach or even left the city. While this seems like a simple act, the outing allowed participants to learn more about their home, connect with new people, and take time to explore.
The flexibility of group programming is one of its greatest strengths, according to HIAS Pennsylvania's Immigrant Wellness Program Manager Amy Eckendorf. One client who participated in a community resource field trip to a neighborhood library, has since started taking ESL and computer classes, demonstrating how these community connections can be beneficial even after the group session ended.
PC group programming will expand and evolve as HIAS and local affiliates continue to support communities and respond to local needs. In San Diego, JFS is also developing a group to support newly arrived Congolese refugees. HIAS PA is using surveys and interviews to solicit more feedback from current and potential participants and will use that data to craft more tailored programs, with new, smaller groups in many neighborhoods.
From Bollywood dancing to family beach outings, HIAS and its affiliates are working to create opportunities to reduce social isolation and foster connections, wellness, and independence for local communities.
To learn more about social integration programming across HIAS' affiliate network, please reach out to camille.wathne@hias.org.