Former Board Chair Dale Schwartz Remembered
By Sharon Samber, HIAS.org
Aug 31, 2021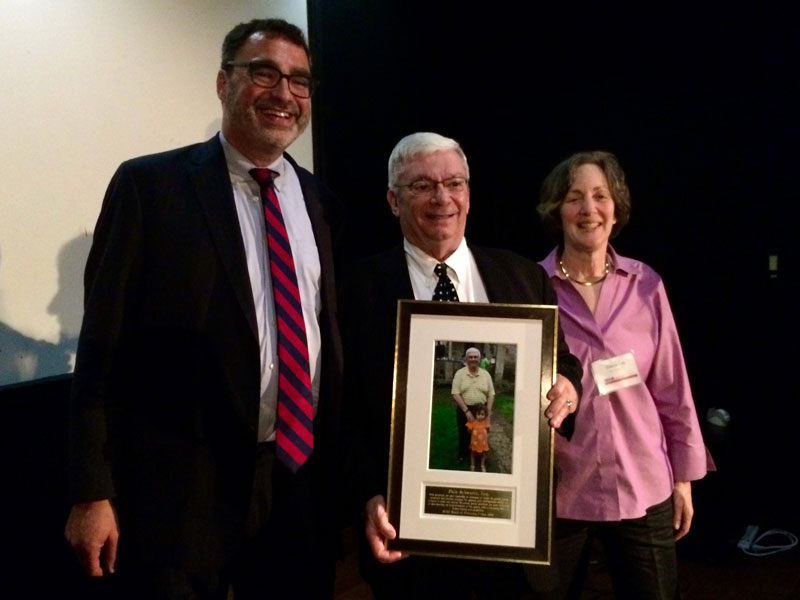 (Bill Swersey/HIAS)
Dale Schwartz, a long-time member of the HIAS board and past HIAS board chair, died August 27.
As an immigration attorney, Schwartz advocated for those who needed more of a voice, and was known as a force to be reckoned with.
"He was a larger-than-life presence who was steadfast in his activism for immigrant, refugee, and civil rights," said HIAS Chair Bob Aronson and HIAS President and CEO Mark Hetfield in a joint statement. "He was dedicated beyond measure to the HIAS mission and brought a strong leadership voice as HIAS pivoted from an agency serving solely Jews to one providing services globally of welcome and protection to refugees of diverse, nonsectarian backgrounds."
Schwartz first joined the HIAS board in 1981 and served for many years before becoming board chair from 2013-2016. He stayed connected with HIAS, recently celebrating his birthday by holding a Facebook fundraiser for HIAS. Last year Schwartz defended HIAS in a personal exchange online, when the organization was being attacked for not only helping Jews. "As a past chairman of HIAS and a former board member for over 30 years, I must take issue with those who feel that HIAS has lost its Jewishness," he posted. "Helping refugees who have been persecuted, tortured or raped is a noble cause—one worthy of Jews—no matter the origin or religion of the refugee. We do it to help Jews and non-Jews alike because WE ARE JEWS."
Over his long legal career Schwartz was a respected immigration attorney. He was partner and head of Troutman Sanders' immigration group until in 1995 when he opened his own specialty immigration law practice, in which he remained active until his death.
"Dale spent his entire career fighting for refugees and immigrants, with jokes and storytelling as his weapon," Hetfield said. "He was a mentor, a champion, and truly one of a kind. I am honored that he was my boss and my friend."
Schwartz's family relocated from the Bronx to a small, rural Georgia community when he was a child, giving him a perspective on life that helped him better understand the challenges refugees face. He was committed to the advancement of social justice and had a number of high profile moments, such as participating in lunch counter sit-ins with John Lewis in Nashville as a student, and serving as lead counsel in the successful effort to obtain a posthumous pardon for Leo M. Frank, the Jewish businessman who was lynched in Georgia in 1915.
"Dale Schwartz lived his life with purpose and a sense of profound responsibility to secure welcome and protection to refugees and those forcibly displaced," said Aronson. "He knew the heart of the refugee and the stranger."
Schwartz served as president of Jewish Family and Career Services of Atlanta, chairing its Resettlement Committee, and also as president of the American Immigration Lawyers Association. He was a co-founder of the American Immigration Council.
Schwartz was married for 56 years to his college sweetheart, Susan Ellis Schwartz, and had three daughters and nine grandchildren.