Fighting the Ban: JFS v. Trump Has its Day in Court
By Gabe Cahn, HIAS.org
Dec 21, 2017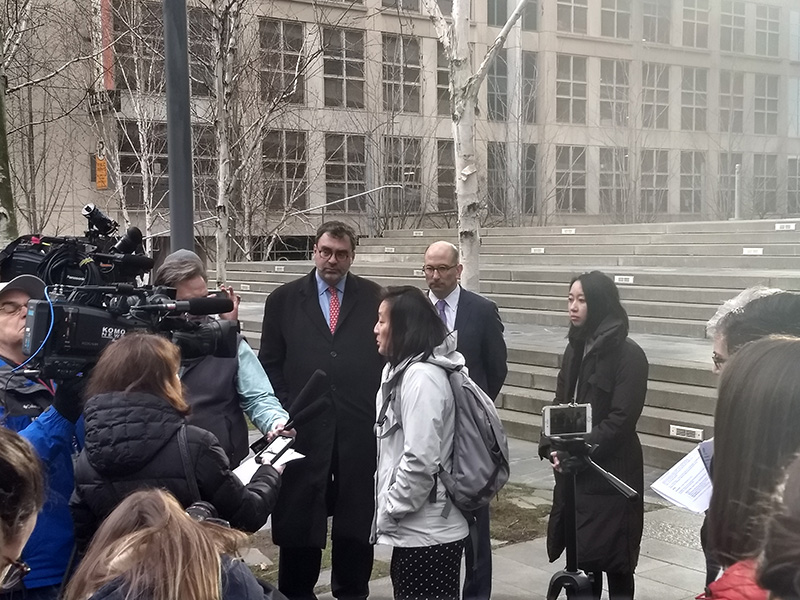 (HIAS)
On Thursday, December 21, the U.S. District Court for the Western District of Washington heard arguments for two cases—including Jewish Family Service v. Trump—challenging the Trump Administration's latest attempt to ban refugees.
U.S. District Judge James Robart, who was one of the first judges to rule against the first executive order from January, said he would decide before Christmas whether to block the current ban on refugees.
The restrictions challenged in court were implemented after the prior suspension on refugee resettlement ordered by President Trump expired on October 24. In addition to suspending the admission of refugees from 11 countries, nine of which are predominantly Muslim, for a minimum of 90 days, the order bans the follow-to-join process, which reunites family members with refugees already in the U.S.
Jewish Family Service v. Trump was brought by HIAS, the International Refugee Assistance Project (IRAP); the National Immigration Law Center (NILC); Lauren Aguiar, Mollie M. Kornreich, and Abigail Shaheen Davis; and Perkins Coie; on behalf of HIAS resettlement partners Jewish Family Service of Seattle and Jewish Family Services of Silicon Valley, and individual plaintiffs.
The case was heard together with ACLU of Washington v. Trump, brought by the ACLU of Washington, on behalf of plaintiff Joseph Doe, a refugee living in Washington state who seeks to be reunited with his family.
In a press conference outside the courthouse following the hearing, HIAS President and CEO Mark Hetfield said that it was the collective experience of Jews having no place to seek safe haven during the Second World War that motivated HIAS to "stand up, step out, and speak out for Muslims who are now being excluded from the U.S. due to this Muslim ban."
"We were glad to have this day in court with our partners," he added.
Rabbi Will Berkovitz, CEO of Jewish Family Service of Seattle, echoed Hetfield's sentiment.
"We know exactly how perilous it is when this great country of ours shuts its doors to the most vulnerable based on their religion," he said, according to an Associated Press report. "The executive order and the actions of this administration are at odds with both our core Jewish values and American values."
Mariko Hirose, litigation director of IRAP, who argued for JFS v. Trump along with Esther Sung, staff attorney at NILC, said after the arguments that "Refugee resettlement is one of our proudest humanitarian achievements," and warned of repeating "the worst of this country's history by letting bigotry turn away those who need our help the most."
Tana Lin, cooperating attorney for the ACLU of Washington, argued for ACLU of WA v. Trump.
Together, the groups are seeking a preliminary injunction against the ban.
Watch the full post-hearing briefing here:
For all the latest news on the legal fight against the refugee and Muslim ban, follow us on Facebook, Twitter and Instagram.