Family Reunited Through HIAS/M4M Partnership
By Sharon Samber, HIAS.org
May 07, 2019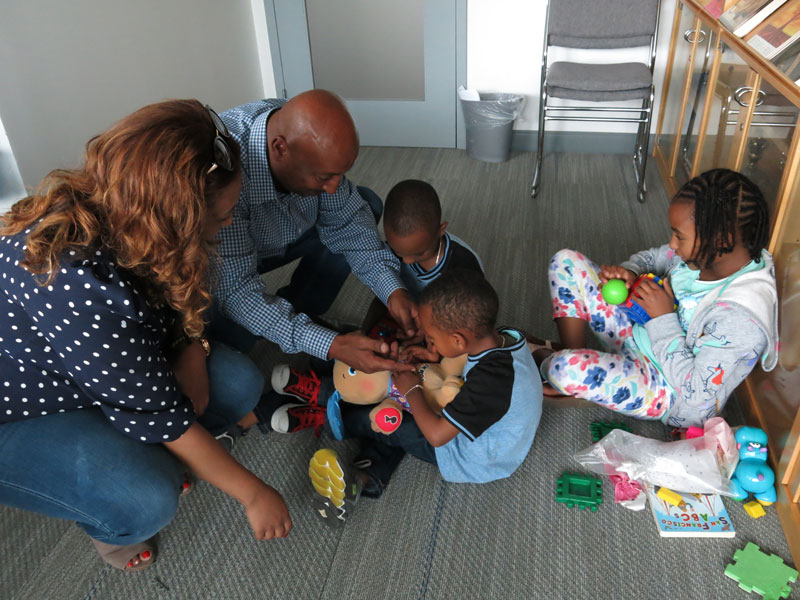 (Sharon Samber)
Lucy* was a political activist in her home country of Ethiopia. For years she was a member of an opposition political party; she thought it wrong that the government was treating indigenous peoples as second class citizens and seizing their land, so she joined street protests to show her solidarity.
Standing up for what she believed in ended up costing Lucy a great deal. In 2016 she was kidnapped, detained, and tortured by security forces. After she was released she realized she could not stay in Ethiopia, so she travelled to the U.S. on a tourist visa and made plans to seek asylum.
HIAS represented Lucy through the whole asylum process, helping her get a work permit and also representing her at an asylum interview. It took about a year (a quick time frame for asylum cases) but then Lucy was granted asylum.
HIAS also helped Lucy to petition for her family to join her. She had been separated from her husband and children for nearly 3 years, and her then-infant son was now a walking and talking toddler.
Just weeks ago Lucy was reunited with her husband and children in Maryland, thanks to HIAS and a new partnership with Miles4Migrants, an organization that uses donated airline reward miles to help relocate and reunite families of refugees and asylum seekers.
Miles4Migrants is "very excited' to partner with HIAS, said Andy Freedman, one of the organization's directors. Lucy's family were the first recipients of the HIAS/Miles4Migrants alliance and Freedman is eager to get the message about donated miles out to the larger HIAS community.
"There are so many great family reunifications we can make together," he said happily.
The essential steps are that people pledge their miles, Miles4Migrants finds a case that matches the donation, gets details of the situation, and works to arrange the flight. Freedman says that at this point the minimum donation that the group accepts is 12,500 miles, but that the average donation is 30,000 miles. Miles4Migrants, which works with other refugee organizations in addition to HIAS, is on pace to help 1000 ppl by the end of 2019.
The donor of the miles that allowed for Lucy's family to be brought together happens to also be a volunteer at Miles4Migrants. Josh Shapiro, a senior in high school in Chestnut Hill, Mass., said he was happy to be able to donate to Lucy's family. Shapiro said because his family is involved in refugee causes, his donation as the first HIAS match was "extra cool." Shapiro is planning to continue to volunteer and donate more miles.
Lucy now has many things to do for her family and she may benefit from other in-kind donations from HIAS supporters. With HIAS' wraparound services she can get help with things like school enrollment and housing. But for the moment she is simply pleased to see her family whole again. When Lucy looked at her children– ages 9, 7, and 3 and a half– she smiled broadly.
"Oh my God, I am so happy," she said.
*Lucy is a pseudonym.