Entrepreneurship School Is Now in Session
By Nicole King
HIAS Peru Economic Inclusion Coordinator
Feb 26, 2020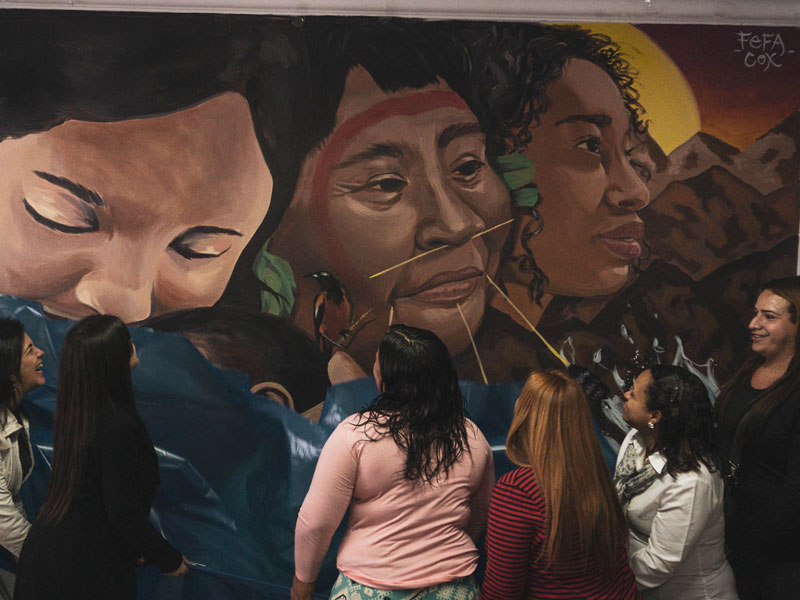 HIAS Peru has developed a special methodology to help gender-based violence (GBV) survivors and women living at a greater risk of violence succeed economically and socially. Training these 14 women in entrepreneurship in a school-like setting allowed the women to develop business ideas and the means to avoid risks or leave violent spaces, and a welcoming artistic environment helped them create support networks.
Students go through a general business curriculum and then work on their own business plans with the support of mentors. At the same time, they learn about gender issues and ways to mitigate the risks of GBV. HIAS counselors also provide mental health support for participants, as do the students themselves: the group gives women a safe space to share their experiences with violence and motivate each other.   
"All the while the women were working they were building bonds of friendship and emotional support," said Erika Alfageme, Country Director of HIAS Peru. 
Solbiany Miner, a nurse and stylist who came from Venezuela with her two children, Stepany, 2, and Jesús, 16, was invited to the first class at the school of entrepreneurship. Her business idea came to her when she realized how important it was to have safe spaces to entertain small children, especially while their mothers are working. As she worked toward getting the legal documents to open the space, she also learned about GBV, and understood that violence is not only related to physical attacks. Solbiany's partner wouldn't allow her to work or leave the house; she finally decided to leave him and now understands that she is able to be an independent woman. 
"This school of entrepreneurship helps women understand that we are worth for who we are and for the simple fact of being women," Miner said.
The school, or "escuela de emprendimiento con enfoque de género," began just a few months ago as the HIAS office in Lima, Peru, was starting operations in the fall. To make the office a home away from home for the women, HIAS invited a well-known Peruvian artist, Estefanía (Fefa) Cox, to design a mural for the space that would express HIAS' mission. 
The women collaborated on the design and used the art to share their traveling experiences, emotions, and how they wanted to be represented in the art piece. They shared concepts like "peace in nature", "strong women" and "walking with our children"; the difficult moments they lived on the road; and their feelings of helplessness and uprooting as they arrived in a new country. 
"The mural should welcome every woman who comes to this house, no matter where they come from," the class agreed at the mural's powerful unveiling. 
The group graduated in December, but they remain in touch through a group chat. They continue to share experiences, ask for support, and update each other about their businesses. The women also participate in a support group with the help of a psychologist and a GBV coordinator. 
A new group of about 20 women will start school at the end of the month.
"It's incredible the response and motivation of refugee and migrant women facing difficult circumstances," said Alfageme. "Now with these tools they can build bridges, relationships, and overcome hard experiences such as gender-based violence."