Detention: The Wrong Answer for Asylum Seekers in the U.S.
By Meggie Weiler, Policy Officer
Jun 28, 2018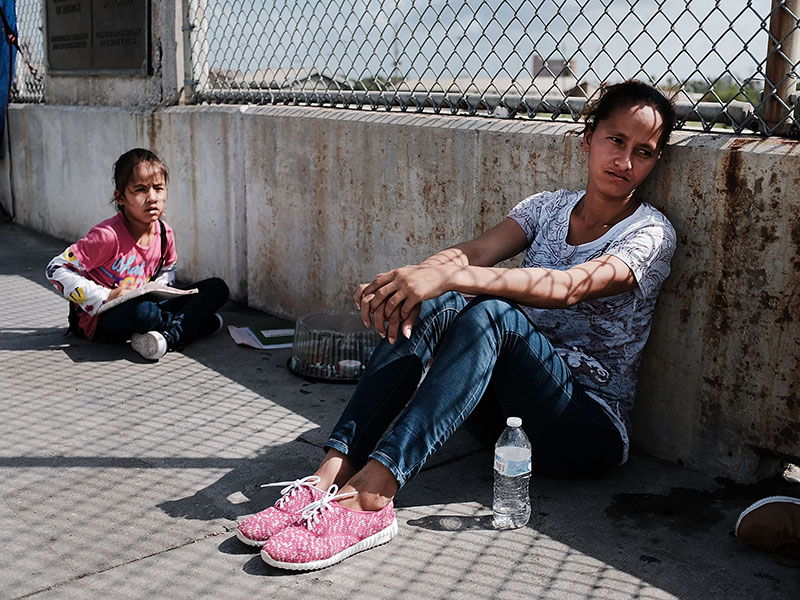 (Spencer Platt/Getty Images)
Pictures of young children being separated from their families, sitting in cages, the sounds of their cries being heard over computers, telephones, and televisions across the country. This has become the image of immigration in America and has sparked a national conversation surrounding immigration detention, a system that holds hundreds of thousands of men, women, and children every year in this country.
In April the Trump Administration implemented a "zero-tolerance" policy on immigration, which called for the prosecution of all individuals apprehended while crossing the border not at a designated port-of-entry. Since then, thousands of families have been separated, with children being housed in temporary shelters while their parents are left sitting in jail unable to contact them or find out where they have been taken.
Over the past week, we have seen a string of policy changes in response to public outcry over family separation, and we are sure to see more in the coming days and weeks. The first came through an executive order signed by President Trump that was meant to end separation, but instead proposed the prolonged detention of families together. Most recently, a federal judge in California has issued a halt to family separation and called for the swift reunification of all families.
These changes aside, the "zero-tolerance" policy remains intact. And while border patrol officers in many locations temporarily stopped referring migrants for prosecution in an effort to maintain family unity, many immigrants, both adults and children, will remain in, or continue to be put in detention.
Let's be clear: detaining adults and children seeking safety, either together or apart, for any period of time, is cruel and traumatizing.
Yet, despite more humane and cost-effective alternatives, the United States continues to rely on detention to house apprehended immigrants and asylum seekers. For many, however, release on recognizance or with supervision is a healthier, safer, and more successful option.
For asylum seekers with credible asylum claims, and for the many who have family, friends, and supportive communities in the United States, there is an incentive to show up to court and comply with the necessary legal requirements to be able to stay. These immigrants should become eligible for release to family members, or affordable bonds, case management, legal assistance, and check-ins with authorities.
According to the United States Government Accountability Office, immigrants enrolled in holistic programs – meaning community-based programs that offer case management services and facilitate access to legal counsel and housing – appear for 99.6% of immigration court hearings.
Holistic alternatives to detention also save the U.S. taxpayer money and allow for a fairer immigration process. The Department of Homeland Security estimates that it costs taxpayers $319.37 a day to hold an individual in family detention, compared to the $36 per day per person cost of Immigration and Customs Enforcement's (ICE) holistic Family Case Management Program.
In some cases, alternatives to detention can cost as little as $4.50 per individual per day. Non-detained immigrants are also more apt to comply with immigration laws because they have the opportunity to obtain legal counsel, and are 52% more likely to do so than detained immigrants.
Immigration law is complex, and is particularly challenging to navigate from detention, alone. Having an attorney helps to ensure due process and better positions immigrants to understand and effectively comply with the legal process.
Detention is taxing for children, especially those who have experienced trauma, as confinement – regardless of how brief – can be harmful. Children exposed to trauma and violence are at risk of health and developmental issues. Detention can amplify these risk for children, and can impact their long-term medical and mental health, as it leaves children and their parents feeling isolated and helpless.
Finally, seeking asylum in the U.S. is not illegal. Asylum is a general principle of both U.S. and international law. As a signatory to the United Nations 1967 Protocol and as implemented in the Refugee Act of 1980, the U.S. has a legal obligation to provide protection to asylum seekers.
Asylum seekers are people who have a well-founded fear of persecution based on race, religion, nationality, political opinion, or membership in a particular social group. To escape this, they flee from their homes and seek safety and legal protections in another country. Once here, they undergo an interview with an asylum officer who decides if their claims are credible. Navigating the legal system, including court hearings, interviews, and employment eligibility can end up being a barrier to safety for many – a problem exacerbated by detention.
We should treat those seeking safety and humanitarian protection in our country as we would want to be treated; with respect and dignity and access to due process. We need to explore options that offer these important protections and leave the harmful and degrading practice of detention in the past.
To stay up to date on upcoming opportunties for taking action, follow HIAS on Facebook, Twitter and Instagram.