Continuing the Hard Legal Work in a Time of Limbo
By Sharon Samber
HIAS.org
May 26, 2020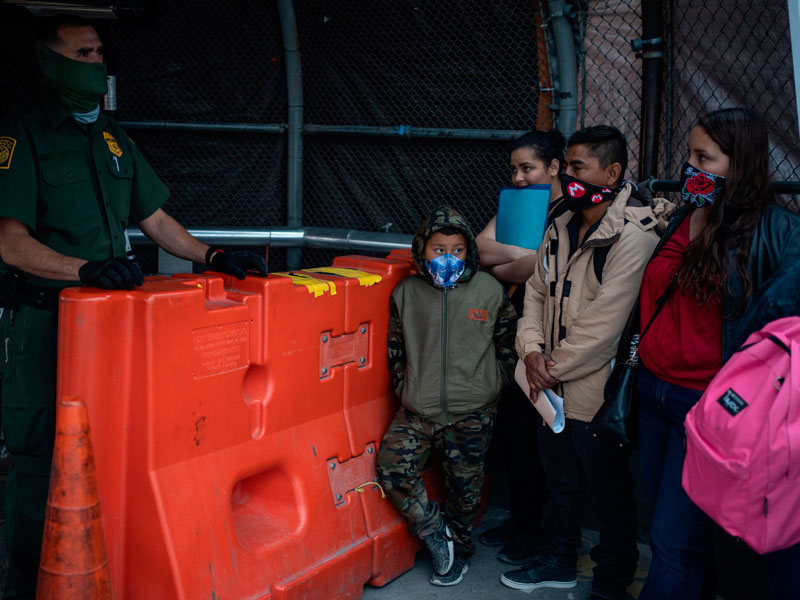 The U.S.-Mexico border is effectively closed and the asylum system has ground to a halt, but there is still plenty of work to do on behalf of asylum seekers.
Kate Clark, the senior director of immigration services and lead immigration attorney at Jewish Family Service of San Diego, recently told participants on a HIAS briefing call that more than 17,000 people from the Southern California region have been forcibly returned to Mexico under the Migrant Protection Protocols, also known as the "Remain in Mexico" policy. Clark said the agency's WhatsApp hotline was "ringing off the hook" with questions from clients.
"They are in a limbo of uncertainty as to where they are going to stay every night," Clark said. "They don't know when court proceedings will continue."
Clark is thankful for the help of two HIAS Border Fellows who work out of her San Diego office. HIAS has been building up its presence on both sides of the border through the fellows program, which was created in the fall of 2018 to provide direct legal services to asylum seekers along the U.S.-Mexico border. The program is part of HIAS' larger border response.
The number of fellows has now tripled to six: in addition to the two in San Diego, three fellows work with HIAS partners in El Paso, Texas: Las Americas Immigrant Advocacy Center, Diocesan Migrant and Refugee Services, and the El Paso Immigration Collaborative (EPIC); and one fellow works with the South Texas Pro Bono Asylum Representation Project (ProBAR) in Brownsville, Texas.
Max Brooks had just started his fellowship in El Paso when COVID-19 hit. Now he has to find ways to serve clients by telephone and navigate new bureaucratic hurdles, such as explaining to Immigration and Customs Enforcement officials about the need to digitally sign documents.
"It's frustrating," Brooks admitted. "But it would have been frustrating in non-COVID-19 times too." Brooks feels the U.S. has turned its back on Central American asylum seekers. "The whole system is against them," he said. Brooks is trying to get people released from detention and develop their asylum cases.
Lindsay Schenk, the Border Fellow headed to Brownsville, Texas, didn't make it there before the pandemic forced shutdowns of many states. For now, she is working from her home in Tennessee, reviewing documents, drafting declarations, and working on legal briefs from hundreds of miles away.
Schenk believes she's able to provide comfort to her clients even from a distance, but "I can't wait to be down there," she says. 
In one case Schenk finds the remote aspect is actually an advantage. Her clients — a Cuban couple — work long hours every day but are able to set up 7pm phone calls with her, and they can take photos of documents and share them, which helps Schenck prepare their case.
On the other side of the border, the HIAS Mexico staff is likewise doing its best to pivot to digital communications, using phones, WhatsApp, and a recently-created Facebook page to keep up with clients and provide information and advice. 
"It seems like clients take the phone calls as an opportunity to engage in longer conversation and share information," said Blanca Lomeli, HIAS' country director for Mexico. "Of course, nothing can replace the face-to-face interaction."
Many clients have shared with HIAS staff how they are losing their jobs, struggling to feed their families, and worried about catching COVID-19. That's all in addition to the uncertainties of the U.S. government's ever-changing decisions about border crossings and hearing dates.
Sue Kenney-Pfalzer, the director of the Border & Asylum Network at HIAS, has been busy connecting U.S.-based partners with staff in HIAS' Mexico offices in order to make referrals for representation. "HIAS is lucky to have so many partner organizations in the U.S. that are willing to take on cases of asylum seekers who are stuck in Mexican border towns," she said. 
Since the pandemic began, pro bono attorneys from around the country have also expanded the capacity of HIAS' and partners' legal work, explains Rachel Zoghlin, HIAS' national pro bono technical legal advisor. They participate in Remote I-589 Clinics — one-on-one meetings with clients to assist in preparing their applications for asylum — and attorneys have logged in from all over the U.S. to reach clients thousands of miles away, living in shelters, churches, and rented rooms in Ciudad Juarez, Mexico. Since the COVID-19 outbreak, HIAS pro bono attorneys have helped 25 asylum seekers to complete their applications so they can submit their claims to immigration judges once the courts reopen.  
Refugees, asylees, asylum seekers, and others in the United States who need information during the COVID-19 pandemic can consult HIAS' new Client Resource page. In addition to HIAS' Know Your Rights documents, which are available in seven languages, the page has links to resources on the status of the U.S immigration system, health information, legal rights, and other topics.