A Hot Dog Cart Provides a New Start
By Sharon Samber
HIAS.org
Jul 26, 2022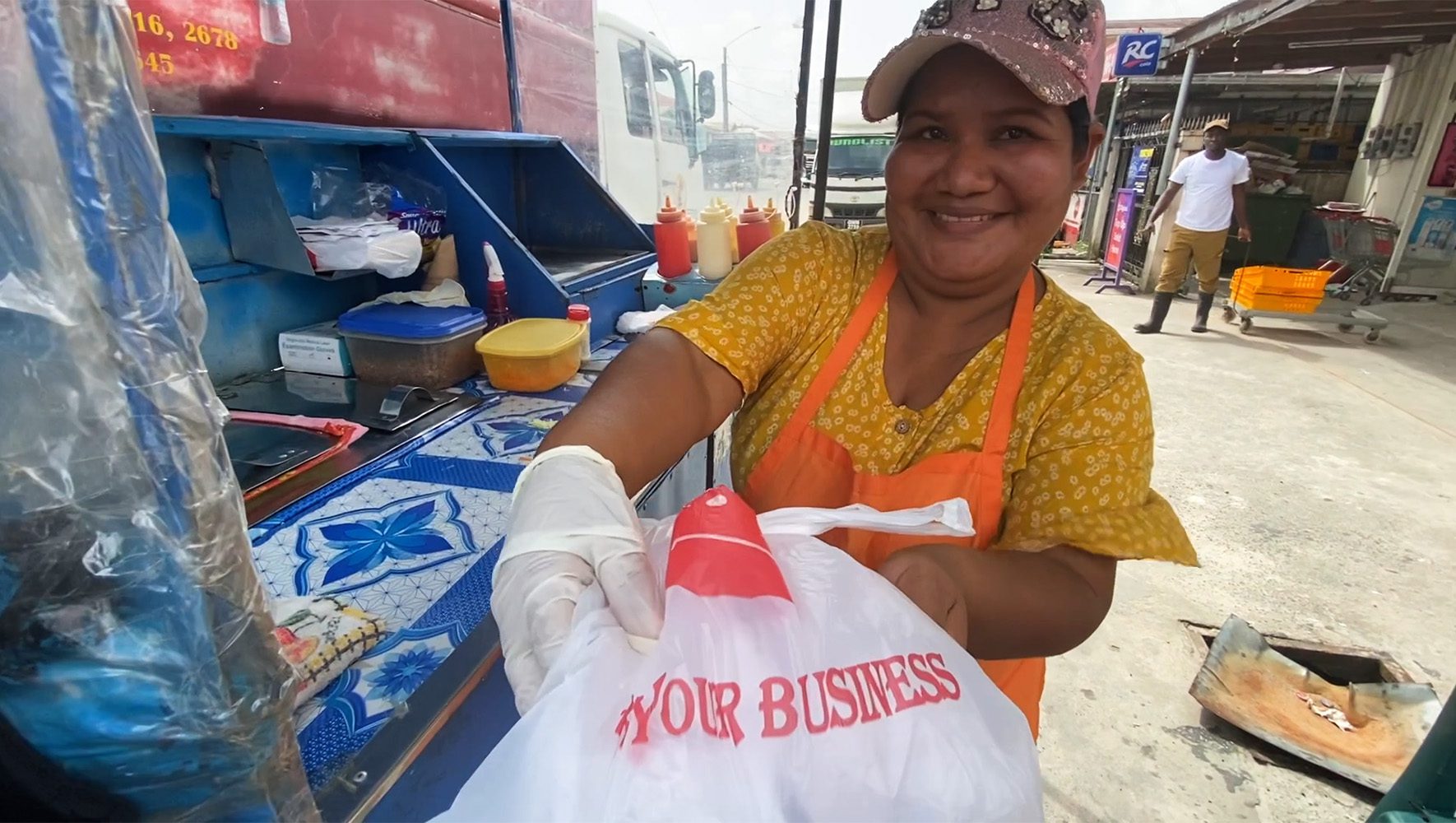 Sussana Rodriguez now has confidence…and a hot dog cart.
Growing up in Venezuela, the 31-year-old housewife never felt she could succeed in business. But, in 2018, when the economic crisis forced Rodriguez to leave home and move to Guyana, many things changed, and Rodriguez' self-esteem was one of them.
Life in Guyana was difficult for the whole Rodriguez family. At first Sussana and her husband had no documentation, which made it hard to get a job, and meant that they lived in an unofficial settlement in East Bank Demerara. On top of that, their daughter and son have struggled to adjust to speaking English, not Spanish, at school. But since taking part in a HIAS employment program, life has gotten better.
That's thanks, in part, to a hot dog cart.
Last year, Rodriguez took a HIAS workshop with 36 other people and learned basic business skills. With guidance from HIAS and a micro grant for initial costs, Rodriguez was able to purchase a hot dog cart, kitchen utensils, and solar panels to power her home where she makes the sausages as well as juices to sell.
Rodriguez lives in a bustling neighborhood and she had reason to believe she would have enough customers. Things are working out, she told HIAS through Lyn Morales, who works for HIAS Guyana.
"One of the most important things I learned in the workshops was how to save money and manage resources," Rodriguez said. "I use these tools in my business every day."
On a typical workday Rodriguez takes the 8am-3pm shift, when she often serves more than 65 people, and her husband mans the cart from 3pm-midnight. They are outside serving hot dogs rain or shine, but are pleased to have the work.
When Rodriguez prepares her food she first warms the bread so it is soft, then places the specially seasoned sausage in the bun. Toppings include mayonnaise, mustard, and ketchup, and even tiny potato chips for added crunch, and then there can be "lots" of cheese. Each hot dog sells for about $300 Guyanese dollars, which is less than $1.50 USD.
Rodriguez was one of several HIAS clients featured in this year's World Refugee Day video that focused on the economic contributions that refugees can make. The array of clients in the video showed how HIAS' economic inclusion programs are market-oriented — when refugees are given opportunities, their economic empowerment helps their local community prosper.
Rodriguez, who now has Guyanese documentation, is ever more confident about being in the workforce and sees her employment as an example for her daughter. "Whatever her goals, she can achieve them," she said. She knows her daughter struggles with the language and learning in class, but she tells her "it's OK to feel down but you're going to get through it."
One year from now Rodriguez would like to expand with an employee and another cart. She wants to continue working and being in charge, something that she admits she never thought would be possible, and she plans to keep making her own decisions.
"Now I am decisive," she said. "I am sure of what I am going to do."