Waiting in the Rain for the Pope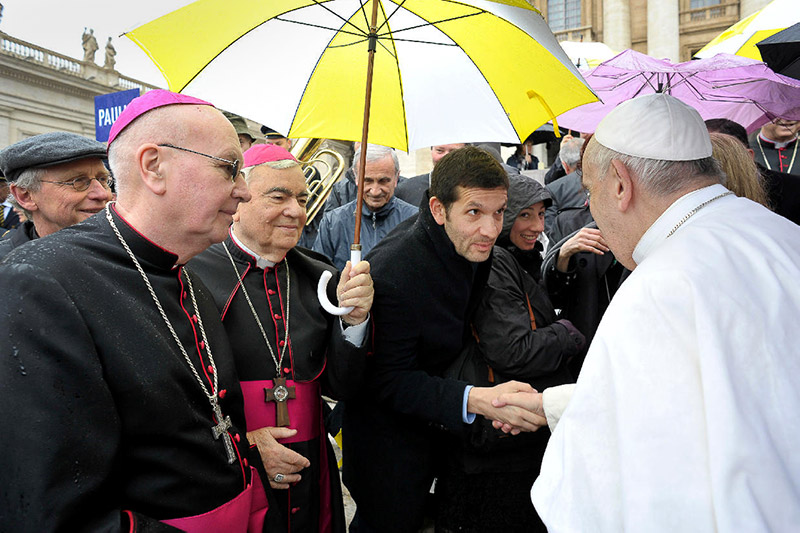 (Servizio Fotografico - Vatican News)
Waiting for someone in the rain for over an hour might sound unpleasant, but when that someone is Pope Francis, you wait and maybe even enjoy it.
On Wednesday, I found myself in St. Peter's Square in Vatican City trying to keep warm and in good spirits with people I had just met at an interfaith conference. Standing under an umbrella and talking about refugees with Brother Giulio Michelini, Theologist of the Order of Friars Minor, and Bishop Giacinto-Boulos Marcuzzo, Patriarchal Vicar of the Latin Patriarchate of Jerusalem was moving and helped pass the time. Meeting the Pope was special of course, but so was connecting with people of other faiths around issues close to our hearts.
Every other year, the International Liaison Committee (ILC) of the Vatican's Commission for Religious Relations with the Jews and the International Jewish Committee in Interreligious Consultations (IJCIC) gather for a conference. This year's topic was "People, Ideas, and Boundaries on the Move," and I was invited as a representative of HIAS to speak about how faith-based organizations respond, cooperate, and advocate in support of refugees. Sant'Egidio, a Christian community that is officially recognized by the Catholic Church as a "Church public lay association," joined HIAS in the discussion.
We visited the Sant'Egidio Community Centre in Rome where we saw an impressive church-led project which is helping migrants and homeless people. We then had the honor to be welcomed to a private audience with the Pope, and I had a chance to express thanks to the pontiff for his efforts with refugees. Pope Francis acknowledged in his written message his appreciation for our efforts and the importance of interfaith dialogue.
Over the course of the conference there was much of that dialogue, touching on varied topics such as religious freedom and anti-Semitism. Groups came from all over the world, including the Rabbinical Council of America (Jewish Orthodox), B'nai B'rith, the Gregorian University, the Patriarch of Jerusalem (Greek Orthodox) and the Carmelite Order (Roman Catholic).
The conference closed with a commitment to helping refugees. I hope HIAS might be called upon again to share its expertise and act as the Jewish voice for standing up for refugee rights and against xenophobia, bigotry, and intolerance.
The conference was inspiring since there is much opportunity for different religions to be united around the issue of refugees--it seems the perfect theme to bring people together to talk ethics, morality, and frankly, love.