Ukraine, Afghan Resettlement Top of Mind for Refugee Shabbat
By Ayelet Parness, HIAS.org
Mar 03, 2022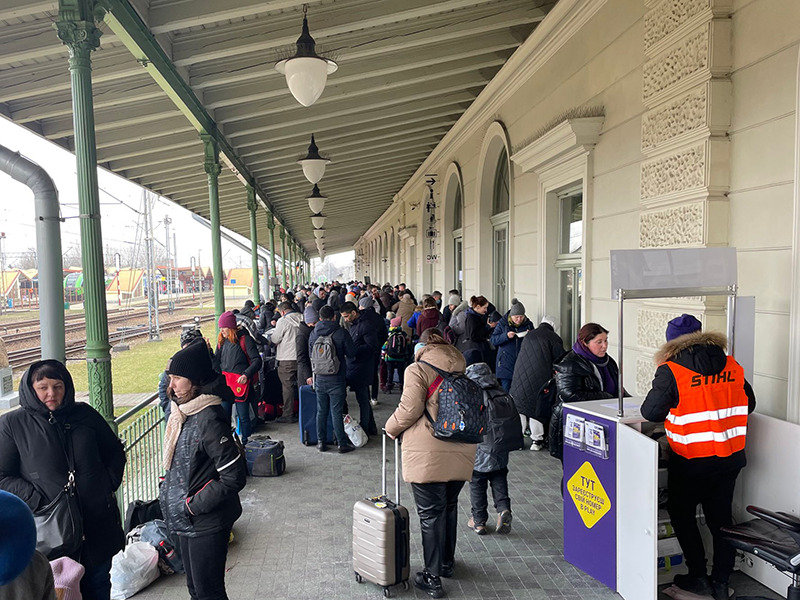 (HIAS)
As hundreds of Jewish communities around the world prepare to participate in HIAS' fourth annual Refugee Shabbat on March 4-5, the ongoing crises in Ukraine and Afghanistan loom large.
Communities from Seattle to Rome are organizing events and speakers, utilizing guidance and resources produced by HIAS and event partners such as JIAS Toronto. The weekend will culminate with an international panel on Sunday, March 6, with HIAS and JIAS staff from Canada, Europe, and the U.S. discussing how the global Jewish community is rising to meet the challenges of this unprecedented moment.
Though many congregations, organizations, and individuals will be gathering virtually for the second year in a row, a Shabbat experience dedicated specifically to refugees and asylum seekers feels more personal than ever in 2022.
Over one million Ukrainians have already fled to neighboring countries, while over one million others remain displaced within the country. As many Americans anxiously refresh their newsfeeds seeking the latest information on what is happening thousands of miles away, European congregations who planned to participate in this year's Refugee Shabbat are already responding to help their next-door neighbors.
Just beyond Ukraine's northwestern border, Jewish communities in Poland will forgo planned Refugee Shabbat programming in order to devote more time to their work on the ground. The Jewish Community of Warsaw has been working with local Jewish organizations, HIAS Europe, and leaders such as Chief Rabbi of Poland Rabbi Michael Schudrich to coordinate transportation and housing for displaced Ukrainians in Poland. In Krakow, the Jewish Community Center has also mobilized to collect essential items and set up beds in their building in case they are called upon to house refugees. As Agnieszka Kocur-Smoleń, Director of Programming at JCC Krakow put it, "now we are having a Refugee Shabbat 24/7."
Elsewhere in Europe, communities in Lyon, France and Brussels, Belgium, will frame their commemoration of Refugee Shabbat as a lens through which to view the current crisis as they raise funds for displaced Ukrainians. They will utilize resources developed as part of Gishur, a HIAS Europe-coordinated initiative aimed at empowering European Jewish community leaders and activists to challenge xenophobia and to promote inclusion through dialogue with refugees, asylum seekers, and migrants.
"This Refugee Shabbat comes at a particularly poignant moment as the crisis in Ukraine continues to escalate," said Ilan Cohn, director of HIAS Europe. "With the number of people fleeing Ukraine likely to increase, it is vital that we stand together in support of refugees."
In the U.S., Refugee Shabbat also follows on the heels of the resettlement of 76,000 Afghans from military bases. Since August 2021, HIAS, its affiliates, and newly formed Welcome Circles have resettled over 3,700 people in 50 communities across the country.
"Ever since the evacuation from Afghanistan, we have seen our community translate its empathy for the immigration experience into action that helps meet this increasingly monumental need," said Holly Rosen Fink, president and co-founder of the Westchester Jewish Coalition for Immigration (WJCI), which since the fall of Kabul has taken a more hands-on approach to refugee work by mobilizing local synagogues to engage in resettlement. Over 45 area synagogues and community groups will participate in WJCI-organized Refugee Shabbat events, compared to about a dozen last year.
For HIAS Welcome Circles, Refugee Shabbat is the perfect opportunity to give communities a closer look at refugee resettlement.
"We welcomed a family to our community about two weeks ago; in that time, we have helped them move into permanent housing, connected members of the family with job and university placement, and enrolled the youngest children in high school," said Rabbi Kamrass, Senior Rabbi of Isaac M. Wise Temple and CCAR president. "For Refugee Shabbat, we will be communicating with our congregation about this family in-depth for the first time – who they are, why they are here, and how we are helping them become quickly acclimated to American life."
Though most Refugee Shabbat programs are community-specific, JIAS Toronto will be hosting a nationwide Havdalah program to bring together refugee advocates across Canada.
"We're hoping that it's going to be really powerful and inspiring for Canadian refugee advocates to see that they're not alone in this – that they're part of something larger and that there's a significant Jewish community in Canada that is committed to this work," said Jodi Block, JIAS' manager of community engagement.
Refugee Shabbat is always a bittersweet occasion; attendees learn about those who have been – often brutally – displaced but also celebrate what our communities have done for them. This year, the sweetness of what we have been able to do for thousands of Afghans will be weighed against the death and destruction that we are seeing in Ukraine and the millions of people HIAS and its partners are poised to help.
"This is HIAS' fourth Refugee Shabbat – but based on how deeply Jewish communities around the world have integrated this moment into their practice, it feels like we have collectively observed Refugee Shabbat for much longer," said Merrill Zack, HIAS' vice president for community engagement. "For those immersed in this work, it is sometimes impossible to step back and look at the big picture, at how much we have achieved. Witnessing hundreds of communities around the world taking this moment to lift their voices in unison and celebrate their achievements is incredibly moving."
It's not too late to register for Refugee Shabbat. Sign up here.