The Helpline is Still Ringing
By Marina Belotserkovsky, Senior Director of Special Projects
Oct 08, 2015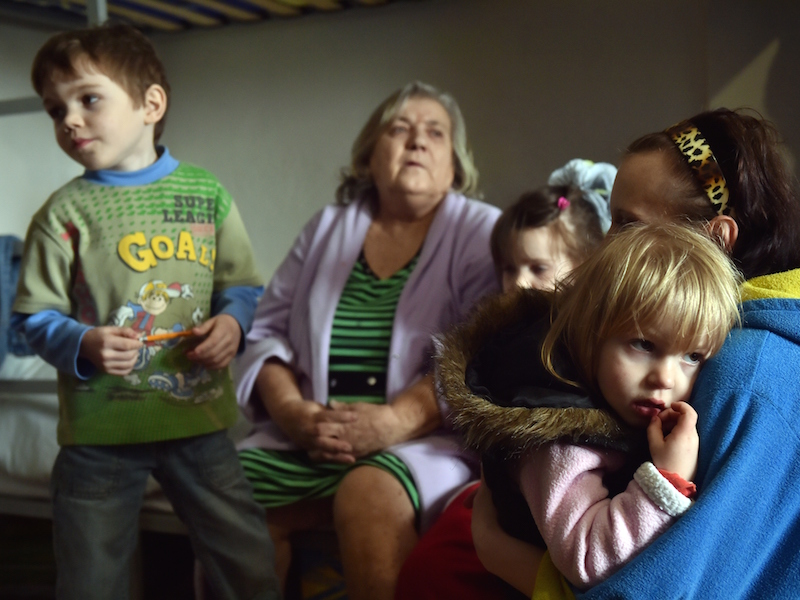 (SERGEI SUPINSKY/AFP/Getty Images)
Every day, my phone rings. Some of the callers are in New York. Others are in Kiev. The calls come from all over. But when they call, I answer.
They are calling HIAS' Russian-language helpline for potential Lautenberg Amendment applicants. We created the helpline because of the significant interest we were seeing in the program – both from applicants within the former Soviet Union and from relatives already in the U.S. with an interest in family reunification.
The Lautenberg Amendment (named for New Jersey Senator Frank R. Lautenberg) was first passed in 1989. This crucial piece of legislation allowed Jews and other religious minorities from the former Soviet Union to resettle in the U.S. as refugees. Today, the Lautenberg Amendment mostly helps Jews, Christians, Baha'is and other religious minorities fleeing Iran, who were added as beneficiaries of the Lautenberg Amendment in 2004. And it remains available to Jews from Ukraine, Russia and other former Soviet Union countries who are increasingly looking to the program as an ultimate lifeline.
With the terrible situation in Eastern Ukraine and increasingly dangerous Russian rhetoric, the Lautenberg program is certainly needed more than ever. When we established the helpline in February, for example, in the first three hours we received over 30 calls. Today, more than eight months later,I answer on average 15 calls a day and more than 20 emails from all over the U.S. and from overseas. The majority of these calls are from relatives here in the United States who are looking to bring over relatives who are still in the former Soviet Union (only those with first degree relatives in America qualify). Calls from overseas are primarily from Russia and Ukraine. (Roughly 75% of the callers are Jewish, 15% are Evangelicals and 10% are Ukrainian Catholics.
Talking to these people, and learning about the situations they face—especially those who are in or near the unrest in Eastern Ukraine—I am convinced that there is still a great need for the Lautenberg Amendment to exist.
For example, one man I am assisting (let's call him Michael) is a 68-year old man from Donetsk who lost everything in the recent fighting and whose family was threatened by local nationalists. They managed to escape to Dnepropetrovsk, 250 kilometers away, but with so many internally displaced persons and very little infrastructure to support this influx, their life is almost unbearable. Michael is trying to join his son who lives in Chicago and his only hope is that he will live to see the day when his family will be safe in America.
The Lautenberg Amendment must be renewed annually and, unfortunately, authority for this longstanding program expired on September 30. It must be renewed for Fiscal Year 2016, which began October 1. Congress can and should extend this vital program by including it in the annual spending bills it is currently considering.
The end of the Lautenberg Amendment would mean the end of the safe and legal escape route for Iranian Christians, Jews and Baha'i seeking to flee religious persecution in Iran. It would also close an escape route for Jews and other religious minorities in the former Soviet Union, many of whom are suffering from increasing unrest in the region. Fortunately, there is bipartisan support in both the House and Senate for extending Lautenberg again this year. I am hopeful that Congress will act soon to continue this proud American tradition.