Synagogues Gather to Learn How to Help Refugees
By Rachel Nusbaum, HIAS.org
Dec 27, 2016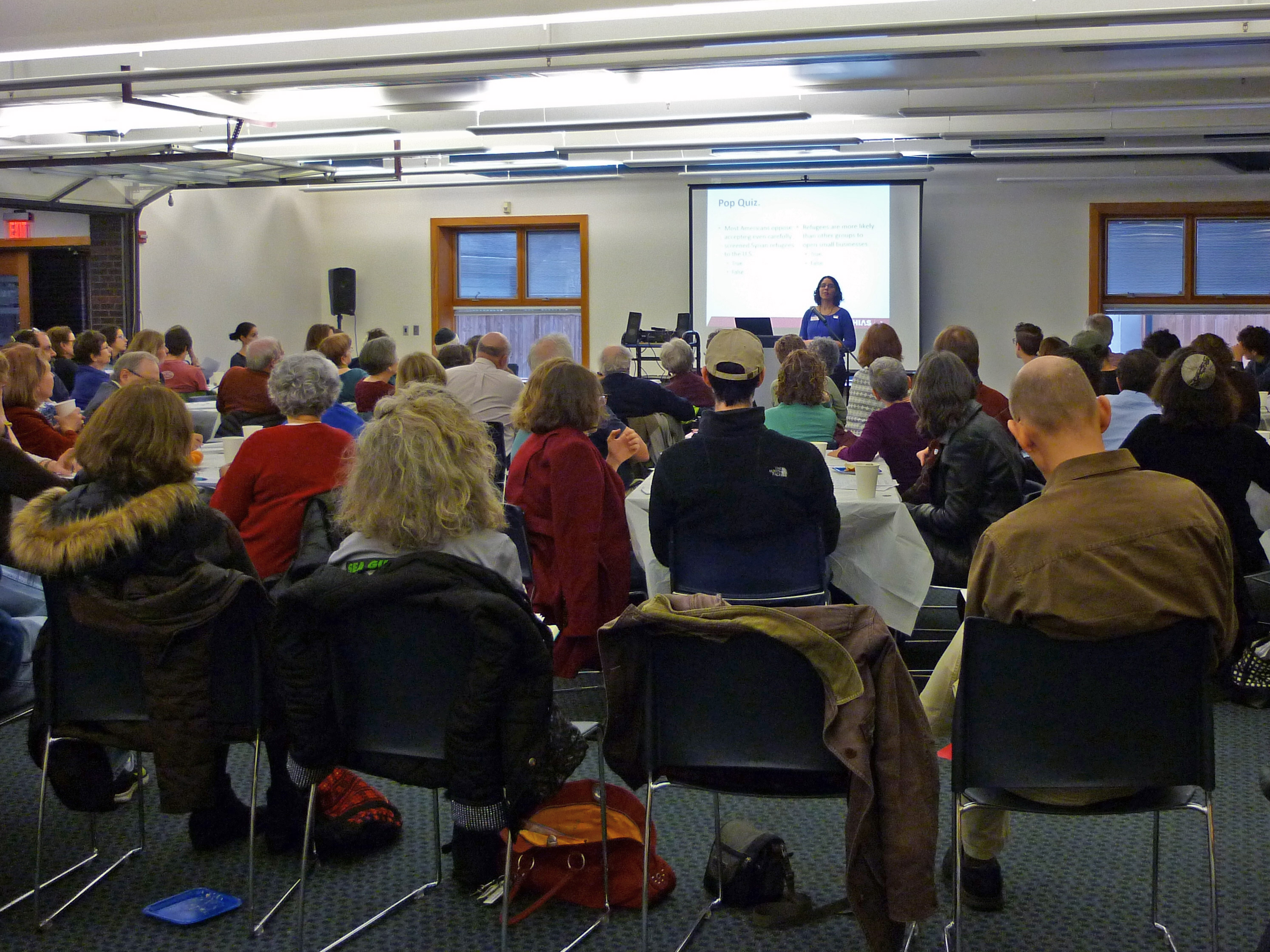 (HIAS)
The social hall at Temple Micah in Washington, D.C. was humming with conversation on a chilly Sunday afternoon.
Roughly 100 people, representing more than 20 synagogues in the D.C. area between them, eagerly awaited information about how their congregations might take on the global refugee crisis in a very local way: partnering with a newly-arrived refugee family through the HIAS Welcome Campaign.
The larger-than-expected turnout sent congregants ducking into side rooms to search for extra chairs at the December 18 presentation.
"The Jewish community in the D.C. area is really energized on this issue. We haven't seen this level of interest in working directly with resettled refugees since the effort to help Soviet Jews escape anti-semitism in the 80's and 90's," said Sarah Beller, Community Engagement Director for Greater Washington D.C. at HIAS. "More than two dozen synagogues from the D.C. area are meaningfully responding to this unprecedented refugee crisis, many through direct service with newly resettled refugees."
HIAS is one of the nine agencies that resettle refugees in the U.S., in partnership with the Department of State. Partnering primarily with Jewish Family Service organizations in nearly two dozen communities nationwide, HIAS helps newcomers who have escaped persecution and violence to build a new life in safety and freedom. Currently HIAS does not have a resettlement partner in the Washington, D.C. area, so another resettlement agency joined the meeting in order to connect congregants to refugee families locally.
Mira Mendick, Community Resource Coordinator with Lutheran Social Services of the National Capital Area, a local resettlement agency that has already helped pair several Welcome Campaign synagogues with refugee families, described the process congregations in their "Good Neighbor" program usually go through, including outlining the different levels of commitment they could make. LSS/NCA offers four options, each with different time and resource commitments, so that congregations can select the one that works best for them.
"This is a partnership. Each family will still have a case manager and LSS will still be responsible for them," Mendick noted. Synagogue partnerships are not a replacement for the work of the local resettlement agency. "As volunteers, you are providing excellent additional support."
Susan Levy and Susan Lambert, both from Temple Rodef Shalom in Falls Church, Virginia, shared their experience sponsoring a refugee family who were resettled to the U.S. after fleeing persecution in Iran.
"We sensed that we had the resources and the support to make this happen, so we started reaching out to the rest of our congregation. In 48 hours, we had raised $20,000," Lambert said.
She described how Temple Rodef Shalom had formed a seven-person steering committee, "not the usual suspects—people like me who hadn't really volunteered before," that met monthly to coordinate and took on the majority of the work with the family. They also helped to coordinate the assistance of a larger set of volunteers, including a dedicated group that has been tutoring the family's twin 12-year old boys.
"They're making friends at school and making really fast progress in learning English. They're awesome," Levy said of the boys.
"Their mom is working really hard on learning English too. She took a full-time course, and our team of volunteers helped out with transportation and some additional tutoring in the evenings. Now, she's excited to start working and she's even had a few job interviews," Levy said.
"The rewards are profound," Lambert said, the lump in her throat a testament to the emotional bond the group had formed with the family of refugees during their first few months.
Sara Nathan, from Temple Shalom in Chevy Chase, Maryland, also shared her congregation's experience assisting a Syrian refugee family of six.
"They came at the end of August, so we've been together for over three months. It's going really well," Nathan said. The family spent four years in Jordan before being admitted to the U.S. as refugees.
"Life in Jordan was really hard for them. They moved four times in five years. They couldn't stay anywhere and they couldn't work," Nathan said. Now, "the dad already has a job, and mom is going to school five days a week, to improve her English." Between classes and regular practice sessions, she is improving rapidly. "We're all in shock now because we can have conversations directly with her!" Nathan told the group, smiling.
"Hearing from people who have already been through it was really helpful as we think through engaging ourselves," said Elizabeth Drye of Temple Micah, who attended the event.
David Dolinsky, another attendee, agreed. "It was good to get different perspectives and to hear from people who have engaged in different ways," said Dolinsky, a member of Adat Shalom. "It was very educational and motivational." He pointed out a group huddled in the corner, fellow members of his congregation. "Some folks from our synagogue are already discussing it."