Stories of Survival: Pedro and His Wife Find a New Life in Venezuela
By Rachel Nusbaum, HIAS.org
Jun 26, 2016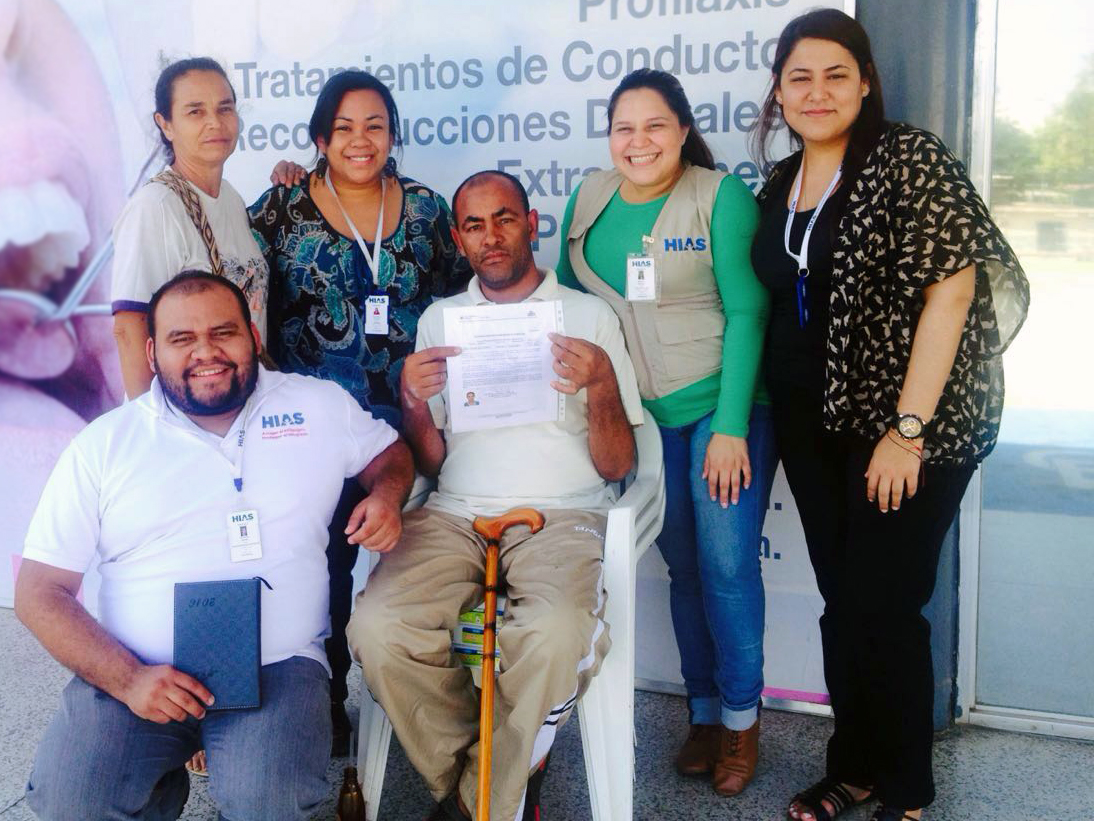 Trusting people no longer comes easy to Pedro*. The 47-year old Colombian, a man of few words and long silences, first came to our attention in August 2015, when HIAS Venezuela staff visited the community in Maracaibo where he lived to do community development workshops and visit with clients in the area.
It took him a long time to open up to the HIAS psychologist and lawyer who wanted to help him. It was hard for him to speak about the things that drove him to flee his native country.
"In this country I am illegal, and anyone can come and do whatever they want to us illegals," says Pedro.
His troubles started in 1990, when an armed group calling themselves the United Self-Defense Forces of Colombia took control of his hometown of Santa Rita . They gathered the community in the town square and Pedro was forced to watch as they executed 12 people, including political leaders, human rights defenders and school teachers. Terrified, he and his wife abandoned their home and fled the area.
However, danger followed. Pedro was at his mother's house in Riohacha when two policemen kidnapped him, accusing him of being a guerrilla. He was taken to an isolated place, beaten, and threatened with death. For six months, the police detained and tortured him until the cruel and inhumane treatment produced a false confession.
On the day he was released, Pedro decided to cross the border and make his way to Venezuela with his wife. He couldn't live under the shadow of fear another day. He recounts how they walked for 20 days over rough mountainous terrain, without any provisions or food, until they made it across the border and out of Colombia.
"These events had physical and psychological effects on Pedro, as they would on anyone," said HIAS psychologist Anicarmen Chirinos. "He experienced recurring nightmares and a constant state of anxiety that lasted for years. Physically, the beating left him with limited mobility in his left arm and had debilitating effects on his lower extremities which hamper, to this day, his ability to walk."
Initially, Pedro and his wife had a very hard time in Venezuela. He had difficulties establishing new social ties, finding work and accessing healthcare. He was constantly worried because he did not have proper documentation to be in Venezuela. He also had physical challenges due to his injuries, and psychological problems because of the torture he experienced. Once HIAS learned his story, they provided a legal orientation to explain how he and his wife could apply for refugee status. Today they are conditional applicants, which grants them some legal rights.
Pedro also started going to therapy, which has helped. After having long felt out of place and a hindrance to others, Pedro has become more integrated into his community and even taken on leadership roles, such as advocating for his community's needs with NGOs and government agencies. With ongoing legal, psychological and medical support, Pedro is overcoming his everyday challenges and building a better future.
"Because of the United Nations Voluntary Fund for Victims of Torture, since 2007 HIAS Venezuela has been able to assist more than 500 victims of torture and their families, including Pedro," said Isabel Altuve, Interim Director of HIAS Venezuela. "At least ten have been resettled to countries including Holland, Sweden, Norway and Canada, where they can restart their lives under better conditions for themselves and their families."
The United Nations has designated June 26 as International Day in Support of Victims of Torture. On this day in 1987 the Convention against Torture and Other Cruel, Inhuman or Degrading Treatment or Punishment came into force.
Yet, despite a clear ban under international law, the use of torture is still far too common.
HIAS works with victims of torture, like Pedro, all around the world. HIAS psychologists provide counseling, to help them deal with the trauma they have experienced. And our lawyers regularly help torture survivors successfully pursue asylum cases to ensure they will not be returned to their torturers.
"HIAS protects people whose lives are in danger for being who they are. We do the work that we do so that victims of violence and torture can rebuild their lives far away from the threats that forced them to run in safety and with dignity," said Altuve.
The UN Voluntary Fund for Victims of Torture generously supports this work in places like Kenya, Uganda and Venezuela, allowing us to help people, like Pedro, who are victims of torture.
*Name has been changed to protect the privacy of the client.