Speeding Relocation of Darfur Refugees Away from Chad Border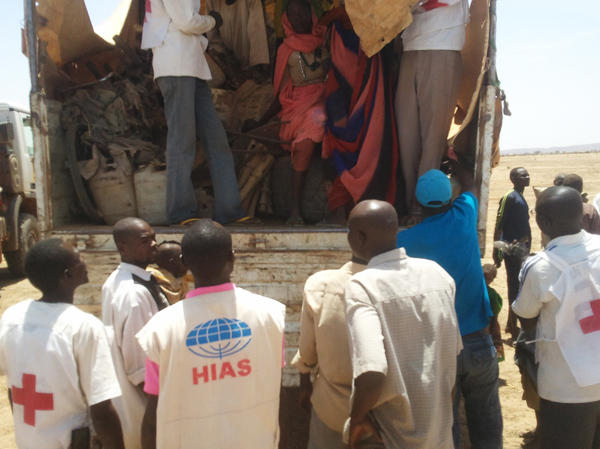 As the quickly approaching rainy season promises devastating flooding, HIAS is on the ground at Goz Amir Camp in southeastern Chad aiding Sudanese refugees relocating from camps on the Sudan–Chad–Central African Republic border.
HIAS, which has been providing trauma counseling and social services to refugees in camps in eastern Chad since 2005, is working with the United Nations High Commissioner for Refugees (UNHCR) to speed the relocation of refugees from the imperiled Tissi border settlement to a site some 30 km northwest at Ab Gadam.
For the past month, HIAS has been working with partners to relocate refugees using truck and bus convoys at a rate of around 500 daily. So far, over 13,000 refugees have been moved to the Ab Gadam camp and another 1,800 to the Goz Amir camp.
HIAS was at hand to accompany the refugees, assist the most vulnerable along the way, and receive arrivals at the new camp. Staff prepared hot meals and constructed shelter for thousands of refugees who are fleeing the Darfur region of Sudan—and now the coming floods.
HIAS also ramped up its psychosocial initiative to provide sexual and gender-based violence and child protection services, among other types of social support, to the arriving refugees.
Since January, close to 30,000 Darfuris have crossed into the Tissi area of Chad. The first wave of refugees were fleeing tribal conflicts, while a later group crossed due to communal violence.
Darfuris are continuing to cross into Tissi, as tensions persist in the Um Dukhun area of Darfur, about seven kilometres north of Tissi. Shelling in the Um Dukhun area is audible from the UNHCR compound.
Around 90 per cent of refugees currently in the border area are from the Salamat tribe. Most are women and children, sleeping in the open and at risk from waterborne diseases.
At Ab Gadam refugees receive food rations and non-food items including jerry cans, sanitation material, kitchen sets, sleeping mats, blankets and mosquito nets. Refugees are also provided with local materials and plastic sheeting to construct their own temporary shelters. HIAS and other UNHCR partners are helping to construct shelters for the most vulnerable.
To date UNHCR has registered 29,634 refugees, mostly from Sudan, though 458 are from the Central African Republic. Prior to the recent influx, around 300,000 Sudanese refugees were already hosted in eastern Chad.
* reference for statistics: UNHCR