Seeking Asylum, Saving a Baby
By Lindsay Schenk, HIAS Border Fellow
Nov 06, 2020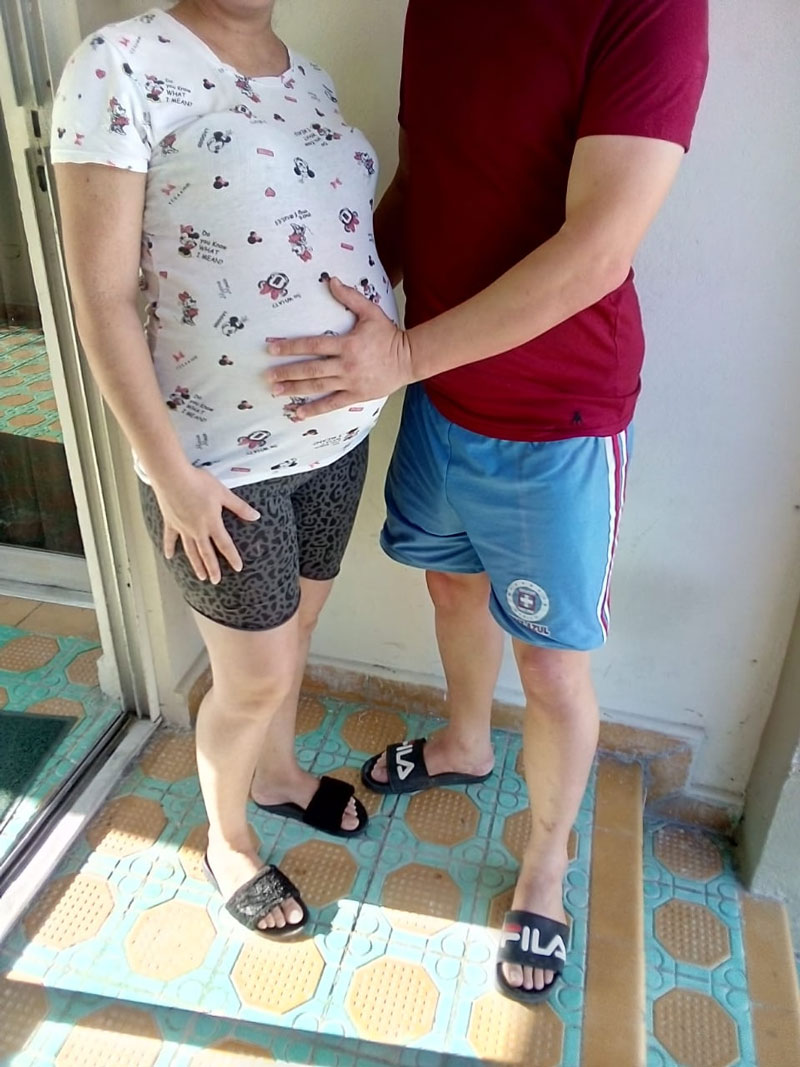 (courtesy Lindsay Schenk)
Lina* didn't think she or her baby would make it to a new life in the United States.
Eight months pregnant, Lina had been waiting in Matamoros, Mexico, just across the border from Brownsville, Texas, to seek asylum. Her baby had a congenital heart defect so severe that open-heart surgery would be required at birth to save his life. The anticipated surgery is so complex that it requires an entire pediatric cardiothoracic surgical team, a medical team that does not exist in Mexico.
Lina and the baby's father, Hank*, were persecuted in their native Cuba for opposing the Cuban regime. They fled their home country and undertook the perilous journey from Nicaragua through Mexico to the U.S. border. But when they arrived, the couple found the Trump administration had barred asylum seekers from entering the country, supposedly as a measure to control COVID-19.
Global Response Management, or GRM, a non-profit organization providing medical care to Lina in Matamoros, reached out about Lina and Hank to Laura Peña at the South Texas Pro Bono Asylum Representation Project, also known as ProBAR. At ProBAR, where I am a HIAS Border Fellow, Laura and I immediately prepared to take legal action with crucial support from our colleagues. The ban on asylum seekers gives U.S. Customs and Border Protection, or CBP, the power to allow asylum seekers into the U.S. for humanitarian reasons on a case-by-case basis. Laura and I hoped to win one of those exceptions for the couple.
After we filed the request, Lina began showing signs of early labor. "Our desperation worsened the longer it took for an answer, especially after the stomach pains," Lina remembered, knowing that the baby would die if they were not allowed into the U.S. But CBP refused to make an exception. In fact, as far as we know, CBP has refused all requests along the Texas/Mexico border for humanitarian exceptions since the ban was issued in March.
"I was so depressed after we found out that the officials refused," Lina said. "I could not get out of bed or eat."
Because of the legal wording of the order, we could not appeal CBP's decision in court. But while a judge had no power with this case, the public did. GRM posted a video on Facebook, calling people to action, and it spurred a public outcry. The local congressional office contacted CBP about Lina and Hank, and those efforts led to Lina and Hank having an opportunity to present their case in person to the officials at the port of entry.
The couple raced to the port of entry, where CBP allowed Lina into the United States but refused to admit Hank.
"I was so scared to be alone. I didn't know anyone in the U.S., and I couldn't speak English," Lina recalled. "We both cried when they separated us."
Lina waited about eight hours in CBP custody, suffering increasing back pain, until CBP released her at the Brownsville port of entry and pointed her in the direction of the bus station, where Pena picked her up.
Lina is now living with family in South Florida, and GRM arranged for pro bono medical care nearby.
"The doctors are so kind, and they are specialists in the kind of care that my baby and I both need to survive," said Lina.
This story has an even happier ending: Lina recently gave birth, the baby received the necessary surgery, and both mother and baby are doing well. I am grateful for the small part that I played in the case, but I worry about how many other cases end up with a different ending.
*Pseudonyms used for clients' safety.