Scholarships Offer Hope to IDPs in Georgia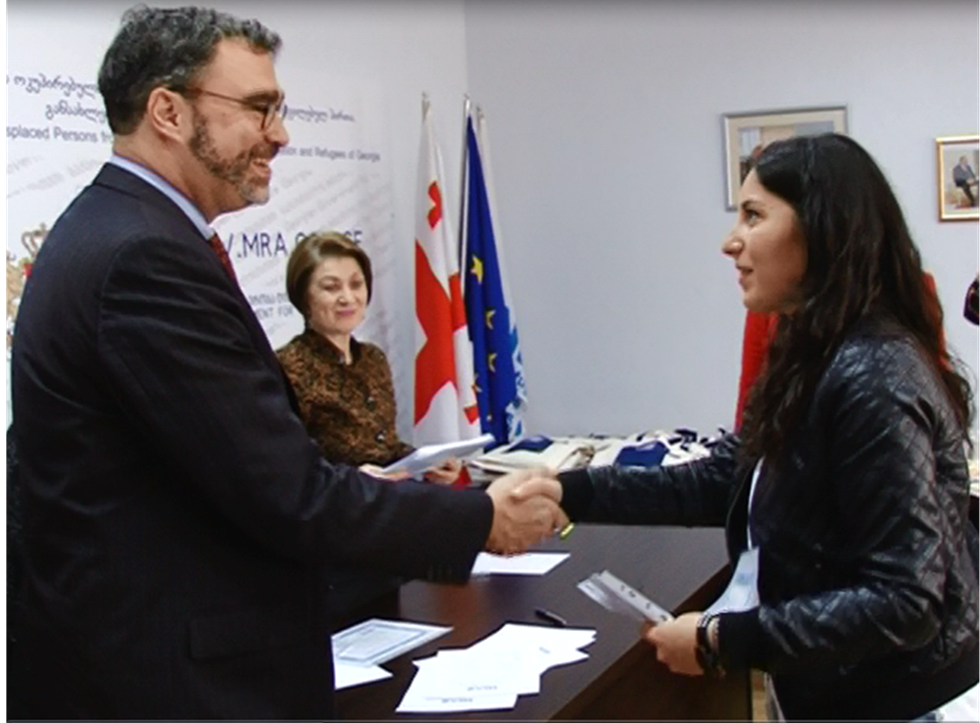 Three years ago, Natia Kalandia's dream of becoming a psychologist seemed like just that, a dream. She had passed her university entrance exams, but following the death of her father and with her mother unemployed, there was no money to pay for tuition. The 22-year-old Georgian was "hopeless."
But thanks to a scholarship from HIAS, Natia is back at Tbilisi's Ilia State University and making progress toward her degree. "The HIAS scholarship has totally changed my life," she said during the October 2014 award ceremony at the Ministry of Internally Displaced Persons from the Occupied Territories, Accommodation and Refugees of Georgia. She added, "my ability to get an education will surely impact not just me but my whole family." In addition to Psychology, Natia is now studying English and hopes to one day be able to study abroad.
For the second year in a row, HIAS distributed university scholarship awards to a group of young students who are also internally displaced persons (IDPs) in Georgia. Like the previous year's awardees, all eight recipients had been forced to flee their homes in Abkhazia and South Ossetia due to the recent wars, had lost one or both parents in the conflicts, and now reside in IDP settlements in Georgia, unable to afford secondary education.
The award recipients were chosen from a group of over 100 students who wrote letters to David Darakhvelidze, Georgia's then Minister of Internally Displaced Persons, asking for tuition assistance. All qualified for university educations and had received partial scholarships from the government based on academic achievement, but could not fully finance their education. The Ministry had no additional money to help them.
In July 2013, the HIAS Board Mission to Georgia met with Minister Darakhvelidze, himself an IDP, as well as internally displaced families in Zugdidi and Teliani, Georgia. When they learned about the young IDPs who had written to the Minister, HIAS leadership decided to apply existing scholarship funds to assist as many as possible with their university education, awarding 23 scholarships in the program's inaugural year.
The awardees are selected by a panel with representatives from HIAS Tbilisi, the United Nations High Commissioner for Refugees (UNHCR) in Tbilisi, the Ministry, and the IDP Women's NGO, Consent.
Nino Dokadze, an IDP from South Ossetia now studying law, was among this year's recipients. "My parents are divorced and have their own families. I do not live with them and no one helps me. This [scholarship] radically changed my life. I want to express gratitude to the Ministry of IDPs and HIAS for giving me the opportunity to continue my studies."
HIAS has been providing scholarships to refugees and immigrants since 1974, holding firm that education is one thing that should never be taken away from a displaced person. "Your education travels with you, whenever you are forced to move," Mark Hetfield, HIAS President and CEO remarked at the first award ceremony in Georgia.
According to Anna Burduli, the Ministry representative who called each of the students to notify them of the HIAS scholarship award, many burst out in tears on the phone. For them, the news of this scholarship was an unexpected miracle.