Reflecting on Plight of Refugees this High Holiday Season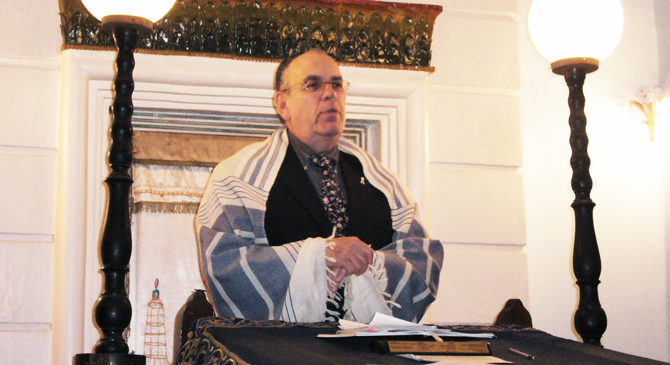 As the global number of refugees continues to grow, Jewish communities from Berkeley to Budapest hold those unable to return home in their prayers this High Holiday season.
Rabbi Ferenc Raj, Rabbi Emeritus from Congregation Beth El in Berkeley and founder of Bet Orim Reform Jewish Congregation in Budapest, brought the refugee theme to his congregation this Yom Kippur—along with his very personal experience.
Born at the height of World War II in Budapest, Raj became a rabbi in Communist Hungary and was closely involved in the Jewish underground movement as one of the organizers and leaders of its Zionist program. In 1972, under the threat of imprisonment for teaching Jewish studies and Hebrew to young people, Rabbi Raj was aided by HIAS in escaping from Hungary to America.
"My family and I lived for three months in Rome with HIAS' help. They took care of us like relatives and put us in accommodations where we could have kosher food. We felt at home from the very beginning. HIAS opened the doors for us, and we will never forget their help." HIAS also successfully advocated to the U.S. Embassy in Italy on behalf of Raj's family to authorize their immigration to the United States and resettled him in Brooklyn.
Arriving in the U.S. with his wife and two small children, Rabbi Raj continued his rabbinic career serving Reform congregations in Brooklyn, New York and Belmont, Massachusetts prior to his election as Senior Rabbi of Congregation Beth El of Berkeley, California.
Throughout his career, his refugee experience has informed his deep, personal understanding of the Bible's most frequently cited commandment. "The Bible says we understand the life and the soul of refugees because we were once refugees in the land of Egypt … Loving the stranger is a commandment mentioned over 36 times—more than any other commandment in the Bible."
This High Holiday season, Rabbi Raj chose the refugee theme as a focal point of his teaching at Bet Orim, looping back around to HIAS for a core teaching source. "HIAS helps people regardless of who they are," he explains.
This year, HIAS created a High Holidays supplement with Rabbi Nava Hefetz of Rabbis for Human Rights in Jerusalem and Rabbi Amy Klein, to assist congregations and individual Jews in discussing the plight of refugees and generating a Jewish response. The supplement was inspired by an international interfaith document called the Affirmation of Welcome, developed in close collaboration with the United Nations High Commissioner for Refugees (UNHCR) and faith-based organizations representing Jews, Christians, Buddhists, and Muslims.
According to Mark Hetfield, HIAS' President and CEO, "The HIAS High Holiday supplement is intended to remind all of us to treat refugees and immigrants as we ourselves would like to be treated, drawing on Jewish values, teaching, and experience."
In April 2013, Hetfield attended services and a wedding officiated by Rabbi Raj at Bet Orim in Budapest. Hetfield also enjoyed Shabbat dinner at the home of Raj's niece, Rachel Raj, who owns two pastry shops famous for their rendition of the Hungarian Jewish cake known as flodny. "Rabbi Raj knows from his own refugee experience what it is like to be a stranger. He makes it a point to make all feel welcome and inspires his congregation to do the same. The rabbi embodies the spirit of what HIAS tried to capture in the Affirmation of Welcome supplement for the High Holidays."
Speaking to some 100 congregants, Rabbi Raj used the materials to discuss the theme of justice on Rosh Hashanah and the theme of loving the stranger on Yom Kippur. He used HIAS' responsive reading as well as the Al Heyt, reading from the supplement in Hebrew and English and translating excerpts into Hungarian.
"The most important message for me is that it is a Jewish responsibility to help the stranger, wherever they are and whoever they are," Rabbi Raj reflected.
Other congregations adapted the Affirmation as well, tailoring the supplementary materials to their observance. "Because our congregation is an Orthodox one, we were unable to change the service itself. Our Rabbi decided to read the passages to those staying at shul between musaf and mincha," explained congregant Claudia Moss from Children of Israel in Youngstown, Ohio. "The subject came across to our members with meaningful impact."
Assistant Rabbi Jonathan Prosnit at Beth Am in Los Altos Hills, California used the supplement in the congregation's annual Yom Kippur Study Session. "The HIAS supplement helped our community connect to the words of Isaiah from the Yom Kippur Haftorah, 'what is the fast that is required of us on Yom Kippur'—to let the oppressed go free—to welcome the stranger."
Rabbi Raj added that the plight of refugees needs to be considered beyond the season of reflection. "It is our responsibility as Jews to do our utmost for the less privileged. Jews may not be the most persecuted people in the world today, but we were at one time. We must always remember this teaching and work tirelessly to help others who are being persecuted today."