Purim Reflections from a Deportation Hearing in Israel
By Matityahu Sperber, Guest Contributor
Mar 07, 2018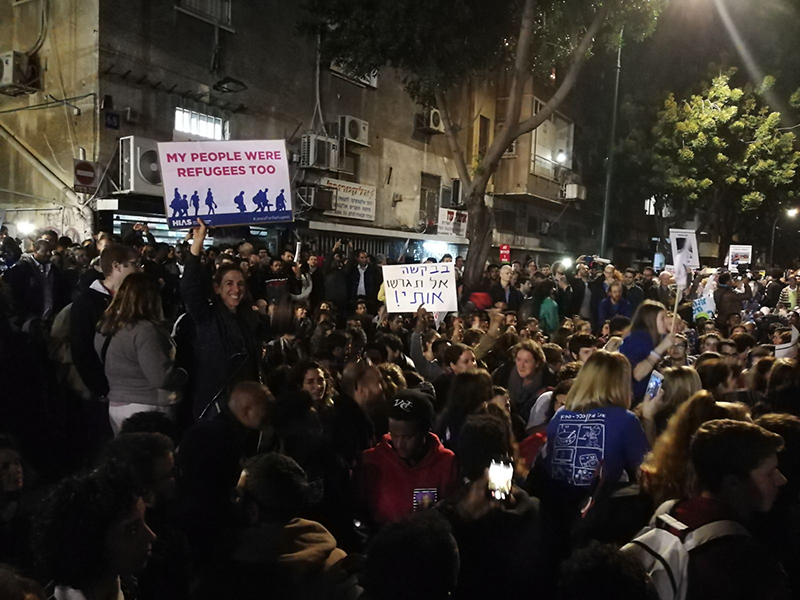 (HIAS)
Following the hundreds of deportation letters distributed to African asylum seekers in Israel starting on February 1, 2018, HIAS' Israel office has been overwhelmed by individuals in need of legal representation. The office has also been contacted by dozens of Israelis who wish to help. After two trainings – for over 80 volunteers with no legal background – HIAS prepared a group of volunteers to accompany asylum seekers to "deportation hearings" in Bnei Brak. Below is an account from one volunteer.
Last week, we celebrated the holiday of Purim. Once again we read the story of the Book of Esther and remembered how our people were saved by the actions of a pretty and clever young Jewish woman. Her success is so incredible that some say that the commandment to drink until we cannot tell the difference between Mordecai and Haman is meant to bring us to a mental state where we will be able to accept this absurd story, and recognize that not always by might is justice found.
On Purim, my wife Laura and I, set off on what might be described as a similar mission impossible. We had the good fortune of being able to fulfill a mitzvah that is repeated more times in the Torah than any other: "Do not mistreat or oppress a foreigner, for you were foreigners in Egypt." [Exodus 22:20]
We volunteered, through HIAS (founded as the Hebrew Immigrant Aid Society), a nonprofit organization that provides humanitarian aid and assistance to refugees around the world and in Israel. We were to accompany asylum seekers from Eritrea and Sudan to their final hearing before their deportation or imprisonment in Israel.
Today there are 38,000 refugee seekers from Eritrea and Sudan, and another 7,000 of their children, living in Israel. In a secret agreement with two African countries, Israel has begun to expel these refugees and asylum seekers. Stage one of the process is to issue deportation notices to all men who have no children and who do not have an unanswered request to be recognized as refugees made before December 31, 2017. For context, out of the 15,000 requests for refugee status that have been made to date, only 12 were granted.
We met Daniel* in line for his deportation interview. He came to Israel from Eritrea, through Sudan and Egypt, in 2009. Daniel had received assistance from the Hotline for Refugees and Migrants in preparing a document which presented his case for receiving an exemption from his slated deportation.
As a representative of HIAS, I was allowed to accompany him in his deportation interview. Unfortunately, all of his arguments were rejected as not reaching the accepted criteria for such an exemption.
Daniel had made his refugee status request on February 5, after months of being unable to get into the office in South Tel Aviv, where hundreds of people waited on line daily.
Too late – not before December 31.
Daniel married in Israel five years ago and his wife was with him. They have no children and his wife is today unable to work and to support herself after having been hospitalized and operated on.
No children – no exemption. Having to support an ill and recovering wife – not relevant.
Daniel himself has been ill with tuberculosis and is required to see the doctor for care at least every six months.
Israeli medical care vs. African – not relevant.
Daniel has made a request for refugee status in Canada. His wife has family there and they are waiting for a response from them.
No official Canadian document acknowledging that they are being processed for possible refugee status there – not relevant.
Two weeks ago, Judge Elad Azar, sitting as the head of an immigration panel court, ruled against blanket denials of refugee status for Eritreans whose asylum requests were based on army desertion and their fears that the Eritrean authorities would persecute them if they returned.
Daniel served in the Eritrean army for seven years, until he was tortured and imprisoned after requesting the opportunity to visit his family. After six months in prison he managed to escape. Over the course of several months, he managed to make his way to Ethiopia, Sudan, and Egypt on his trek to Israel. It is difficult for me to imagine how his case might not be seen as that of a legitimate refugee.
When asked whether he accepted the government's demand that he volunteer to be deported to a friendly African nation, Daniel said no. He explained that all of the information that he has received from friends and acquaintances who had gone to this country made clear to him that this would not be safe for him or for his ill wife. He would rather go to jail permanently in Israel.
The interview ended with my making a plea to see that the above arguments, even if each individually does not answer the government's defined criteria, when taken together, form a strong case for making an exception. I requested that Daniel's deportation be delayed, at least until he has received a response to his refugee asylum request.
The interviewer asked to consult with his supervisor. When he returned, he presented himself as generously deciding to make no decision today. The decision will only be made on the April 8, when Daniel returns to renew his temporary visa. Perhaps by then Daniel will have a refugee asylum request interview or even receive an answer to his request. Perhaps by then, he will have an answer from Canada which can demonstrate that he is officially in their refugee asylum process.
Or perhaps, as I heard from Laura that her "client" had received the exact same non-answer, they will use that opportunity to arrest him and send him to prison or to forcibly deport him.
I am known by friends and family as the eternal optimist. On Purim, I had to drink much wine to maintain that optimism and to believe there will be a solution for Daniel that is worthy of the Jewish State that I hope I live in.
*Name has been changed to protect client privacy.
Matityahu Sperber made aliyah 40 years ago from the U.S. and is one of the founding members of the first Reform Kibbutz, Yahel in the Arava desert. Today he is the chairman of the board of Himanuta. A version of this blog originally appeared on the Arza blog.