Pope Francis Visits Lesvos, Calls for Migrant Protection
By Sharon Samber, HIAS.org
Dec 06, 2021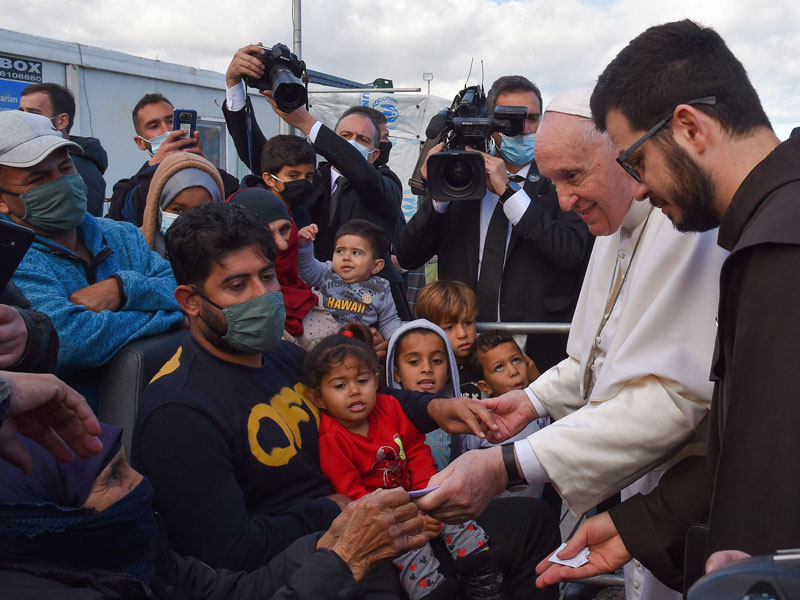 (Andreas Solaro / AFP via Getty Images)
Pope Francis returned to the island of Lesvos, Greece on Sunday, five years after first seeing the plight of migrants there, only to find that not much had changed.
The pope denounced Europe for an "indifference that kills." And he had harsh words for leaders around the world who are not doing enough to protect migrants' human rights, showing a "cynical disregard that nonchalantly condemns to death those on the fringes."
HIAS Greece, one of the significant humanitarian organizations active on the island, signed on to a letter sent from 36 organizations before the visit that asked the pope to protect the fundamental human rights of asylum seekers, including access to healthcare and education. The letter emphasized that migrants should not be deprived of their freedom and dignity.
The signatory groups also noted serious problems that limited the absorption of refugees into Greece, such as recent rejections of asylum applications, deportations, and limited integration policies.
HIAS Greece country director Vassilis Kerasiotis said the pope's visit "sends a universal message of solidarity, unity, and support for refugees." Kerasiotis called for an increase in safe legal humanitarian channels to help refugees.
The pope's 2016 visit was to Moria, the refugee camp on Lesvos which at one point held as many as 20,000 people and became notorious for violence and terrible living conditions. Last year a fire destroyed it and left 12,000 people, mostly Afghans, homeless. As people have been moved to other detention centers and other Greek islands only about 2,000 migrants live on Lesvos but it remains the symbolic center of Greek island migrant detention.
Pope Francis has long been a supporter of migrant rights, and in their letter the refugee assistance groups lauded his visit and his continued personal involvement on the issue. They amplified the pope's demand that European countries take responsibility for protecting those in need and said that people "should not be deprived of their freedom and dignity."