Paving a Path of Welcome for Refugees: The Linking Communities Project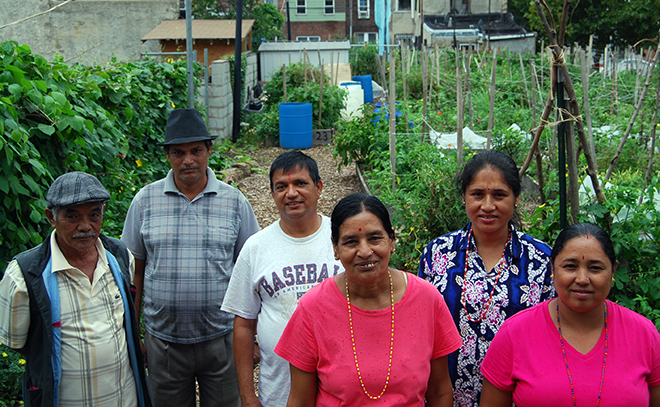 Bob Marmor, President and CEO of Jewish Family Service of Western Massachusetts, a HIAS refugee resettlement partner, says the political backlash against refugee resettlement that has emerged in communities across the U.S. recently erupted in Springfield. The city's mayor had pushed back against the resettlement of refugees there, saying that they place a burden on municipal resources and calling on the U.S. State Department to stop the flow of refugees.
"The American public doesn't know who refugees are anymore," Bob said. "They only see the costs."
Although some of the tensions have decreased, thanks to intensive efforts of supporters of refugees in his community, Bob and others in Springfield believe that increased outreach and education throughout the community is critical to maintaining support for refugee resettlement.
His remarks highlighted the timeliness and need for initiatives like the TLC Project, which launched this summer.
The project, initiated by HIAS, has encouraged and facilitated a new wave of thinking about refugee resettlement in the U.S. As part of its latest phase, last month more than 120 resettled refugees, state refugee coordinators, local government officials, non-profit organizations, and others who assist refugees came together in Ohio and Pennsylvania to share ideas and create plans for building a more welcoming experience for refugees in their communities.
The Nationalities Service Center in Philadelphia, Pennsylvania brings refugees and others together via community gardens—exemplifying how crucial it is to increase interaction between refugees and longer-term residents and local officials.
Church World Service trains allies to be advocates, noting that strong relationships built early on can prevent refugee resettlement backlash down the line. "The first thing people hear about refugees should be something positive, not something negative," says Jen Smyers.
The United Nations Refugees Commission's (UNHCR) Refugee Congress engages refugees to create support for their resettlement. 2013 Delegate Albert Tchato says, "no one can better advocate for refugee rights than refugees."
Local and state government officials stress that the economic benefits of refugee resettlement can be compelling arguments for resettlement to elected officials, who are tasked with growing the economies of their communities.
The new Refugee Services Collaborative of Greater Cleveland recently released an economic impact study that discusses the substantial contributions of refugees to the workforce and economic development in the Cleveland area.
Bringing people together who have a strong interest in refugee resettlement to share lessons and develop action plans to make refugee resettlement a community-building experience is a success of the TLC Project that HIAS hopes will continue. Soon, the TLC Project will distribute small seed grants to fund projects in Ohio and Pennsylvania to generate broader support for refugee resettlement and mitigate potential backlash. Our hope is to contribute to a national movement to create welcoming communities for refugees in the U.S.