Opinion: A Biden Appointee Who Carries the Jewish Story Itself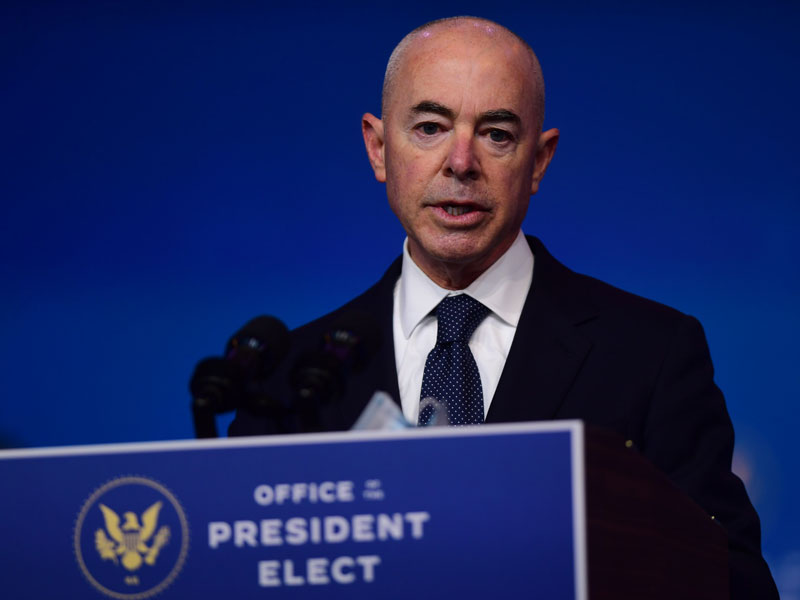 (Mark Makela/Getty Images)
This op-ed originally appeared in The New York Jewish Week.
President-elect Joe Biden announced Alejandro Mayorkas as his nominee for secretary of the Department of Homeland Security (DHS). If confirmed, Mayorkas will be the first Latino to head the department responsible for implementing U.S. immigration policy. Meaningful to myself as the leader of HIAS — the American Jewish community's global refugee agency — he will also be the first DHS secretary to have been a refugee and child of refugees.
Better known as Ali, Mayorkas is my long-time friend and colleague, who served this year on the HIAS board of directors. Ali's family fled Cuba for the United States when he was not yet a year old; his mother arrived in Cuba years earlier as a child fleeing the Holocaust.
As America works to recover and rebuild from four years of vicious, xenophobic anti-immigrant policies, it's hard to overstate the importance of having an empathetic person with Ali's skills and background taking the reins at DHS. His years as a U.S. Attorney in California, his time as director of U.S. Citizenship and Immigration Services (ISCIS) and DHS Deputy Secretary under President Obama, and his work as a primary architect of the Deferred Action for Childhood Arrivals program (DACA) all make him exceptionally well-suited to meet the enormity of the task before him, but more than that, he carries within him the story that so many immigrants and refugees carry – and beyond even that, he carries the Jewish story itself.
One hundred and forty years ago when HIAS was founded, our original mission was to help rescue and meet the needs of Jewish refugees arriving in New York. At the time, wave after wave of Jews were fleeing the pogroms of the Russian Empire. We have since helped to evacuate and resettle Jews escaping the Third Reich, the Soviet Union, Egypt, Ethiopia, and Cuba. In the 1970s, in response to the Indochina refugee crisis, our mission expanded to include the resettlement of non-Jews as well. We began by helping refugees because they were Jewish; now we help because we are Jewish.
Ali and his family represent so much of the Jewish narrative in that arc. His mother's Romanian family was caught up in the Nazi onslaught and fled their home for parts entirely unknown. Ali's father, a Cuban Jew of Sephardic origin, met and married the European refugee. The two of them starting a family, melding different worlds of Jewish culture. Then that young family was forced to flee yet again and Ali left Cuba and grew up in Los Angeles, eventually working as a leader in the Obama Administration and, most recently, with us to rescue, resettle, and welcome other refugees.
There are few communities that have survived the kind of upheaval that has met the Jewish people at every stage of our history, generations upon generations, centuries upon centuries. We carry within us unfathomable loss and terrible scars – but we also carry fortitude, resilience, and the lessons that such a painful history teaches.
We know that 'never again' must evolve from being an aspiration to being a reality, not just for the Jewish people, but for all persecuted people.
We know how vital it is to protect the right of persecuted people to seek and enjoy asylum; we know the right to refuge is universal and must be fought for resolutely; and we know that "never again" must evolve from being an aspiration to being a reality, not just for the Jewish people, but for all persecuted people.
To see someone who shares that history and those lessons nominated to lead the implementation of America's immigration policy speaks volumes, not just about the significance of immigration to this nation's character, but about the role of the Jewish community in the American story.
Our community's place in that story began, in the words of poet – and former HIAS caseworker Emma Lazarus – as the tired, the poor, the huddled masses, yearning to breathe free. Like Ali, the American Jewish community owes its very existence to those times when America opened its doors to refugees and immigrants.
Ali is not only a strong and highly respected leader, he also, quite simply, knows the heart of the stranger. As a Latino, the child of a Holocaust survivor, a refugee and immigrant himself, Ali is uniquely suited to restore respect for human rights to the Department of Homeland Security, not least because as he knows, as HIAS does, that America is at its greatest when we build not walls, but bridges.