Moving Towards Refugee Inclusion in Ukraine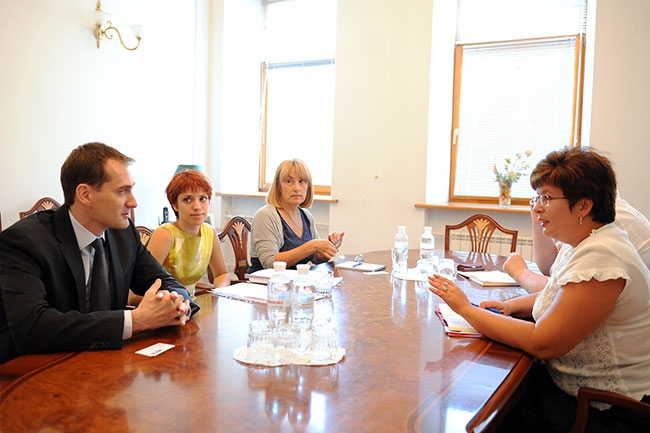 This week HIAS Ukraine Director Aleksandr Galkin met with Valeria Lutkovska, the Ukrainian Commissioner for Human Rights (Ombudsman), to discuss migration and asylum issues and enhancing collaboration between the Ombudsman Office and HIAS.
The meeting marks an important step towards collaboration between the Ombudsman and civil society. The representatives discussed detention of asylum seekers, extradition, legislation gaps, coordination of efforts of various relevant state agencies, and other acute problems faced by migrants in Ukraine.
"The cornerstone of a solution to the refugee problem in Ukraine must include an informational campaign in our society," said the Ombudsman.
According to the Office, such a campaign will include educating citizens on the basics of migration policy in the State, learning from European experience in the field, and moving towards compliance with international standards.
Galkin pointed out that HIAS is actively involved in the work of the Expert Council on Non-discrimination and Gender Equality under the Commissioner's Representative and is closely monitoring initiatives of the Ombudsman Office for protection of refugees and asylum seekers.
Going forward, HIAS Kyiv, which provides legal and consultation assistance to refugees and asylum seekers in Ukraine, will serve as a source of legal expertise for the Ombudsman Office, providing expertise on existing and new legislation in the field of asylum and migration. HIAS Kyiv will continue to meet with the Ombudsman on a regular basis to update the Office on our efforts to assist asylum seekers, refugees, and stateless persons in Ukraine.
Lutkovska expressed readiness to coordinate the activities of all government agencies that deal with the problems of refugees in Ukraine through the Office of the Commissioner, as well as be directly involved in assisting refugees.