Making Sense of the Decline in U.S. Refugee Admissions
By Gabe Cahn, HIAS.org
Apr 13, 2018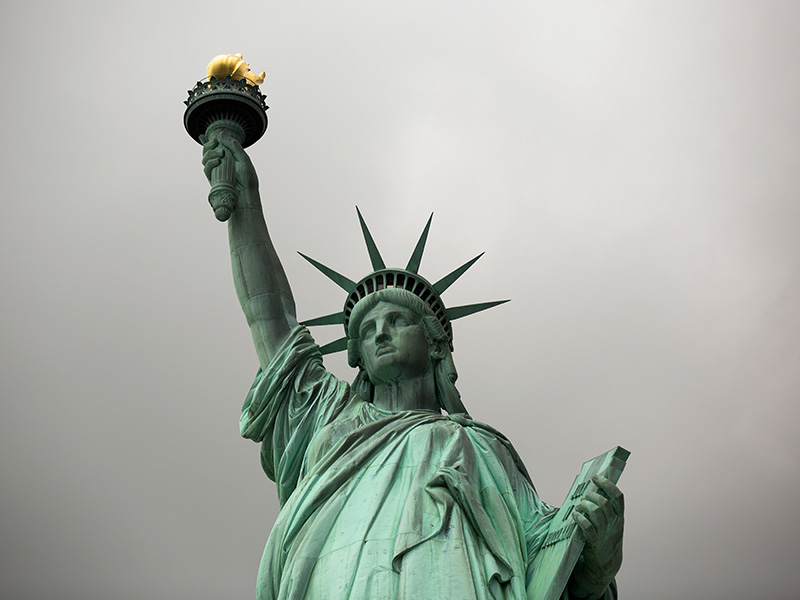 (Drew Angerer/Getty Images)
Six and half months into the federal fiscal year, which began on October 1, 2017, only 11,000 refugees have been resettled by the United States—compared to over 40,000 at the same point last year.
Just 44 Syrians, five Yezidis, and 52 Sudanese refugees have found safety on America's shores during this span.
Last year at this time, 46 percent of refugees admitted to the U.S. were Muslim. So far this year: 16%.
And Special Immigrant Visa (SIV) arrivals for Iraqis and Afghans who worked for U.S. forces in their home countries have also declined by 28%.
Across the board, the refugee policies set in motion by this administration, from the record low admissions ceiling of 45,000 to the multiple attempts to ban certain nationalities, are having an undeniable impact.
And while the numbers speak for themselves, they alone do not tell the full story of who is bearing the brunt of the decisions coming from Washington.
For nearly 40 years, America has distinguished itself on the international stage and advanced its foreign policy interests by providing safe haven to those who need it most when they need it most, offering the promise of a new life in freedom without the fear of persecution.
When we talk about the refugees who are resettled to the U.S., we're talking about survivors of torture and sexual and gender based violence, individuals facing medical emergencies, people who cannot live safely in refugee camps due their sexual orientation, and families desperately trying to reunite.
We're also talking about incredibly resilient individuals who want nothing more than the chance to successfully integrate and thrive in American society.
A just-released study by the nonpartisan Urban Institute found that contrary to common misconceptions swirling around refugee resettlement, "research shows that refugees do contribute to the U.S. workforce and society."
The author of the study, Hamutal Bernstein, writes that:
After a period of adjustment after arrival, refugees integrate on economic, linguistic, and civic measures. On average, they participate in the labor force at high rates, their earnings rise, and their use of public benefits declines. Their English language skills improve, and those arriving during their youth have strong educational attainment. Set on a fast track to obtain green cards and citizenship compared with other immigrants, most become U.S. citizens, and many own homes and businesses.
Thus, the ongoing dismantlement of the U.S. refugee resettlement program is not only devastating for the people fleeing for their lives who can no longer come here, but for the American communities prepared to welcome them once they arrive.
THREAD: Halfway through the federal fiscal year, the U.S. has welcomed 10,548 refugees. 39,098 refugees arrived by the same point in 2017.

For many, these numbers are just an abstraction. For refugees and communities across the country, they're catastrophic. #WhereRtheRefugees

— HIAS (@HIASrefugees) April 3, 2018
In Nebraska, Helen Akot is heartsick. The Omaha World-Herald reported last month that the mother of seven, who came to Omaha from South Sudan by way of Kenya in 2016, has a 23-year-old son named Richard still in Kenya due to a paperwork hitch.
Similarly, Abdi Hersi, 68, a Somali refugee who was resettled in Kansas City in March 2017, has two children stuck in Djibouti.
Through an interpreter, Hersi told the Kansas City Star, "if I had these two with me, we could have a normal American life. But without them here, I'm struggling...I worry I might not even see them again."
Azmy Bashe considers himself lucky. Originally from Baghdad, Bashe was able to reunite last year with his brother in Oak Park, Michigan along with his wife and two young sons.
"It took more than three years for us to leave everything behind—our home, jobs, relatives—just to find safety and now that's all we have, but it's all we need," Bashe, 54, told The Detroit News.
And as of last month in Utah, not one refugee from Iraq, Syria, Central African Republic, Burundi and Sudan had been resettled during the current fiscal year.
Still, Patrick Poulin, executive director of International Rescue Committee's Salt Lake City office, argued in the Deseret News that "the hope in humanity carried by these resilient individuals and the hope maintained by those of us receiving and welcoming these refugees remains as strong as ever."
Indeed, the enthusiasm Poulin describes on the part of those welcoming refugees is being emulated all across the country.
From Westchester County to Los Angeles, Americans are banding together to show their unwavering support for refugees. Through public demonstrations, direct assistance, and urgent advocacy, communities are making the case for resettling refugees at a level that is both proportionate to the global crisis and in line with the United States' capacity, history, and values.
Take action today to tell your Members of Congress that welcoming refugees makes America stronger.