Let Me Tell You Why I Think of Adam During Pride Month
By Yiftach Millo, HIAS Aruba Country Director
Jun 07, 2021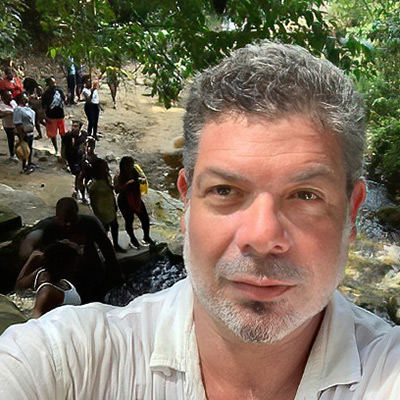 (Yiftach Millo)
I want to tell you about Adam.
Adam — not his real name — is who I think about during Pride month. I have worked on LGBTQ refugee issues for many years, but my story on its own is not enough; Adam's story shows the urgency of work with LGBTQ refugees and the leadership for change that is needed.
I have always had a deep sense of not belonging. Growing up in Israel with my non-conforming sexual orientation gave me an additional layered sense of alienation. Perhaps this is why I was drawn both to field work in many different countries and why I felt the need to reach out to LGBTQ refugees. I did humanitarian work, moving from one conflict to another; I opened the HIAS office in Chad; I went back to Israel to found ASSAF, one of the principal refugee organizations in the country today.
In 2011 I got support from HIAS to investigate and write a report about LGBTQ refugees who were being overlooked. Adam was the first person I interviewed — a Southern Sudanese with a reserved expression and a strange French accent. From then on, my work and Adam kept intersecting.
Adam grew up during the civil war in Sudan and as a child he fled with his mother and siblings to Uganda. Once, when he was 14, Adam and a male friend were being affectionate with each other and neighbors almost reported them to the police. There was much anti-gay sentiment as well as discriminatory laws in Uganda, but it's not hard to understand why Adam didn't want to go back to Sudan. Sexual relations between persons of the same sex are a criminal offense in Sudan punishable by flogging, imprisonment, and even death. Eventually Adam fled to Egypt and there he was recognized as a refugee. But things were bad there too, and Adam soon headed for Israel where a growing community of South Sudanese asylum seekers had found haven.
In Tel Aviv Adam at first was scared to reveal his sexual identity to UNHCR and NGOs but for a short while he was able to live openly as a gay person. Then, in the summer of 2011, African refugees and migrants were threatened and beaten in the streets. Adam was one of those attacked. I referred him to the Hotline for Refugees and Migrants that provided him with legal representation, but Adam returned to South Sudan which became independent only a few days before his arrival.
In 2014 I visited Uganda, interviewing refugees for HIAS as part of a research project that involved LGBTQ refugees. I found out Adam was studying at a nearby university, and when I interviewed him he seemed to be much happier in Kampala despite the recent passage of "anti-homosexuality" legislation.
After I left Uganda I received a message from Adam in the middle of the night. His best friend, an LGBTQ rights activist, had been arrested and beaten by police. With the help of HIAS and other organizations I managed to get the friend released and resettled overseas, but Adam was in danger and had to flee, once again, back to South Sudan.
Two years later I was in Nairobi, working with HIAS to provide services to Ugandan LGBTQ refugees and facilitate their resettlement. There again was Adam, badly beaten by a group of South Sudanese men who threatened to kill him if he continued with his LGBTQ activism in South Sudan. He had been smuggled by an international human rights organization to Nairobi where he sought asylum. Again, I referred him to HIAS who worked on his resettlement to Canada.
In a sad twist of fate Adam's file never got to the Canadian authorities in time, so Adam entered the long line for resettlement to the U.S. Unfortunately, the Trump administration then cut resettlement admissions drastically and Adam's chances of securing a new American life practically evaporated.
I held onto the hope that we would meet again on my next project. From time to time, I heard from Adam. He wanted to open a business and perhaps sell Congolese cloth in Nairobi's market, but foreigners were easily identified and chased away by local vendors. He was anxious about his resettlement prospects.
Violence is always around the corner for LGBTQ refugees. In the summer of 2019, I discovered that Adam was dead.
Adam for me is the ultimate LGBTQ refugee. Rejected by his home country, the rest of the world failed him, including me. As a child he fled from one country to another, and was later rejected as an LGBTQ adult. Even when his life was threatened he refused to back down and he became an LGBTQ rights activist. He tried to be resettled in safer places but no one took him in. Finally, Adam ran out of chances.
Pride month is about struggle, strength, and determination, but it is also about pain, acceptance, and forgiveness. This month especially, I try to accept the pain of what happened to Adam and I ask for his forgiveness.
Today I am the country director of HIAS Aruba. I do not work exclusively with LGBTQ refugees, but, as always, their issues are in the mix. Aruba is part of the Kingdom of the Netherlands, and while there is legislation discriminating against LGBTQ individuals, significant steps were made this year with the legal recognition of same-sex civil unions.
The odds are still stacked against LGBTQ refugees across the globe, especially transgender individuals, and same sex relations are criminalized in more than 70 countries. There is much work ahead of us. But I hope that when I meet another "Adam" I will have reason to hope for his future.