Jewish Week: Yom HaShoah, Anne Frank and Refugee Security Checks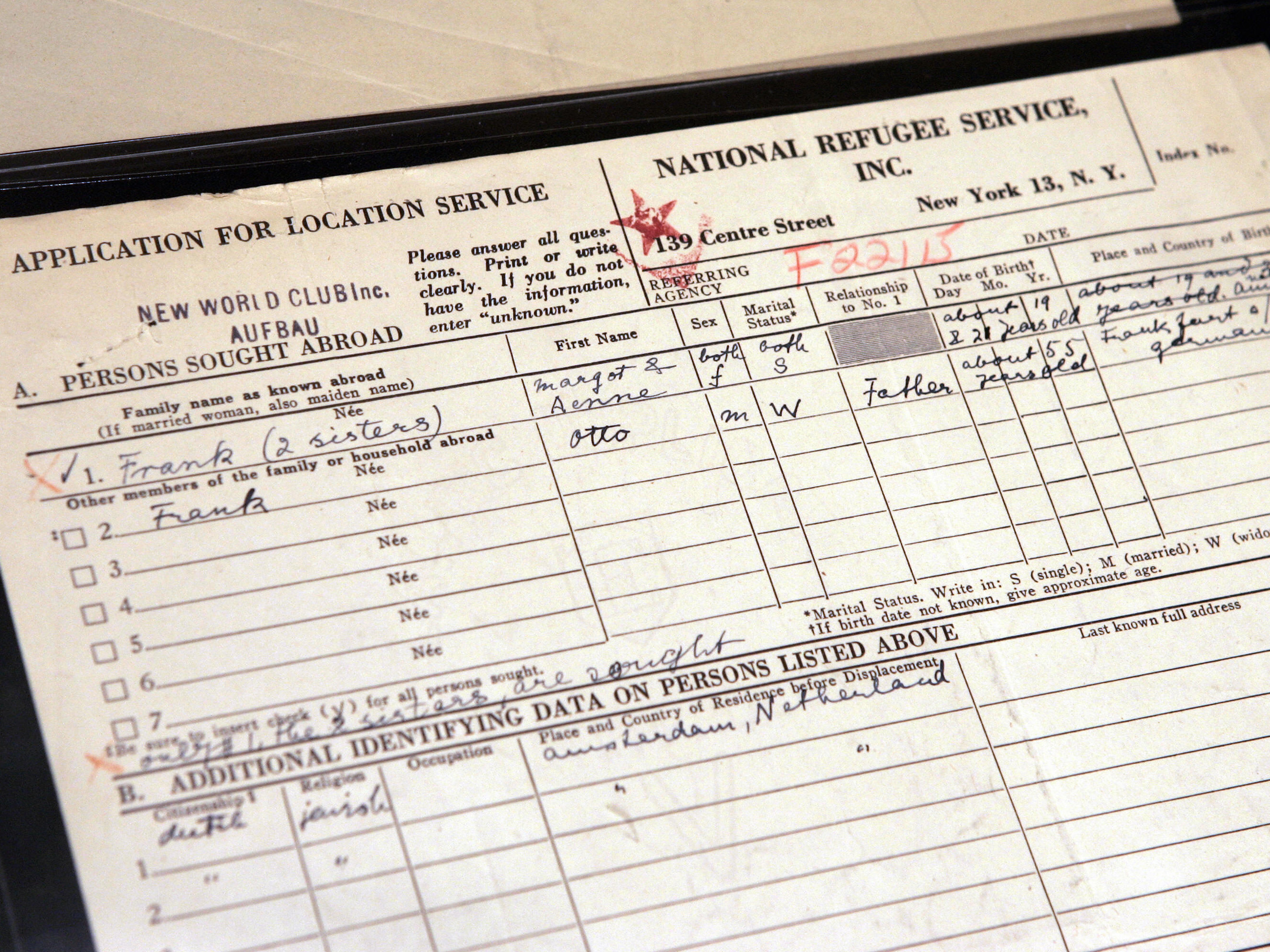 (STAN HONDA/AFP/Getty Images)
The following op-ed by Mark Hetfield, president and CEO of HIAS, first appeared in The Jewish Week on May 3, 2016. Click here to read this piece on thejewishweek.com.
Today, there are more displaced persons worldwide than we have seen since World War II, and more fear of "the other" than I have ever seen in this country in my lifetime. We must take action to welcome refugees.
As we commemorate Yom HaShoah, Holocaust Remembrance Day, we suddenly transition from Passover, the ancient holiday which commemorates the refugee experience, to honoring the memory of the six million Jews who perished because they were not able to flee.
While Yom HaShoah reminds all of us to "never forget" the Holocaust, many have already forgotten some of its most important lessons, especially when it comes to the way we treat refugees. I often hear people argue that today's refugees are different, that Jewish refugees never posed a security risk, unlike the refugees fleeing the Middle East today.
However, today's security vetting process is tragically relevant for commemorating Yom HaShoah because just like during the Second World War, families held in limbo are holding out against the clock to survive.HIAS has many thousands of files in its archives at YIVO and the American Jewish Historical Society which show that European Jews applied to immigrate, but died waiting. One of these files is that of the family of Anne Frank.
Back in 2007, four years before the Syrian refugee crisis began, American University history professor Richard Breitman wrote an article for the YIVO Institute, "Blocked by National Security Fears?: The Frank Family and Shifts in American Refugee Policy, 1938-41."
After reviewing historical evidence, Breitman concludes, "American suspicions of Jews supposedly working for Nazi Germany were common in 1941-42. According to such beliefs, totalitarian countries – Germany, Italy and the Soviet Union all were so categorized – converted victims of persecution into collaborators, and those authorized to leave totalitarian lands might well have hidden motives. According to the State Department legal advisor, '…at a time like this, when the safety of the country is imperiled, it seems fully justifiable to resolve any possible doubts in favor of the country, rather than in favor of the aliens concerned.' ... Such attitudes made the escape of the Frank family all the more unlikely. Otto Frank's efforts to move his family to the United States and Cuba mirrored the experience of many thousands of German Jews."
Today, refugee-hosting countries like Jordan, Lebanon and Turkey are past their saturation points. Together, they host over four million Syrian refugees, causing hundreds of thousands who fled there to risk their lives to flee yet again, this time to Europe. Canada, a country with one-tenth the population of the United States, opened its doors to welcome 26,000 "New Canadians" from Syria over the course of just a few months. Yet the United States is struggling to take just 10,000 Syrian refugees this year. Nor are we on track to meet the Obama Administration's goal of resettling 85,000 total refugees this fiscal year – keeping in mind, of course, that 85,000 is but a fraction of the number we have taken in other post-war eras, when the overall number of displaced persons was lower than it is today.
Why? In a nutshell, the U.S. Refugee Admissions Program is suffering from a fear-induced case of paralysis. Thousands of refugees awaiting resettlement to the United States are being "deprioritized," their files being set aside for "security reasons" which they can never overcome because they are never told anything about what those concerns are. They are subject to a security vetting process that prolongs resettlement from anywhere between 18 months and forever. Refugees run an obstacle course consisting of prolonged face to face interviews, fingerprint checks, "security advisory opinions," "class checks," "inter-agency security checks (running each and every applicant through approval processes in over a dozen law enforcement and intelligence agencies), and "enhanced case review." Security vetting is absolutely necessary, but only to the extent that it is based not on fear itself, but on a realistic and effective assessment of security risk.
These backlogged systems make the successful escape of Syrian refugee families to safety – who are fleeing terror, not seeking to cause it – all the more unlikely. The United Nations High Commissioner for Refugees has referred 38,000 refugee cases to the United States for resettlement since October 2013, but only 3,500 have arrived in this country. The rest are still stuck somewhere in the U.S.-security vetting process.
The Refugee Convention of 1951 mandates that never again will refugees be turned back to their persecutors. Likewise, HIAS and our network of local resettlement partners, mainly Jewish family service agencies, honor the memory of those who perished by welcoming thousands of refugees to the United States and into our own communities. Their memory was also honored by the nearly 1,300 rabbis from 47 states and all denominations who signed HIAS' statement distributed to members of Congress and other elected officials in support of welcoming refugees this past December.
To truly honor the memory of Anne Frank and the six million other Jews who perished in the Holocaust, we need to urge our country to stop blurring the lines between legitimate security concerns and a paralyzing fear of the other.
Mark Hetfield is the president and chief executive of HIAS, the global Jewish organization that protects refugees