In the News: #1000Rabbis Urge U.S. to Welcome Refugees
By Rachel Nusbaum, HIAS.org
Dec 03, 2015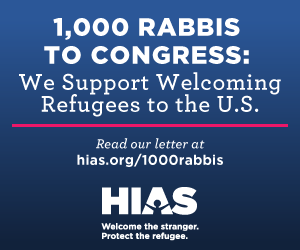 "More than 1,000 rabbis in the United States signed onto a letter urging elected officials in the country to 'exercise moral leadership for the U.S. Refugee Admissions Program'," The Washington Post reports today. The letter, they say, "marks an important intervention in the American conversation at a time when conservative politicians have used the pretext of terrorism as an excuse to pass legislation that would restrict the flow of Syrian refugees into the U.S."
"In 1939, our country could not tell the difference between an actual enemy and the victims of an enemy. In 2015, let us not make the same mistake," the letter says.
The letter has been signed by rabbis in 47 states, plus the District of Columbia and the Virgin Islands. (Rabbis continue to add their names, too – click here to join them.) HIAS delivered the letter, along with the list of the 1,000+ rabbis who signed it, to all Members of Congress.
As international wire service AFP noted in its coverage of the letter, "since October 2011, America has admitted just 2,363 of the four million Syrians forced to flee the nearly five-year war. Turkey has taken in two million, Lebanon more than one million and Jordan more than 500,000."
The letter was reported on in multiple news outlets, including NPR, JTA, The Forward, GOOD magazine, and TIME.
As one Washington, D.C. man remarked, "I'm amazed you got a thousand rabbis to agree on anything."
Update: As of December 10, more than 1,250 rabbis have signed.
To view the full letter, visit hias.org/1000rabbis
Not a rabbi but want to make sure congress gets the message? Click here to find out how.