HIAS Wins Asylum for Honduran Mother of Three
By Kerry Honan, Guest Contributor
Feb 22, 2018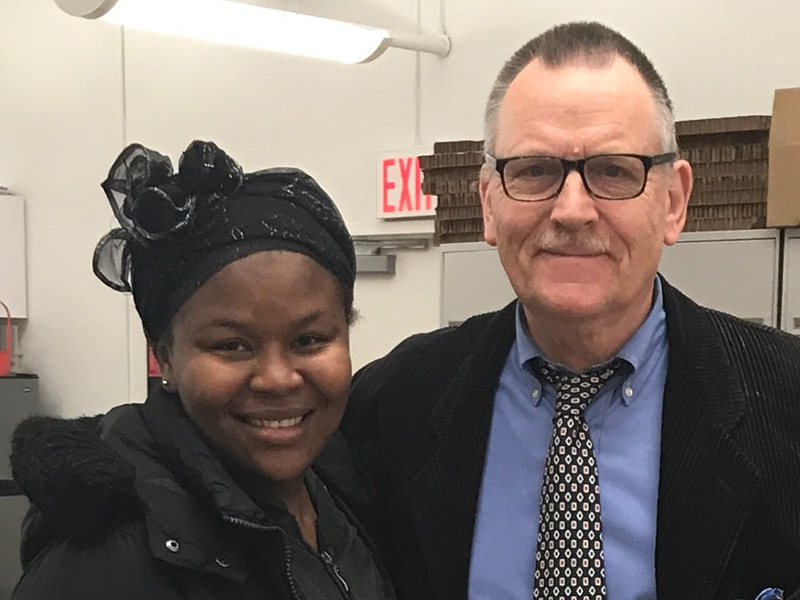 (HIAS)
On January 24, 2018, Denia Sayda Contreras* was granted asylum by a New York immigration judge. Denia, a pregnant, 27-year-old, domestic violence survivor with two young children (also HIAS clients), had by this point experienced more hardship and pain than anyone ever should. Indeed, after withstanding years of poverty and physical abuse, Denia had fallen prey to members of Barrio 18, a notoriously violent gang in Honduras that began demanding a hefty "protection payment" of $50 USD from her every two weeks.
During 90 minutes of testimony and cross-examination, Denia bravely expressed her fear of returning to Honduras, a country riddled with poverty, violence, racism, and corruption. A place where gangs act as the de facto authority and where one's refusal to pay "war taxes" results in torture and rape. She bore witness, before a court, to the brokenness of this world; a brokenness that some of us will be privileged to never see with our own eyes.
Tragically, Denia's story is not unlike those of the thousands of brave individuals who flee to the U.S., in search of asylum from the violence and persecution in the northern countries of Central America. On the contrary, Denia's narrative is representative of countless others, untold.
Denia was born to a Garifuna** family in Olanchito Yoro, Honduras and raised alongside 12 siblings. Though she attended school early on, her education was interrupted when, at 14, she met a young man named Eric. They began seeing each other and, after staying with Denia's mother for a short time, moved together to a nearby town called Limon. There Denia worked independently, buying clothes in bulk and selling them door to door. Due to Eric's seeming inability – or unwillingness – to maintain a job, Denia's meager income was all that they had.
In 2009, five years after moving in with Eric, Denia gave birth to a baby boy. As she struggled to continue working while caring for her infant, Eric's concern about finding employment only seemed to lessen. In addition to using drugs and alcohol frequently, he began spending time with a group of men that Denia suspected were gang members. Disappearing for extended periods of time, Eric would return home irritated and demanding money, presumably to further fuel his addictions. If Denia refused to hand over the funds, which she desperately needed to feed her son, Eric would become violent. As the severity of his behavior increased,even Denia's family began to notice and urge her to leave him.
Following the birth of their daughter in 2012, Denia and Eric moved to San Pedro Sula. Remaining optimistic that their situation could improve, Denia thought that Eric might be able to find work in a new city with more opportunities. Furthermore, she hoped that their move from Limon would put an end to Eric's gang involvement and relieve her of the race-based bigotry she experienced daily. Once in San Pedro Sula, Denia immediately set to work, selling clothing as she had in Limon.
Not long after relocating, however, things in Denia's life again took a turn for the worst. One day while she was working, members of the Barrio 18 gang, approached her and, holding a gun to her head, demanded that she give them all of the money she possessed. Meanwhile, Eric continued to be violent at home and even in front of their children, the older of whom now struggles with learning to speak due to severe anxiety. Moving had not interfered with Eric's gang involvement, as Denia had hoped, and his social circles only reinforced hostile behavior.
Though Denia reported Eric's most serious aggressions and he was arrested three different times, the police – openly prejudiced against Denia's dark skin and indigeneity – always released him after minimal payment, and he showed no remorse or improvement. Denia finally recognized that Eric would never change and that she and her children had to escape.
After a tiring and traumatic journey, Denia arrived in the United States in June of 2015. She entered without a visa or any other type or permission and was told to apply for asylum within 12 months of her arrival. After trying all of the numbers on a list of legal protection agencies given to her by the court, Denia finally contacted HIAS.
Thanks to her recent asylum win, Denia now knows for certain that she is here to stay. For her Honduran-born children, she hopes that frightening memories of the home they fled will continue to fade each day, creating space for the safe and happy future that is now possible for them. For Denia's newborn child, a U.S. citizen, the right to a life filled with good health and adequate human dignity is one that will not be overlooked.
As the Trump Administration does everything in its power to degrade America's already restricted asylum system, endangering the lives of those who desperately need it, HIAS will continue working to ensure that as many Central American immigrants as possible have the opportunity to be granted protection.
HIAS' message to people like Denia is echoed by our countless supporters in the American Jewish community and beyond: you are welcome here.
*Name has been changed to protect client privacy.
**The Garifuna (also known as Garinagu) are the descendants of an Afro-indigenous population from the Caribbean island of St. Vincent who were exiled to the Honduran coast in the 18th Century. The Garifuna have long been discriminated against and marginalized by both the Honduran state and the general Honduran population. Most notably, Garifuna peoples in Honduras face everyday forms of racism, harassment, intimidation, land expropriation, and even murder at the hands of Honduran gangs, police, and military personnel.
Kerry Honan is an Immigration Advocate at HIAS and an AVODAH Corps Member. To learn more about HIAS' work, follow us on Facebook, Twitter and Instagram.