HIAS Returns to Court to Challenge Muslim Ban 3.0
By Gabe Cahn, HIAS.org
Oct 16, 2017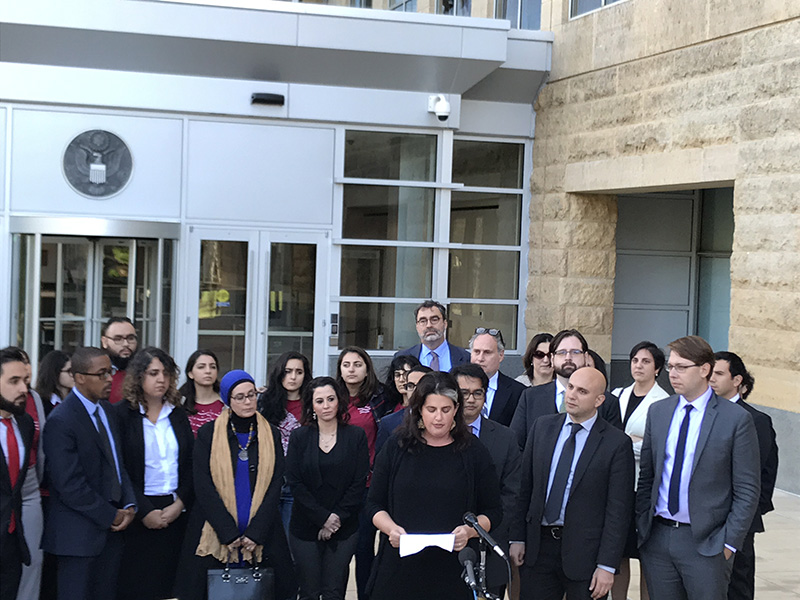 (HIAS)
HIAS was back in United States District Court today, as a plaintiff challenging the legality of the latest Presidential Proclamation seeking to ban travelers from Iran, Libya, Somalia, Syria, Yemen, Chad and North Korea.
Like the Trump Administration's first two executive orders, this travel ban would disproportionately impact Muslims. Unlike both the January 27 and March 6 executive orders, however, which were temporary, this ban would be indefinite.
During the hearing, which spanned approximately 90 minutes, ACLU attorney Omar Jadwat argued that the new proclamation is the "same core policy" as the March 6 executive order barring travelers from Muslim-majority countries.
"The result is just as the president promised: a bigger, tougher version of the same ban," he said.
When new policy was announced on September 24, HIAS President and CEO Mark Hetfield said, "these restrictions reflect the arbitrary and discriminatory approach this administration has taken toward immigration policy from day one," and that "an indefinite ban which presumes someone is a threat simply because of their religion or nationality will always run contrary to the equality we seek to see in America."
In the courtroom in Greenbelt, Md. on Monday, U.S. District Judge Theodore D. Chuang heard arguments for International Refugee Assistance Project v. Trump—the case HIAS is a part of—together with two other cases challenging the new ban: Zakzok v. Trump and Iranian Alliances Across Borders v. Trump.
Pending a preliminary injunction from Judge Chuang, the travel restrictions are set to go into effect on Wednesday, October 18.
No matter what happens in court, the fight to ensure that America remains a welcoming country isn't just taking place on the legal front.
On Sunday, October 15, advocates rallied in Los Angeles and Seattle to express opposition to the ban. Pini Herman, the son of Holocaust survivors who immigrated with him to the United States when he was four, told the Los Angeles Times, "my parents came here because of the kind of country America is supposed to be."
In Seattle, Washington State Attorney General Bob Ferguson told the crowd, "I'm a lawyer, I can file lawsuits, but the people have to rise up as well."
And immigration and refugee advocates are planning to do just that in Washington, D.C. on Wednesday.
The #NoMuslimBanEver march will convene hundreds of people near the White House to demonstrate the widespread opposition to this discriminatory policy.
Additionally, HIAS and Bend the Arc are partnering to lead the American Jewish community's participation at the event, and will be organizing a Jewish communal meet-up prior to joining the larger action.
To stay up to date on all the latest news on HIAS' litigation against the ban, follow us on Facebook, Twitter and Instagram.