HIAS Receives Gift With Gratitude
By Sharon Samber, HIAS.org
Jul 31, 2018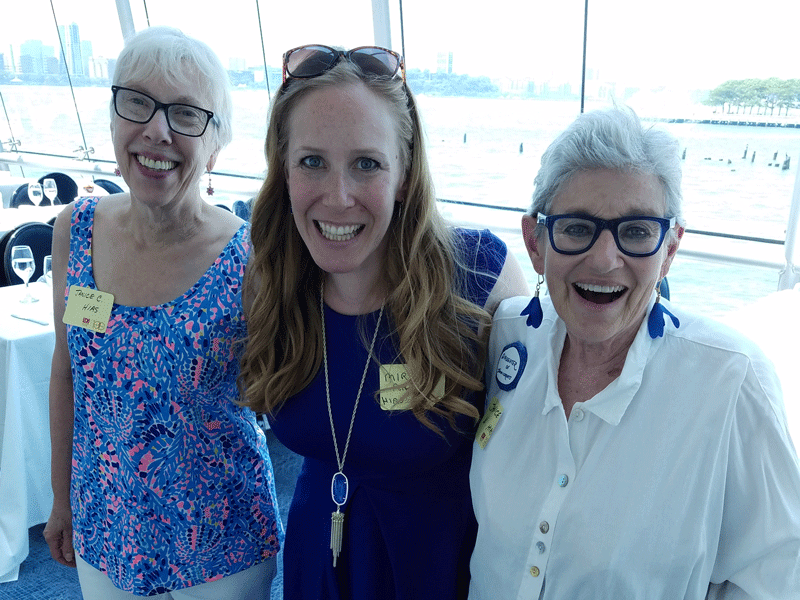 (HIAS)
This story begins in 1918 with a young man selling boxes, and continues today with his great-great-granddaughter presenting a check to HIAS for $18,000.
At a recent ceremony in New York, Liberty Diversified International (LDI) recognized HIAS, and in particular its network of 5000 volunteers, for its work.
LDI, a Minnesota-based manufacturer of packaging, office furniture, and building products, is celebrating its 100th anniversary by giving back to local communities. LDI's founder Jack Fiterman was a Russian immigrant who started selling refurbished wooden boxes on the cobblestone streets of Minneapolis in 1918. Fiterman was so grateful for the opportunities in America that he named his company "Liberty" in honor of the Statue of Liberty. Today, the fourth-generation, family-owned company is comprised of eight companies across the U.S.
HIAS Board Chair Dianne Lob attended the event and Miriam Feffer, HIAS' Vice President of Development, accepted the check on behalf of HIAS. The special focus on the work of volunteers was important, Feffer said, because just like Jack Fiterman, volunteers are both grateful for their freedom and opportunity and they translate their values into action.
"LDI had the insight to recognize this key component of HIAS' work," Feffer said, noting that many HIAS volunteers are former HIAS clients or descendents of HIAS clients. "Our volunteers are a wellspring of support for HIAS, and it's often gratitude that drives them."
For HIAS volunteers, gratitude is a powerful feeling but "it's also a doing," Feffer explained. "HIAS volunteers make sure our clients feel as secure as possible in their new home and connect them to the resources they need to succeed. They are generous with their time, talent, and treasure, and they change lives."
Mike Fiterman, chairman of the board of LDI and the grandson of the company's founder, encourages employees to do good for others and get involved in their communities. "We are a company born from gratitude," Fiterman said. "It's a core part of who we are that continues to this day." The Linda and Mike Fiterman Foundation matched the LDI's grant from its funds, making HIAS' gift total $36,000.