HIAS Interns Advocate for Refugees on Capitol Hill
By Stephanie Herrmann, Immigration and Refugee Policy Intern
Aug 31, 2015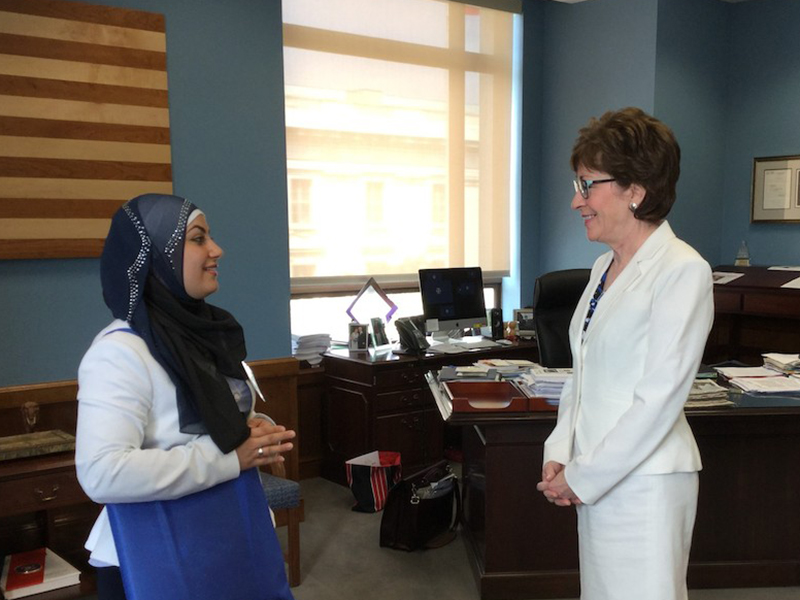 (Photo courtesy of LIRS)
Compared to the atrocities many refugees have faced abroad, it is easy to forget that rebuilding their lives in their new countries can be its own struggle. In honor of World Refugee Day in June, HIAS' Washington, D.C. interns volunteered to escort refugees to meetings with senators and representatives on Capitol Hill. This event, organized by Lutheran Immigration and Refugee Service, placed interns with groups of resettled refugees, who met with officials from different states to discuss legislation that protects refugees.
"My favorite part of the incredible experience was listening to the stories of the refugees I was working with," said HIAS programs intern Nicole Bermudez. "I was paired with three refugees from Liberia, the Congo and Myanmar. Newton, who was from Liberia, left when he was 10 years old after his father was murdered. He has since graduated college and is preparing for an exam that he needs to pass to conduct social work."
Many of the refugees showed a passion for social work that would help other refugees acclimate to their new lives in the United States. Myo, from Myanmar, was eager to explain to Texas officials how improved language learning and other educational programs for refugees would benefit his new community.
Although challenges remain, the Capitol Hill meetings were successful in generating awareness of refugee-related security and economic concerns.
In addition to meeting with public officials, HIAS interns also showed refugees different sites in our nation's capital. Many of the refugees had never been to Washington, D.C.
HIAS Legal Fellow Abbie Schepps led four refugees, all from Bhutan, to meetings with two representatives and a senator from Colorado. "The most rewarding part of the day was when they asked if I had time to take them to the White House," Schepps said. "In our hour-long break I quickly got them in a cab, ran them to the White House, snapped a few pictures for them to take home to their families, and got them back in time for their next meeting."
There is much more work to be done to educate lawmakers and politicians about refugee and immigrant issues. However, by continuing to expose elected officials to refugees and to their stories, we can challenge them to prioritize refugee issues on both national and state levels.