HIAS' GBV Work In Sync With 16 Days Global Campaign
By Heidi Lehmann – Director, Gender and Gender-Based Violence
Nov 26, 2019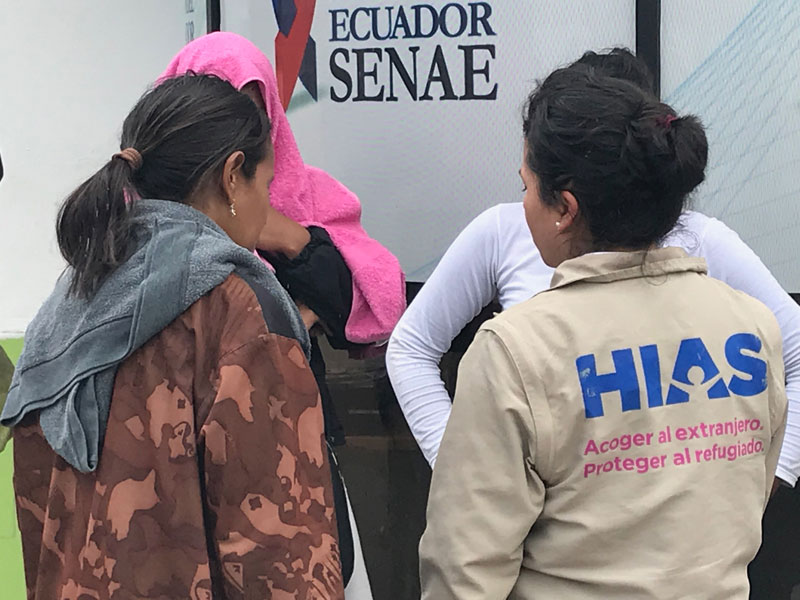 (Heidi Lehmann/HIAS)
Every year since 1991, the 16 days between the International Day for the Elimination of Violence Against Women (November 25) and International Human Rights Day (December 10) is marked by the 16 Days of Activism Against Gender-Based Violence campaign, a global initiative created by the Center for Women's Global Leadership at Rutgers University and now joined by thousands of organizations around the world.
The 16 Days campaign draws vital attention to violence against women and girls (VAWG); recognizes women's rights as human rights; brings together a united and collective stand against gender inequality and injustice; and strives for a world where all women and girls are free to determine their own lives and futures.
The goal of HIAS' Gender-based Violence (GBV) Prevention and Response programming is to help forcibly displaced women and girls and LGBTQ community members pursue their potential and access human rights, free from violence and oppression. Whether it is a woman from Colombia fleeing threats of sexual violence, or an adolescent GBV survivor walking through our doors in Chad, or a transgender refugee seeking legal assistance in Greece, HIAS is ready to provide the services and support needed.
"HIAS offers safe spaces for women and girls in the refugee camps (in Chad). Women and girls gather there. These are places where they are listened to, they discuss among themselves, and some of them participate in skills building activities. HIAS GBV initiatives provide serenity for women and girls," says GBV Program Manager for HIAS Chad Ainta Benane Opportune.
Even as we work to solve today's problems, it is important to remember the roots and history of the 16 Days of Activism. The campaign was first launched in 1991 to commemorate Patria, Minerva, and Maria Teresa Mirabal, sisters from the Dominican Republic, who were killed on November 25, 1960 for speaking out against state-sanctioned violence in their country. To mark their resistance and hope for a better world, The International Day for the Elimination of Violence Against Women was established and recognized for November 25, the day the 16 Days of Activism kicks off each year.
In honor of the Mirabal sisters and all those who strive bravely and courageously for the kind of world that we stand for, HIAS' contributions to the 16 Days Campaign focus on celebrating those who have fought for, and are fighting for, an end to VAWG, and those that have survived sexual and physical violence and refused to be defined by it. Some projects include a first-of-its-kind support group for survivors in Aruba; raising awareness on human rights in Chad; and mobilizing communities to fight GBV in Panama
In countries around the world, HIAS is developing and expanding GBV programming in conjunction with our work on legal and social protection for women, girls, and LGBTQ identified refugees. As a part of the global community that is challenging and working to end violence against women, girls, and LGBTQ refugees today, HIAS is going forward with full strength.