HIAS Border Fellow Helping Right Where the Need is Great
By Sharon Samber, HIAS.org
Nov 30, 2018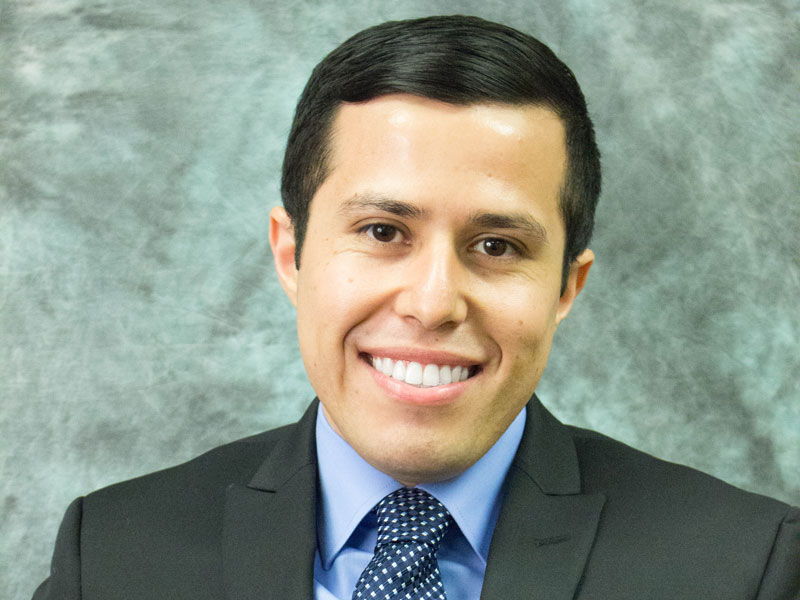 (Courtesy of Luis Gonzalez)
When asked, "What do you want to be when you grow up?," many kids will say astronaut, or professional athlete, or rock star. Not Luis Gonzalez.
"I knew I wanted to be an attorney since I was 11 years old," Gonzalez told HIAS. "I'm an immigrant myself. Immigration has always been an issue in my family."
Gonzalez, the new HIAS Border Fellow in San Diego, is fulfilling his boyhood wish as an immigration staff attorney working out of Jewish Family Service (JFS) of San Diego, a HIAS affiliate.
The Border Fellows is a new HIAS initiative, and part of the HIAS comprehensive response to the crisis at the southern U.S. border. Through the Border Fellows program, funded by the Hassenfeld Family Foundation, HIAS is placing pro bono attorneys with several non-profit organizations along the southern border in close proximity to a detention center. The Border Fellows will increase the capacity to provide legal representation to asylum seekers at various stages in the asylum process, including some who are in being held in detention.
Gonzalez, who was born in Mexico, started working for HIAS in October and hit the ground running. He is the lead attorney on some asylum cases and also conducts consultations and screenings of those seeking legal assistance.
Many times Gonzalez feels like he has to encourage people to keep fighting for their cases. The system is very difficult and draining, he says, and it's very important to keep them busy and involved in their case, both as a distraction from their situation but at the same time as a focus and a goal.
"Most likely if they give up and go back to their country they will be killed," he said.
Gonzalez finds managing the asylum system and communicating with the U.S. government to be one of the biggest challenges. Trying to meet with deportation officers and get the evidence and information about clients' cases is often next to impossible.
One of his current cases is that of a woman who came to the border seeking asylum with two of her four children. Since the children are U.S. citizens they were released to family members in the U.S., but the woman remains in detention, and Gonzalez is trying to reunite the family. The woman did not receive her "credible fear" interview right away (for some reason which the government never explained), but when she did get the interview, she passed. Except for the government's delay it is a case of everything being done correctly, but nevertheless a mother has been separated from her children for months.
Another of Gonzalez's cases involves a child born with HIV whose father had abandoned the family and whose mother died when he was only a few years old. There are multiple complications with the case, as Gonzalez maneuvers to have the child–now 15 years old– placed with his brother who lives in a small town near San Diego. In the meantime, the teen is in a child detention center.
"He has a chance, but it's a long process," Gonzalez said.
The detention centers, Gonzalez notes, feel like maximum security prisons, and that has a huge impact on clients.
While the overall situation is overwhelming, Gonzalez says he finds a rhythm and makes things work. But the need is great in the community and sometimes the office cannot take on a case, and has to turn people away. "It is very sad to say no," Gonzalez said.
Before starting as the Border Fellow, Gonzalez worked at Casa Cornelia Law Center and at Catholic Charities, where he helped create the removal defense program. At JFS, Gonzalez is trying to get cases to go through the agency more quickly and hopes to have new projects in the near future.
Gonzalez has been a part of JFS doing things they haven't done before. The agency is part of a coalition now running an emergency shelter. The San Diego Rapid Response Network opened the shelter in response to the federal government's leaving asylum seekers without any assistance as they try to reach their final destinations in the U.S. Gonzalez explained that families were out on the streets and JFS and other groups had to step in. There is a GoFundMe campaign to fund shelter operations.
Sometimes Gonzalez thinks of the day when he was at the U.S. consulate in Mexico as his family was getting U.S. citizenship. One of the guards said to him that he would do great.
"He told me, 'One day you'll be doing this kind of work,'" Gonzalez recalled.
Gonzalez says he is very happy to be doing the work with JFS and is impressed with the agency and the support from HIAS.
"I'm trying to help as many people as I can," he said.