Helping Asylees Access Benefits: AsyleeOutreach.org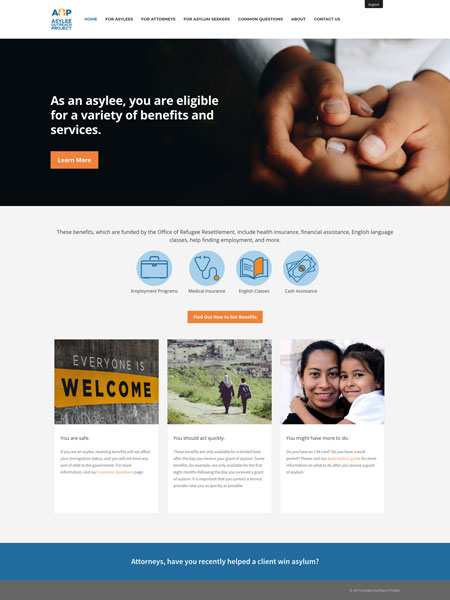 (HIAS)
Once someone receives asylum in the United States, they are eligible for a range of benefits to help them integrate into American society, including English classes, employment programs, health insurance, and more. Though the number of people granted asylum in the United States has increased each of the last several years, the number of asylees accessing federal and state benefits has decreased in many states across the country.
One state that has seen such a decrease is Maryland. Last year, the Maryland Office for Refugees and Asylees (MORA) awarded HIAS a grant to launch the Maryland Asylee Outreach Project (AOP) to help more asylees in the state access benefits. Ben Levey, HIAS' Asylee Outreach Specialist, manages the AOP. As he met with asylees and attorneys, conducted community outreach, and completed research, Levey noticed several barriers that impede asylees from accessing benefits, including a lack of information.
Many asylum seekers, asylees, and attorneys are unaware that asylees qualify for benefits; they do not know that, upon receiving an asylum grant, individuals can sign up for health insurance, enroll in jobs programs, and receive a wide range of other benefits.
HIAS has now created a new website, asyleeoutreach.org, to address this information gap. This unique stand-alone resource offers information on asylee benefits in both English and Spanish, including the contact information for the various resettlement agencies who serve asylees in Maryland, Washington, D.C., and Virginia. The site also features content tailored to immigration attorneys, including valuable resources such as a guide to using the government's InfoPass system to help clients receive identity and status documents.
"Every person who receives asylum should have the opportunity to access the benefits they're entitled to," Levey said. "This website can go a long way toward making that vision a reality."
Myat Lin, State Refugee Coordinator for Maryland and Director of MORA, agreed with Levey's point, noting that MORA administers a variety of services and programs aimed at helping refugees and asylees become self-sufficient as quickly as possible.
"The Asylee Outreach Project operated by HIAS plays a vital role in MORA's mission," Lin said. "This website will help the AOP function as a bridge for asylees to service providers, ensuring they are supported in their endeavors to integrate successfully into their local communities."
The Asylee Outreach Project represents just one facet of HIAS' efforts to help forcibly displaced persons access their basic legal rights. To learn more about HIAS' domestic legal work, please visit this page.