Global Humanitarian Community Failing Ukrainian Women and Girls
By Sharon Samber, HIAS.org
May 26, 2022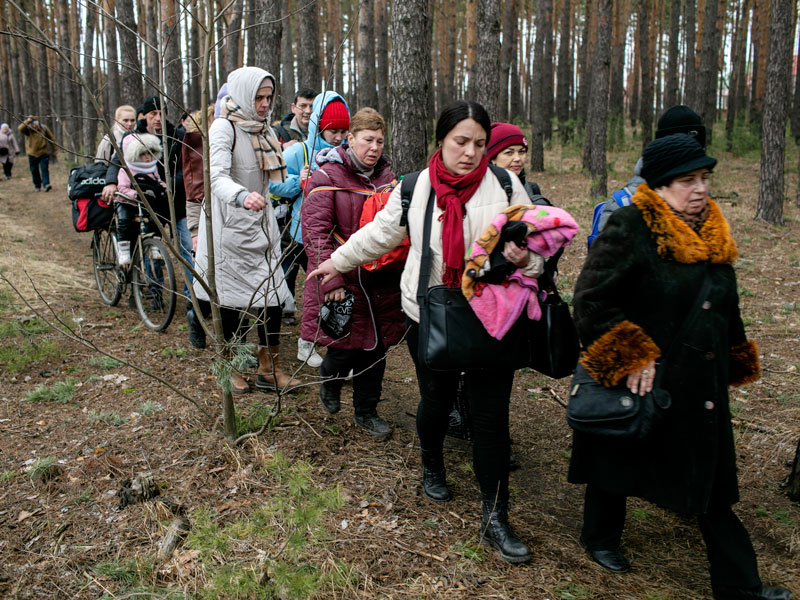 (AG for HIAS)
The global humanitarian community is failing women and girls displaced by the Russia-Ukraine war who continue to face a dire and deteriorating situation inside Ukraine and across the region, a new report shows.
The report, Waiting for the Sky to Close: The Unprecedented Crisis Facing Women and Girls Fleeing Ukraine, was supported by HIAS and developed by VOICE, a feminist organization dedicated to eradicating gender-based violence (GBV).
VOICE's 10-member team conducted a 4-week in-person assessment of women's rights organizations, frontline workers, local NGOs, United Nations-affiliated groups, and refugee populations in Hungary, Moldova, Poland, Romania, Slovakia, and Ukraine. Since the invasion of Ukraine by Russia on February 24, 2022, more than 14 million people have been displaced from Ukraine (as of May 24); 90 percent of those fleeing Ukraine are women and children.
The team gathered evidence of sexual exploitation and trafficking, exploitative labor, failed cash assistance programs, and widespread discrimination against already marginalized groups. It determined that women-led organizations on the frontlines of the emergency response are not getting the support they need to properly assist displaced women and girls, and survivors of conflict-related sexual violence need better access to medical and mental health services and resources.
The assessment was conducted from March 25 through April 15, 2022. VOICE held 171 interviews with staff in organizations inside Ukraine, including group discussions with over 167 women who have been forcibly displaced.
The report calls on the United Nations, the European Union, philanthropies, host country governments, international NGOs, and local NGOs to implement changes to combat the crisis and meet the immediate needs of women and girls on the frontlines.
Some of the many specific recommendations from the report include:
Providing flexible, multi-year, and unrestricted money to local women-led organizations to fund programming tailored to the specific needs of the women and children fleeing Ukraine, as well as host communities.

Supporting local and national feminist priorities, ranging from legal reforms and political participation to gender mainstreaming in public policies and economic empowerment.

Developing long-term, gender-informed strategies for response to the Ukrainian crisis.
The report notes that in armed conflicts men's violence against women and girls "increases rapidly and stays elevated long after the fighting stops." Women's rights organizations throughout the region have been responding to the needs of forcibly-displaced women and girls since the war began, according to the report, and these groups are best-positioned to help. But VOICE claims international NGOs and the UN are failing to meet their own commitments to empower local organizations.
"We, women who stay in Ukraine, are not just victims, we are also fighters, we are actively resisting and defending ourselves," a representative from a women-run organization in Ukraine told VOICE. " We need help. If there is an intention to help us, it's important to accept our agency."
HIAS has a wealth of experience with GBV programming, and its goals align with those of VOICE, as both groups build partnerships with women-led organizations, and strive to keep the input and needs of survivors a priority and incorporate their leadership in program design and implementation.
"We thank our partners at VOICE for this extensive look at the effects Russia's invasion of Ukraine is having on women and girls throughout the region," said Rachel Levitan, HIAS Vice President for International Policy and Relations. "Given our ongoing work to combat gender-based violence affecting refugees around the world, HIAS is proud to support this ground-breaking research, which will help governments and humanitarian organizations alike to mount a more effective response to the exploitation of women and girls."
The VOICE report calls for a shift in power to women-led organizations. "In order for any humanitarian interventions to be effective, they must center the needs of women and girls and the security risks they face," the report said.
Other concerns raised by the report include how women and girls are being forced into exploitative labor in both institutional and informal settings; women who have been raped are not being cared for properly; cash assistance is not reaching women and girls; and Roma, LGBTQ, people of color, and other marginalized groups are facing additional discrimination.