Empowering Venezuelan Women Refugees in Peru
By Sharon Samber, HIAS.org
Oct 18, 2021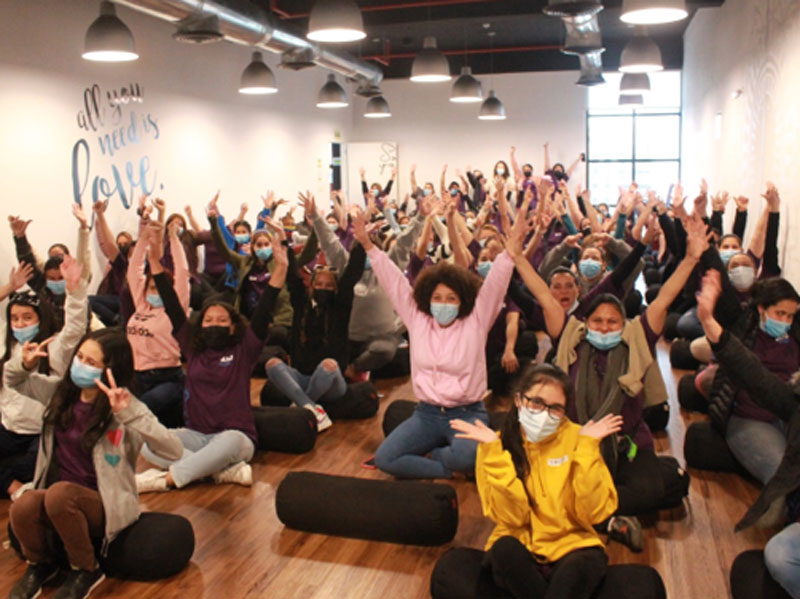 (HIAS Peru)
When HIAS Peru saw they could engage with refugee women from Venezuela on leadership and teamwork, they decided to essentially throw an empowerment party.
Toward the end of the summer more than 90 refugee and migrant women gathered for this event. For many, these workshops and classes allowed them to be more free and forward-thinking than they had been for a long time. These women spanned all ages and occupations from adolescents to elders, from community leaders to entrepreneurs. This day-long event gave them a chance to work on self-expression and personal goals through workshops, dancing, meditation, and song.
Participants celebrated multiculturalism during an Afro-Peruvian dancing class, moving to the rhythm of the cajón peruano, a Peruvian instrument. They talked about courage, teamwork, and value.
Dayeryn, 17, said she was not used to leading presentations at school and because of the pandemic had become less social. During the event she started to relax and feel comfortable. "I realized that I am able to take my own initiative and that I can present in front of a big group," she said. "This experience was very motivating."
A number of women said they felt good about building relationships with other women and grateful for having the space to do that.
"The goal of this type of event is to bring to women a hosting space where they can feel secure, and free to express themselves," said Erika Alfageme, HIAS Peru's country director. "They are strong women who arrived in Peru to move forward and reach new opportunities for them and their families. We want them to remember that they are important and that the spaces we bring as HIAS are made to empower them and to build their resilience and integration."
Some women sang "Venezuela," a cultural hymn, as a way to remember the good parts of their homeland. A group of community leaders even presented a song dedicated to HIAS, acknowledging the support that HIAS brings to refugees and migrants in Peru. "HIAS is always there for us," they sang.
All of the activities, especially the meditation class, had a powerful impact on Deisy, 51, who said HIAS made everyone feel at home. "I feel respected, important, and appreciated," she said.