Despite Government Shutdown, HIAS Advocacy Mission a Success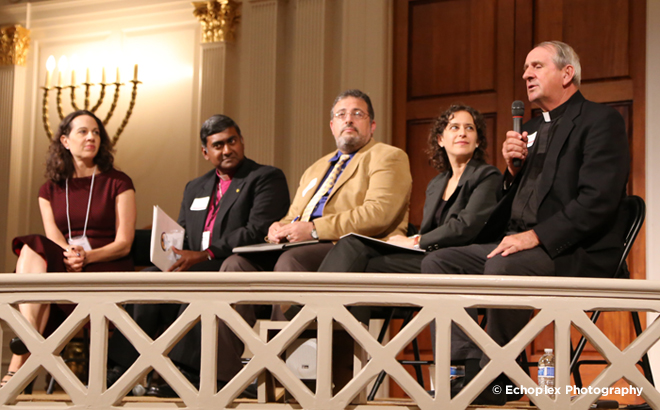 Late last Friday afternoon, even as HIAS Advocacy Mission 2013 briefing packets were furiously being printed, our DC staff was still hard at work switching out meetings with U.S. government officials—now unable to meet with HIAS because of the government shutdown—for briefings with a new roster of renowned speakers and panelists. The outcome? A mission that was even more successful, engaging, and inspiring than anyone had hoped.
First-time mission participant Roman Zelichenko remarked, "I expect it was different than most advocacy missions but despite the inability to speak to government officials, I found the guest speakers and participants really valuable to talk and listen to."
Sunday evening kicked off with Shelly Pitterman, United Nations High Commissioner for Refugees' (UNHCR) Regional Representative to the U.S. and Caribbean, engaging with participants in a discussion on issues ranging from asylum seeker screening procedures for Haitians arriving on U.S. shores; to the UNHCR's plans for processing Colombia's most vulnerable refugees out of Panama, Ecuador, and Costa Rica; to the expected impact of the recent terrorist attacks on the Westgate Mall in Nairobi on refugees and asylum seekers in Kenya.
On Monday morning, participants gathered for a sneak peak on new research from Philip G. Schrag, Professor of Law at Georgetown University and Director of the Center for Applied Legal Studies, to be released in a forthcoming book in January. Professor Schrag reported illuminating findings on the correlation between the U.S.'s one-year filing deadline policy for asylum seekers and application rejection rates. He also presented in-depth analysis on changes in asylum grant rates over time, looking at factors like gender, origin from human rights abusive countries, and other applicant characteristics.
Joshua Drapekin, a first-time mission participant and law student, appreciated the thorough presentation and research, which he believes "can inform [HIAS and its supporters] in making more meaningful policy suggestions going forward."
The participants then headed to Washington's famed Sixth & I Historic Synagogue for a luncheon with presentations on Syria's refugee crisis. There Michel Gabaudan, President of Refugees International, discussed the continuously growing number of refugees; the risk of the influxes to the stability of the surrounding countries in the region; and Syria's long-term future, which could be severely jeopardized if its one million refugee children continue to go without access to education.
Lindsay Jenkins, Assistant Protection Officer for UNHCR in Washington, who had returned from Iraq and Lebanon only days before, elaborated on the concerns rising from Syria's refugees. "Winter is coming and our children are getting cold at night," one refugee mother told her fearfully. Even as refugees do what they can to help themselves in camp and urban settings, host country economies and other capacities are overly stretched. "The men can't find work to support us," the same woman explained.
The mission's youngest participant, Eden Siskind, 17, said she was eager to bring her learning from this session back to her fellow high school students in Memphis to enlighten their discussion on whether the US should get involved in Syria. She is looking forward to talking to her friends about what the refugees themselves are saying about the consequences of the conflict.
A highlight for many of the mission's attendees was Monday's mid-day interfaith panel about the challenges and successes of welcoming newcomers into U.S. communities. The event began with remarks from Esther Safran Foer, Executive Director of Sixth & I, who showed the audience a copy of her immigration papers and the suitcase from when she migrated to the U.S. in 1949 with the help of HIAS. Moderated by Melanie Nezer, HIAS' Senior Director for Policy and Advocacy, the panel presenters included Father Gerry Creedon, Pastor of the Holy Family Parish in Dale City, Virginia; Imam Yahya Hendi, Muslim Chaplain at Georgetown University; Bishop Johncy Itty, former chairman of the Board of Directors of Church World Service; and Rabbi Shira Stutman, Director of Jewish Programming at Sixth & I.
Father Creedon, an Irish immigrant to the U.S., discussed his diverse congregation in Virginia and his involvement in immigration reform advocacy. Imam Hendi discussed his experience of being a newcomer in the U.S. and declared "we are in this together!" as he addressed the importance of inter-religious and interfaith dialogue. Bishop Itty discussed his work with Church World Service, one of the nine agencies other than HIAS that resettle refugees in the U.S., as well as his ecumenical work in New York City on behalf of immigrants and refugees.
Citing the new Pew Research findings, Rabbi Stutman's noted that over 55% of Jews say that "working for justice/equality" is an essential part of what being Jewish means to them. She also discussed the Jewish community's commitment to standing with immigrants and refugees because they remember having been there, quoting Safran Foer's son Jonathan, a well-known author who wrote that Jews have six senses of "touch, taste, sight, smell, hearing…[and] memory."
"The interfaith panel was great. I liked hearing the opinions of progressive religious leaders," Zelichenko said. "I think they should be the driving force of conversations going forward. The forum was really refreshing."
Before heading to dinner, participants received an update on asylum seekers in Israel from Sarnata Reynolds of Refugees International, and Joel Moss, HIAS Israel Office Director. Following a thorough briefing on the history and background on the subject, the presenters echoed HIAS' applauding of the Israeli High Court's recent ruling striking down prolonged detention for asylum seekers. Pointing to Israel's commendable job tackling other politically-charged and complicated issues in the past—such as human trafficking—they made recommendations for a more fair and transparent system and outlined opportunities to transform the state's reception of refugees in the future.
At a dinner reception hosted by Georgia's Ambassador to the United States Archil Gegeshidze and his wife, HIAS supporters enjoyed delicious Georgian food and wine, as well as Georgia's famed warm hospitality. The reception was dedicated to the issue of Georgia's Internally Displaced Persons (IDPs), whom many of the attendees had met on a HIAS Board Mission earlier this year. Roberta Cohen of the Brookings Institution delivered an address stressing the importance of helping long-time IDPs (like those in Georgia) live full lives and maintain livelihoods as they await return to their homes. She also stressed the importance of involving civil society in devising solutions for IDPs, emphasizing that the IDP issue is a humanitarian one as well as a development one.
HIAS' President and CEO Mark Hetfield committed to elevating the issue of IDPs in Georgia in this country and to awarding eight scholarships to help IDPs from Abkhazia and South Ossetia receive four-year university educations.
Robert D. Aronson, a seasoned HIAS Board Member and immigration attorney, summed up the feelings of many of the attendees as he reflected on the days' events: "We came together to focus on critical issues at an important time. The span of topics covered reflect HIAS' substantive and important work—and that HIAS is a very effective spokesperson on the core issues of our time."