Asylum Seekers Fear Staying in Mexico More Than Coronavirus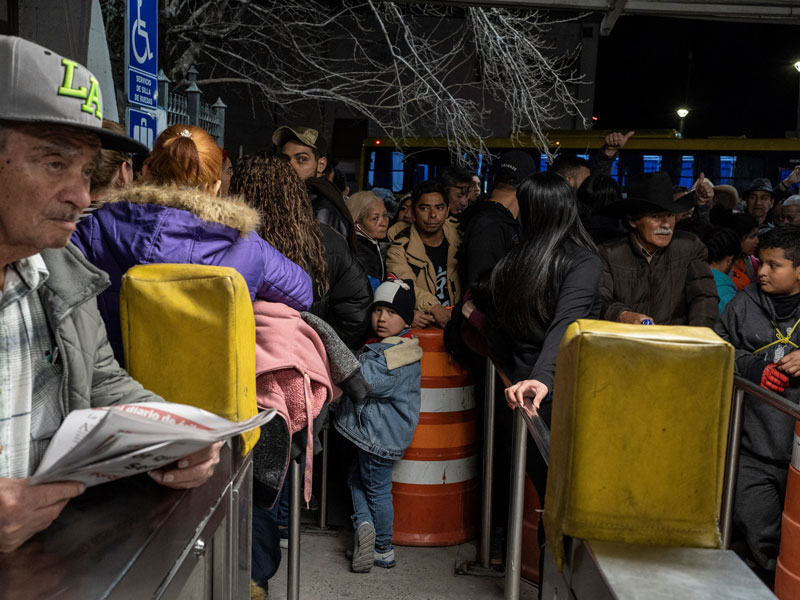 (Paul Ratje / AFP via Getty Images)
As countries around the world respond to the coronavirus outbreak by closing borders and implementing severe travel restrictions, asylum seekers are waiting even longer and under ever more dangerous conditions to get into the United States to access courts and other protections that are guaranteed by law.
Since the Trump administration first implemented the Migrant Protection Protocols, or MPP (also known as "Remain in Mexico"), in early 2019, more than 60,000 asylum seekers have been returned to Mexico where humanitarian aid is scarce, shelters are overwhelmed, and the prospect of a long legal process leaves many in precarious situations.
The situation has worsened because of COVID-19. This week, the administration announced that court hearings for asylum seekers would be rescheduled until after May 1, meaning longer wait times in Mexico, and more risk of kidnapping, extortion, or contagion. To make matters worse, many shelters that house asylum seekers have closed their doors or are serving fewer people in an attempt to stop the spread of the virus, forcing even more people to live in large and unsanitary makeshift tent camps.
The real danger is clear when you speak to asylum seekers themselves. When asked by a HIAS attorney in El Paso, Texas if they were afraid of the coronavirus, some have said an even greater fear is being returned to their country or experiencing more violence as they spend more time in Juárez. Many clients who call HIAS in Mexico for help have indicated a willingness to continue living in unsanitary conditions where they risk contracting the virus, because returning to their countries of origin is not a feasible option.
Last week HIAS Border Fellow Nico Palazzo accompanied a man and his 8-year-old daughter to the El Paso border crossing at 4:30 am so they could attend a previously scheduled court hearing. They were turned away by U.S. border guards and instructed to come back later in the week to receive a new court date, which could be more than two months away. According to Palazzo, this client has already been targeted and harmed in Mexico.
"It is critical that the United States, with proper health protection rules, provides protection to asylum seekers and refugees," says Sue Kenney Pfalzer, HIAS' border and asylum network director. "Given the danger of staying in Mexico and the increased risk of contracting COVID-19 in immigration detention centers, now is the time to use humane, and successful alternatives to keep asylum seekers safe."